New York City, March 25 – Professionals always have tried to frame the expectations of my life, whether they were an educator, service provider, or medical professional. Doctors told my parents I would never be able to see, hear, walk, talk, or live a "normal" life. What is normal? Despite my parents being given low expectations of me, I am no less of a human in their eyes.
I asked my parents one day why I can't walk or do certain things. At that moment I learned what my story is. We all have a story. What's your story?
I was born premature weighing only two and a half pounds, so doctors said that I needed to stay in the hospital for weight gain. While there I received a lack of oxygen to my brain, and as a result my motor skills were impacted. At nine months old, my parents expressed concerns about my lack of progress in my milestones, and this early intervention is when my parents learned the name of my disability. Cerebral Palsy is a part of me.
Growing up I was very shy. The only people who truly heard me speak were my parents and siblings. From a very young age I heard my mom especially say, "Little girls are not supposed to be loud in order to be seen."
My parents and siblings always included me. I was never left out of things. Even though I had a disability and used a wheelchair, we often did things together as a family. But being the baby of the family meant there were some things I was not able to do with them based on my age, and also some things were not accessible to me.
In middle and high school, I begin to feel left out and invisible. I was left out of school activities and trips. Although I had a few friends in school that treated me no less, my capabilities were often falsely defined for me if I didn't use my voice or my words, so my potential was overlooked. Many people see me with my parents or siblings, smile at me and say "Hi," but then turn to whoever I am with and ask, "Can she speak?"
All of these things have impacted me as a person. I struggled to be confident in school academically, but always worked hard.
For as long as I can remember, my teacher's only concern at every parent-teacher conference was that I needed to participate more. When my mom told me that, my response was that I raised my hand, but since my hand can't go so high, they couldn't see me. Some teachers overlooked me as if I was not there and spoke to the paraprofessional about my assignments or my grades. They never really took time to get to know me.
In high school I considered myself the invisible one. Four years in the same school environment that never included me made confidence an issue beyond the school until this day. I was 14 or 15 years old when I realized a wheelchair was going to be a part of my life forever. Acceptance had to be found again. It was not always beautiful and bright, but here I am.
Although I never walked and got my first wheelchair at five years old, I still had to find my place in the world and my community, yet how did I fit in with my peers that don't have disabilities?
I felt misunderstood by lots of people, so I disconnected myself from judgment and developed my own village of support.
I am a girl who is always smiling. Even on the most challenging days, I would break down and keep pushing because life is good. I have food to eat, a house to live and sleep in, my mom stayed home to care for me and  the rest of our family, while mydad works and does his best to make us happy. I am grateful, but that does not mean life is not a journey that I need to get through.
I was emotional most days. It was draining, but I pushed through. I viewed my disability as a struggle. My parents never said, "Why us?" while raising me as a child with a disability, but some days I said, "Why me? Why can't I walk?" Yes, I question that from time to time. You are not wrong for these moments. Allow yourself to feel this way. To parents who feel yelling is the way to respond to young people when faced with difficult times, explore emotional support. Sit and talk with us about our feelings.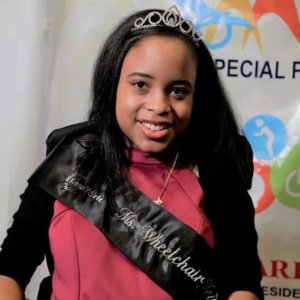 In many Caribbean cultures, personal and family issues or experiences are meant to stay within the home. I broke that silence by sharing my story and connecting to those I recognized had a passion for supporting people with disabilities. I can share my story and experiences without judgement, because sharing my story and living life the way I do allowed me to connect with others. For many, I am just their friend and that means everything.
At 17 I escaped those feelings and found my voice through writing, and I wanted to share my story with the world. I started my own website. I discovered my true purpose.
At 18 I graduated high school with no set plans, but felt so free and ready to take on the world, and begin to have a seat at the table where I can share my thoughts and feedback. As a result, I feel valued and visible to society.
I broke my silence and began to blossom.
Today I am an advocate.
Today I have graduated college.
Today I am a motivational speaker, and certified professional coach.
As a little girl, I had feelings and dreams just like all girls with and without disabilities.
To little girls just like me, one day you will find your voice. Find the best communication skill that works for you, and understand that if someone reaches out to you, they care and simply want to be there for you. Free yourself to dream. I have found my purpose. I have found my voice. But the truth is I am still searching for my worth, working on my self-esteem, and more. I am enough, and so are you. My goal is to empower young girls with disabilities as they face reality with their disability.
Never feel alone, because I have been there, and I am here if you ever need me.
Love,
Ketrina, the person I grew to become
---
Ketrina Hazell is a member of RespectAbility's Speakers Bureau. While the month of March is traditionally recognized as Women's History Month, RespectAbility is using this moment to amplify the voices of all underrepresented genders in the Disability community, with a month-long editorial series titled, "Empowering the Next Generation," acknowledging the important role each of these voices plays in the overall goal of building gender equity and equality for future generations.