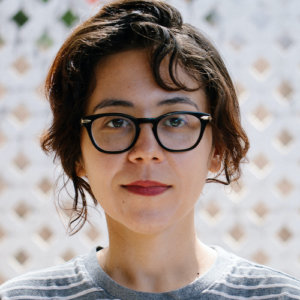 Los Angeles, CA, Oct. 8 – Shireen Alihaji is a poet/filmmaker from Los Angeles covering stories on labor rights, environmental justice, hate crimes, human trafficking, gender discrimination, sexual violence, capital punishment, health care equity, immigration/refugee reform, restorative justice, and accessibility for people with disabilities. As a woman with Epilepsy, a child of duel cultural (Iran/Ecuador), and duel faith heritage (Muslim/Catholic), she seeks to create environments for historically neglected identities to share their stories.
"I believe living between intersections creates an awareness for how nuanced the human experience can be," she said in an interview with RespectAbility. "Because there are so many layers to my experience, I'm reminded that there are so many layers to everyone's experience. Everyone carries so much history when they enter a room and there is value in that."
After supporting the writing/directing initiatives for major film studios, she transitioned into community-scale media organizing. She co-founded Blue Veil Film, an LA-based media cooperative that supports the restoration of voices belonging to historically excluded communities, seeking to reclaim their narratives through story sharing and education.
"Because the culture of this industry is competitive, people don't necessarily take a pause and ask how can I support you. That can be discouraging as someone who navigates the world with unique abilities/disabilities. We need to take a pause to reflect on more than just our own experience to create more supportive spaces and less competitive space in this industry. It's as simple as slowing down."
Alihaji is an alumna of RespectAbility's 2019 lab for entertainment professionals with disabilities. The project she workshopped in the lab, Blue Veil, became a semifinalist in 2020's WIF Black List Feature Program. During the lab, she met Nasreen Alkhateeb and together they created American Girl, which placed as second round finalist in the 2020 Sundance Episodic Lab.
"The tradition of story sharing (versus telling) restores justice in affirming one's experience and reflecting back narratives that open spaces for all of us to exist."
In her free time, she volunteers as a videographer for Women's Mosque of America and guest teaches filmmaking workshops for youth. Her work has been featured in Muslimgirl.com, LA Times, KCET, Frontline and the University of Michigan (Dr. Suad Abdul Khabeer's course). She also has presented at Columbia University through The Muslim Protagonist.
Just 39.4 Percent of Working-Age Hispanic and Latinx People with Disabilities Are Employed
As the country observes National Hispanic Heritage Month, which began September 15, 2020 and ends October 15, 2020, it is important to note that there are 5.2 million Hispanic and Latinx people with disabilities living in the U.S. While studies show many people within the Latinx, Hispanic and other communities hide their disability due to negative stigmas, Alihaji has used her voice to share her stories, educating people about both visible and nonvisible disabilities.
The Disability Statistics Compendium, released by the Institute on Disability at the University of New Hampshire, shows that in the economic expansion before the COVID-19 pandemic, just 39.4 percent of working-age Latinx people with disabilities had jobs, compared to 76 percent of Latinx people without disabilities. In total, out of 2,915,754 working-age Latinx people with disabilities, only 1,149,092 had jobs pre-pandemic. Alihaji, however, is helping to change those trends, using TV and film to change perceptions that can reduce stigmas holding disabled individuals back from achieving success.