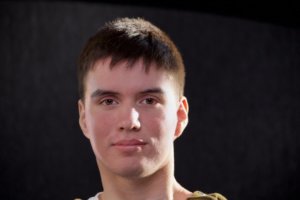 Long Beach, CA, Sept. 26 – Roque Gregorio Renteria was born in Los Angeles, California. Growing up, he was glued to the television screen and quickly developed a love for storytelling. Since both his parents are originally from Mexico, he enjoyed stories in both English and Spanish, which helped him appreciate foreign films early on.
"There's often a trade off when multiple identities are present," he said. "People want to focus on my Hispanic identity or my identity as a person with a disability and not examine both. However, I think we're reaching a point where creators are realizing there's an untapped authenticity existing within the concurrent exchange of both my identities."
At the age of 14, he had a spinal cord injury, which left him partially paralyzed, but, as he said, "on the bright side," he got a brand-new wheelchair.
Seeing the world from a new perspective (his eyes are now at waist level), Renteria started to write jokes about his predicament. This led him to pursue a career in stand-up comedy. He has been featured on Comedy Central; Jeff Ross Presents Roast Battle II, and Amazon Prime. If he can find a pit crew to accompany him, he travels and performs comedy both locally and internationally.
"I am a screenwriter and comedian who has been featured on Comedy Central, Amazon Prime, and SoulPancake. However, I think my greatest talent is being able to make people feel bad while laughing at the same time."
Renteria is an alumnus of RespectAbility's Lab for Entertainment Professionals with Disabilities. This program continues building the talent pipeline of young and mid-career professionals with disabilities working behind the scenes while also enabling hundreds of studio executives to learn about the talents and benefits of hiring people with disabilities.
Renteria graduated from California State University, Long Beach, where he majored in English. During that time, participated in student activism involving better accessibility and guest lectured on the topics of representation of disability in mass media. He later graduated from UCLA's School of Theater, Film, and Television with an MFA in Screenwriting. Renteria enjoys telling jokes and deconstructing institutions on stage.
When he's not performing across the country, you can find him pushing around the streets of Los Angeles. And when he is not pushing, he is locked in his room trying to write his next page. He believes that laughter is great medicine, but you should consult with your doctor to see if his comedy is right for you.
Just 39.4 Percent of Working-Age Hispanic and Latinx People with Disabilities Are Employed
As the country observes National Hispanic Heritage Month, which began September 15, 2020 and ends October 15, 2020, it is important to note that there are 5.2 million Hispanic and Latinx people with disabilities living in the U.S. While studies show many people within the Latinx, Hispanic and other communities hide their disability due to negative stigmas, Renteria has learned to use humor when addressing his disability.
The Disability Statistics Compendium, released by the Institute on Disability at the University of New Hampshire, shows that in the economic expansion before the COVID-19 pandemic, just 39.4 percent of working-age Latinx people with disabilities had jobs, compared to 76 percent of Latinx people without disabilities. In total, out of 2,915,754 working-age Latinx people with disabilities, only 1,149,092 had jobs pre-pandemic. Renteria, however, is hoping to buck those trends, using TV and film to change perceptions that can reduce stigmas holding disabled individuals back from achieving success.