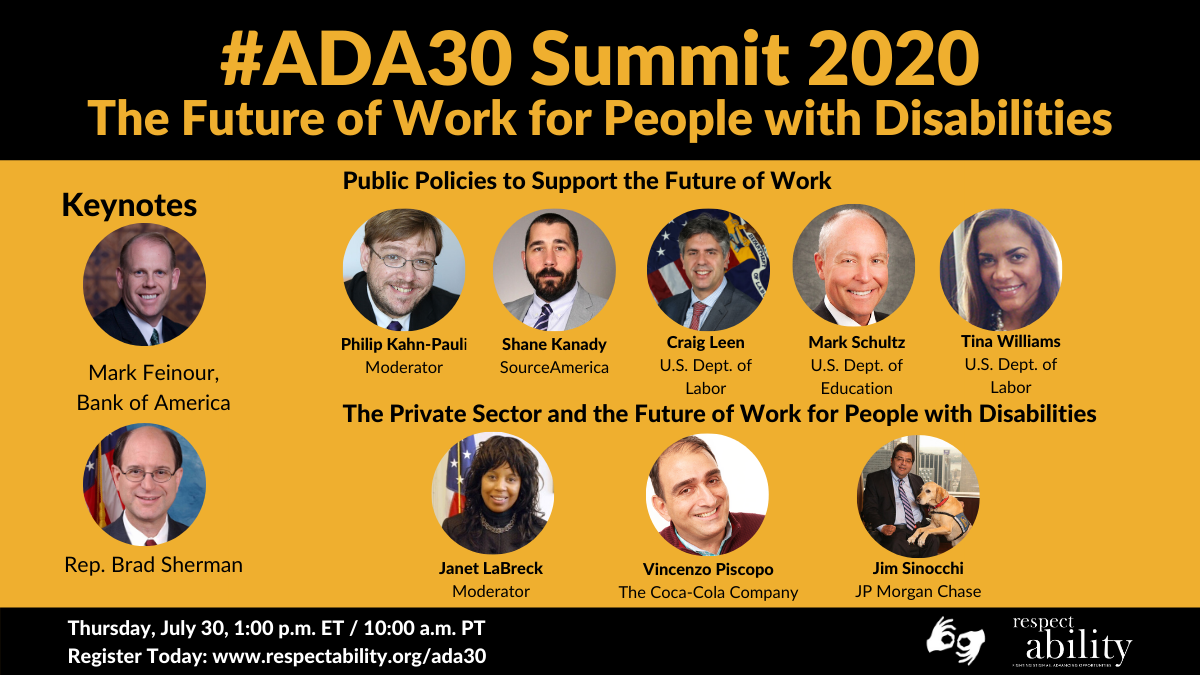 Washington, D.C., July 22 – With more than 1 million workers with disabilities out of work due to COVID-19, the national disability nonprofit RespectAbility is hosting a two-part panel of thought leaders to honor the 30th anniversary of the Americans with Disabilities Act (ADA) and to talk about building a better future of work for people with disabilities.
Taking place on Thursday, July 30, The Future of Work for People with Disabilities is part of a weeklong series of virtual #ADA30 events focused on building a better future and successful ways to get more people with disabilities into the workforce.
"Three decades later, the work to remove barriers continues," said former Congressman and current chair of RespectAbility, the Honorable Steve Bartlett, who is a co-author of the ADA. "The ADA is meant to ensure that people with disabilities have the opportunity to earn an income and achieve independence. We must fight stigmas and advance opportunities so people with disabilities can achieve their dreams, just like anyone else. We've come so far, yet we still have far to go."
In 1990, the employment rate for people with disabilities was only 28.7 percent. By 2018, the national employment rate for working-age people with disabilities had risen to 37.6 percent and more than 70 percent of people with disabilities were striving to work. Yet, workers with disabilities have lost their jobs in high numbers due to COVID-19 and the resulting economic crisis.
Thursday's two-part employment-focused event will grapple with how to make up for those loses and discuss how we can build a better future for people with disabilities. Rep. Brad Sherman, Chairman of the House Financial Services Subcommittee on Investor Protection, Entrepreneurship and Capital Markets, will present a keynote address on economic opportunity and entrepreneurship. RespectAbility's Policy and Practices Director Philip Kahn-Pauli will moderate a conversation with Shane Kanady, Vice President, Workforce Development at SourceAmerica; Director Craig Leen and Deputy Director Tina Williams from the Office of Federal Contract Compliance Programs (OFCCP) at the U.S. Department of Labor; and Mark Schultz, Acting Assistant Secretary of the Office of Special Education and Rehabilitative Services and Commissioner of the Rehabilitation Services Administration at the Department of Education.
The second part focuses on private-sector solutions and will feature a keynote address by Mark Feinour, Executive Director of the Support Services group, Bank of America, before an in-depth conversation between Vincenzo Piscopo, Community and Stakeholder Relations Director, The Coca-Cola Company,; Jim Sinocchi, Head of Disability Inclusion, JP Morgan Chase; and moderator Janet L. LaBreck, disability employment expert and former leader of the nation's vocational rehabilitation system.
According to the U.S. Census, more than 55 million people – 1 in 5 Americans – had at least one disability prior to COVID-19. This includes people with physical, sensory, learning, cognitive and other barriers to everyday living. The disability community is growing because of this pandemic, both from people who had the coronavirus and with so many people experiencing mental health challenges.
"However difficult 2020 has been, I truly believe that we can build a better future of work for people with disabilities," said Philip Kahn-Pauli, Policy and Practices Director, RespectAbility. "For years, the disability community has advocated for telework to become the norm. COVID-19 made companies rapidly embrace telework as a best practice. Just imagine all of the other innovations, ideas and best practices that more workers with disabilities can bring to the table."
The entire week's events are sponsored by Comcast NBCUniversal, the Murray/Reese Foundation, Sony Pictures Entertainment and The Walt Disney Company.
#ADA30 Summit: Monday, July 27 – Friday, July 31
1:00 p.m. ET / 10:00 a.m. PT
All events are free and fully accessible with ASL interpreters and live captions.
Monday: Education & Skills for a Better Future
Tuesday: Ensuring Inclusive Communities
Wednesday: Fighting Stigmas with Hollywood
Thursday: The Future of Work for People with Disabilities
Friday: Leadership: Making a Difference for the Future
Interviews are available with RespectAbility Chairman Steve Bartlett and other speakers. View the full schedule and speakers list and register on our website: www.respectability.org/ada30.
About RespectAbility: RespectAbility is a nonprofit organization that fights stigmas and advances opportunities so people with disabilities can fully participate in all aspects of community.
Media Contact:
Lauren Appelbaum, Vice President, Communications
Email: LaurenA@RespectAbility.org