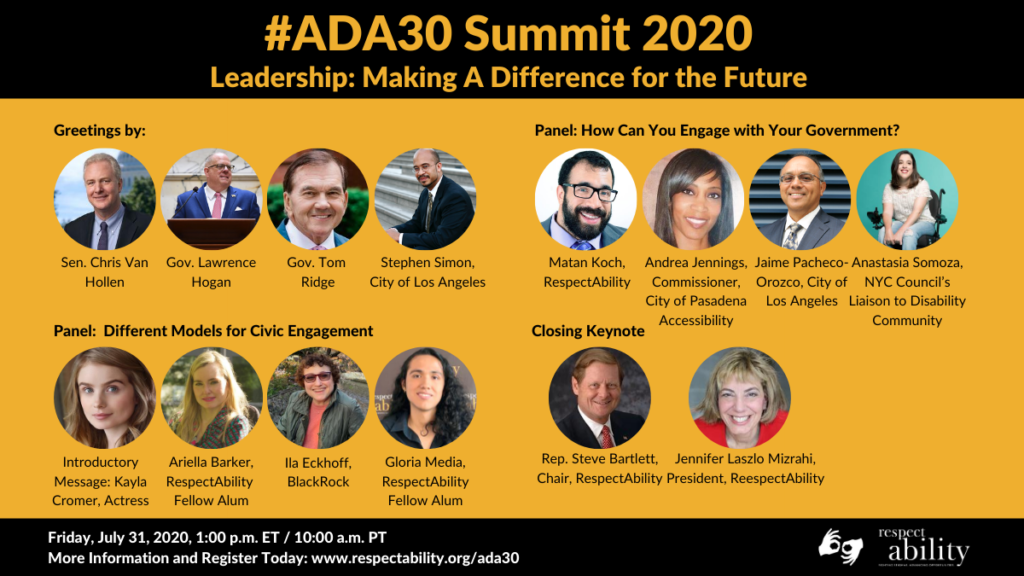 Los Angeles, July 28 – This week, America has been celebrating the 30th anniversary of the Americans with Disabilities Act (ADA), the most comprehensive piece of civil rights legislation ever passed for people with disabilities.
In celebration, the disability advocacy nonprofit RespectAbility, with a significant operation in Los Angeles, is hosting #ADA30 Summit 2020. Its crowning day will focus on how citizens and the government can partner to bring about the future that we would like to see by the time the ADA turns 40. It will be star-studded with messages from national, state and local leaders, including National Governors Association Chair Gov. Larry Hogan, Former Gov. and Cabinet Secretary Tom Ridge and Sen. Chris Van Hollen.
The keynote for the day will be by Stephen David Simon, the Executive Director of the Los Angeles Department on Disability, offering his vision for the future of the ADA in Los Angeles, and how all of its citizens can help to achieve this future. At the same time he will be announcing a landmark guide, released in partnership between RespectAbility, The Department of Disability, and leading nonprofits UNITE LA and Fiesta Educativa, entitled "Finding a Job as a Person with a Disability in Los Angeles," which will offer pathways forward and advice for Angelenos in many different stages of life who are trying to find, advance in, or maintain employment.
The rest of the day will address not only the nearly 200,000 working age Angelenos with disabilities, (almost ½ million if you include the County) and the 66,000 students with disabilities in the LA United School District, but also the 55 million Americans with disabilities, exploring the different ways we can engage to make this vision a reality. First, three leading civil servants from New York and California, who are people with disabilities in roles serving people with disabilities, will join a panel moderated by Matan Koch, Director of RespectAbility California and Jewish Leadership. The three leaders are Jaime Pacheco-Orozco, Deputy Executive Director of the Los Angeles Department on Disability; Andrea Jennings, founder of Shifting Creative Paradigms Productions; and Anastasia Somoza, Community Liaison, NYC Council's liaison to the disability community. They who will be speaking in their personal capacities and will explain both their personal journeys into public service as people with disabilities, and the important role played by interactions with the public.
Then three additional activists will join a second panel, still moderated by Koch, talking about the many other ways that they engage civic society. Gloria Medina, trans activist and former RespectAbility Public Policy Fellow, will share her experience as a trans activist with a disability. Ariella Barker, an attorney and disability activist, will chronicle how she helped RespectAbility to coordinate a massive campaign of phone calls, letters and media activism, leading to 30 additional states, including California providing home delivery for people who depend on SNAP, meaning that people with disabilities did not need to choose between a deadly trip to the grocery store or going hungry during the pandemic. Ila Eckhoff, Managing Director of BlackRock, will speak about the delegation that she took to Iowa before the caucuses, not to advocate for a candidate, but to ensure that regardless of the candidate who ultimately wins the presidency, disability would be on their radar. The event will close with film and entertainment figures sharing their visions for the future.
This is the culmination of a week of daily virtual events from Monday, July 27 through Friday, July 31. The #ADA30 Summit 2020 is free and open to the public. The event is sponsored by Comcast NBCUniversal, the Murray/Reese Foundation, Sony Pictures Entertainment and The Walt Disney Company.
The summit opened on Monday with several co-authors of the ADA, including former U.S. Congressman (R-TX) and RespectAbility Chair Steve Bartlett, Hon. Tom Harkin (D-IA), Hon. Tony Coelho (D-CA), and activist and former presidential appointee Hon. Lex Frieden. Engaged in a Zoomside chat, this conversation was moderated by PBS NewsHour's Amna Nawaz on the distance that we have come.
The complete event schedule is as follows:
#ADA30 Summit: Monday, July 27 – Friday, July 31
1:00 – 3:00 p.m. ET / 10:00 a.m. – 12:00 p.m. PT
All events are free and fully accessible with ASL interpreters and live captions.
Monday: Education & Skills for a Better Future
Tuesday: Ensuring Inclusive Communities
Wednesday: Fighting Stigmas with Hollywood
Thursday: The Future of Work for People with Disabilities
Friday: Leadership: Making a Difference for the Future
Interviews available with RespectAbility Chairman Steve Bartlett and other speakers. View the full schedule, speakers list and registration link here: www.respectability.org/ada30.
About RespectAbility: RespectAbility is a nonprofit organization that fights stigmas and advances opportunities so that people with disabilities can fully participate in all aspects of community.