Act Now to Enable People Who Use SNAP (Food Stamps) to Get Food Delivered
Washington, D.C., May 7 – Since the start of the pandemic, 25 states have a taken a critical step to ensure that the people at the greatest risk from COVID-19 and who rely on Supplemental Nutrition Assistance Program (SNAP) benefits can safely order groceries online – with 12 of them starting the process in recent weeks. The disability nonprofit RespectAbility congratulates leaders in twelve states that are now in the process for applying for a waiver from the U.S. Department of Agriculture that would allow SNAP recipients to use their benefits for online grocery delivery via Walmart or Amazon.
However, nineteen states have yet to act or publicly announce any plans to ensure their constituents can receive online grocery deliveries through SNAP. Instead, millions of people with and without disabilities have to risk exposure to COVID-19 or go hungry.
States that have yet to act include: Alaska, Connecticut, Delaware, Indiana, Illinois, Kansas, Maine, Michigan, Mississippi, Montana, New Hampshire, New Mexico, North Dakota, Ohio, Rhode Island, South Carolina, South Dakota, Utah and Virginia.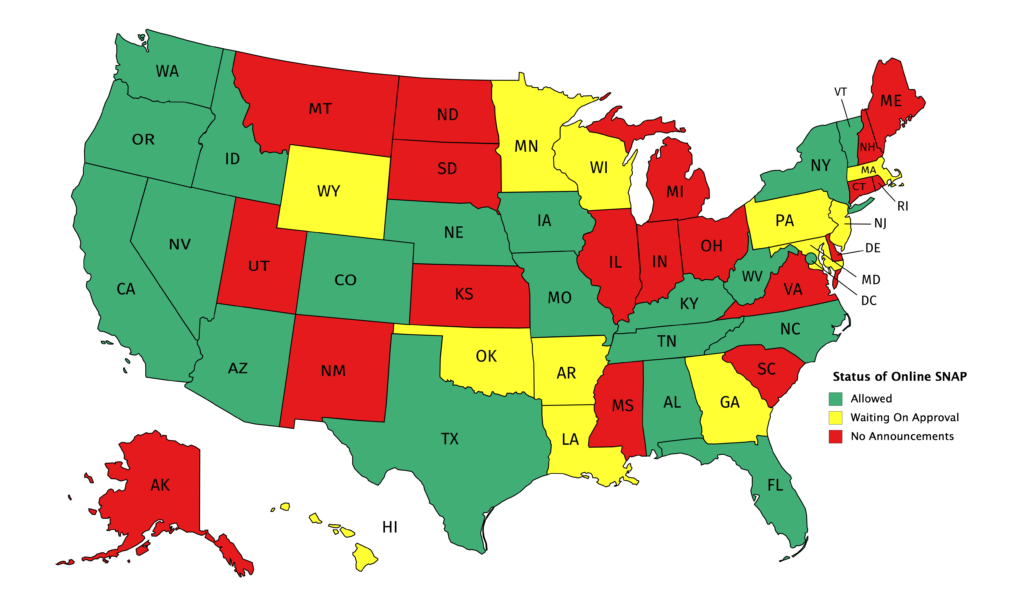 Nationwide, 11 million Americans with disabilities depend on SNAP, also called food stamps, to pay for groceries and provide for their families.
"During this pandemic, many people with disabilities are especially at risk because of underlying health conditions," said Jennifer Laszlo Mizrahi, President and CEO of RespectAbility. "They need to be able to eat without having to worry about catching the coronavirus. Thus, we have reached out to every state on this issue. We are actively encouraging SNAP directors to quickly enable people with disabilities to use their benefits online."
RespectAbility is not alone in its efforts. Other disability rights groups, including the Consortium of Citizens with Disabilities (CCD) and the National Disability Rights Network (NDRN) have collaborated to release public advocacy letters to Congress, distribute advocacy materials to federal leaders, and educate state leaders about taking action on this life-or-death issue.
The SNAP program is run by the U.S. Department of Agriculture. In 2019, USDA launched a trial effort with six states to allow beneficiaries to use their benefits to pay for online grocery deliveries. At the beginning of the pandemic, an additional 13 states joined in the pilot.
In the past several weeks, twelve other states (Arkansas, Georgia, Hawaii, Louisiana, Maryland, Massachusetts, Minnesota, New Jersey, Oklahoma, Pennsylvania, Wisconsin and Wyoming) have applied. Now, those states are now waiting for the USDA to approve their application to join the pilot program.
"This is potentially lifesaving news for millions of people with disabilities who depend on food stamps to put food on the table," added Mizrahi. "We hope that the USDA and Secretary Sonny Perdue will expedite the necessary paperwork and help people who use SNAP to stay safe from the pandemic. We are grateful for progress. But more must urgently be done before more lives are lost."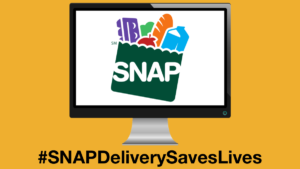 To take action on this issue, RespectAbility has launched a new campaign, #SNAPDeliverySavesLives, and tracks states as they apply for these USDA waivers at: https://www.respectability.org/SNAP.
For more information about RespectAbility's advocacy work and their COVID-19 resources, please visit: https://www.respectability.org/covid-19.
For more information and details about the SNAP online purchasing pilot, please visit the USDA's website: https://www.fns.usda.gov/snap/online-purchasing-pilot.