Download transcript
Watch recording on YouTube with open captions
Film Fatales and RespectAbility jointly presented a panel discussion about Disabilities On Screen and Off, hosted by Film Independent. The panel encompassed an intersectional discussion around inclusive casting for both visible and nonvisible disabilities, creating accessible sets, and ensuring accessible finished products for film festivals and beyond.
Speakers included Shari Bisnaught (Costume Designer, Best Summer Ever), Ashley Eakin (Director, Single), Tatiana Lee (Hollywood Inclusionist, RespectAbility) and Michele Spitz (Founder, Woman of Her Word), facilitated by Film Fatales member and RespectAbility Lab Alumna Nasreen Alkhateeb and Film Fatales member Tchaiko Omawale.
Film Fatales is a 501(c)(3) non-profit organization which advocates for parity in the film industry and supports an inclusive community of over one thousand women and non-binary feature film and television directors nationwide. Film Fatales raises the visibility of marginalized directors and increases the talent pool for industry organizations, programmers and production companies looking to work with underrepresented voices. By expanding the landscape of storytelling, Film Fatales continues to bring exciting new film and television projects to the screen.
RespectAbility is a nonprofit organization that fights stigmas and advances opportunities so people with disabilities can fully participate in all aspects of community. RespectAbility provides tools, trainings and contacts to support creative and business executives at major production companies and studios to improve the number and quality of authentic, diverse and inclusive representation of people with disabilities on screen. RespectAbility increases hiring initiatives of people with disabilities behind the camera, supporting both the disabled employees and their employers.
Film Independent is a non-profit arts organization that champions the independent filmmaker, helps filmmakers make their movies, build an audience for their projects and work to diversify the film industry. With over 250 annual screenings and events, we provide access to a network of like-minded artists who are driving creativity in the film industry. Film Independent encompasses a broad community of individuals who appreciate and sustain artist-driven filmmaking. 
---
About Our Speakers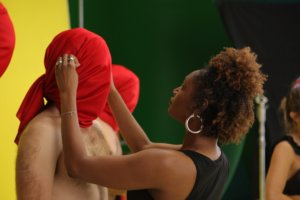 Shari Bisnaught is a costume designer and wardrobe stylist whose lifelong love of fashion has taken her from South Florida to Los Angeles, where she has found the perfect outlet to express her creative passion. Shari has spent the past five years working on a variety of television shows including Extra (Telepictures), Crime Watch Daily (Tribune), 12 Deadly Days (YouTube Red), and Lady Dynamite (Netflix). Her abilities – spanning from styling to tailoring – have put her name on the map as clothing companies such as Faircloth & Supply and musicians such as BØRNS have sought her out for her impeccable work.
---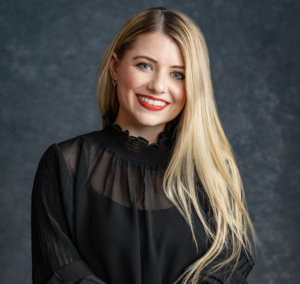 Born in California and raised in Nebraska, Ashley Eakin is a writer-director based out of Los Angeles with a physical disability. In 2019 Eakin was selected for the AFI Directing Workshop for Women. Her project SINGLE, produced in the program, will have its World Premiere at the SXSW 2020 Film Festival. Single was also the recipient of the New York Women in Film: Loreen Arbus Disability Awareness Grant.
Most recently, in 2019 Eakin worked for and shadowed director Mark Pellington on the Quibi series SURVIVE, filmed in the Italian Alps starring Sophie Turner and Corey Hawkins. In 2017 she spent 5 months in Malaysia and Singapore working as the Assistant to Jon M. Chu on his film CRAZY RICH ASIANS. She also shadowed Chu during the production of the Freeform pilot GOOD TROUBLE, as well as assist with the development of the Apple TV series HOME AFTER DARK.
Eakin's 2018 short documentary THE DETAILS, featuring Henry Golding and Awkwafina was selected for the Hamilton Film Festival. Her narrative short film BLUE premiered at the 2019 LA Shorts Fest last summer and is currently on Amazon Prime.
In 2017 Eakin was featured in a SoulPancake video talking about her rare bone condition. The video went viral reaching over 50 million views. Her medical journey has immensely influenced her passion to pursue stories that advocate diverse representation for people with disabilities. She is currently writing a coming-of-age feature film, inspired be her own life experiences.
Eakin is an Alumna of the 2019 Respectability Labs Program for Entertainment Professionals with Disabilities, and she is represented by Allen Fisher and Maggie Haskins at Artists First.
---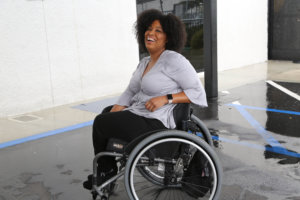 Tatiana Lee is a Hollywood Inclusionist at RespectAbility, a nonprofit organization fighting stigmas and advancing opportunities for and with people with disabilities. She was a Communications Fellow in Spring 2019, participating in the leadership program to gain better knowledge and skills to be a more effective advocate in Hollywood for disability inclusion. Now, she helps represent RespectAbility in Hollywood. Like RespectAbility, Lee has dedicated her life to fighting for inclusion of people with disabilities in all aspects of mass media.
Growing up in Coatesville, Pennsylvania, Lee felt invisible to the rest of society because she did not see anyone that looked like her in popular media. Lee majored in Business Marketing with the help of online college courses while managing her major health issues. Lee wanted to learn how to market herself as a brand because people laughed at her when she told them she wanted to act and model.
So Lee moved to Los Angeles to pursue her acting further and vowed to be the change she wanted to see. She quickly realized that wheelchair accessibility was a major barrier for her and wanted to shed insight on her perspective.
Lee learned to harness the power of social media to speak boldly about accessibility and inclusion in mass media. She became the voice behind "Accessible Hollywood,"where she highlighted her journey as an actress, model and lifestyle influencer born with Spina Bifida. Lee was in one of Apple's first ad campaigns featuring people with disabilities using Apple's accessible features and products.
Lee has appeared in several short films, including the 2018 Disability Film Challenge Best Awareness Film "Footloose" and "Coffee with Tim Cook, CEO of Apple." She also has appeared in modeling campaigns such as #PerfectFigure for Parfait Lingerie. Lee currently is undertaking speaking engagements, panels and attending Upright Citizens Brigade Improv Theater as a 3x Diversity Scholarship recipient. She is the 2018 recipient of the Reeves Acting Scholarship from The Christopher & Dana Reeves Foundation, which she accepted at the Media Access Awards.
Lee loves living in the heart of Los Angeles for the ease of getting to auditions, and it is where a lot of the magic of Hollywood happens. Lee loves being in the middle of the Hollywood vibe. Her goal in Hollywood is to star in her own major film, snag the cover of a major magazine and to eventually write and direct her own projects. Most of all, she wants to shift society's narrative of what it means to be a woman of color with a disability and make sure that all people with disabilities have a chance to steer their own narrative of disability in mass media.
Lee loves beauty, fashion, fitness and attending and hosting events with her peers. When Lee is not acting, modeling or fighting for inclusion, she is taking boxing classes, doing yoga and cooking a fun meal with her family that she is close with.
---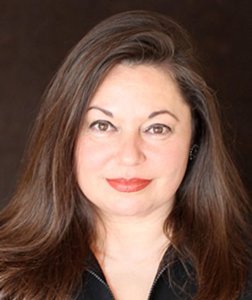 Professional voiceover artist, public speaker, advocate and philanthropist, Michele Spitz is dedicated to making the world accessible to people of all communities by providing her vocal talents to filmmakers, publishers, speaking venues, and charitable organizations. Wherever Michele's voice is, her heart is also; short and full-length documentaries, feature films, museums, children's programming, industrial videos, audio manuals, and public service announcements.
Michele is most passionate about her audio description production and voiceover narration allowing access for visually impaired audiences to equally experience film and digital media, and the arts. She has voiced over 65 projects including the documentary features; Pavarotti: Genius is Forever, Itzhak, How Sweet the Sound – The Blind Boys of Alabama, CinemAbility: The Art of Inclusion, Lives Well Lived, Dealt, Capturing the Flag, and Becoming Bulletproof. Commercially released films include The Beatles: Eight Days A Week – The Touring Years, and Miss You Already. She also video described The Great Muppet Caper for Disney Cable. Upcoming film projects include Bee Gees Documentary, Oliver Sacks: His Own Life, Best Summer Ever, and Children of the Inquisition.
Since 2014, she has sponsored and voiced the audio description for select films annually for Superfest: SF International Disability Film Festival and provided the same annually for ReelAbilities: NY International Disability Film Festival since 2015. She was a panelist and sponsor for the opening of the 2018 ReelAbilities: LA International Disability Film Festival. She frequently video describes annual fundraising gala videos for disability organizations. Michele also provides in-kind audio description production grants to prominent museums, such as the Cooper Hewitt Smithsonian Design Museum in 2018.
Michele personally underwrites hundreds of patron attendance tickets, artist interactive programs and assistive audience technology for the performing, visual and cultural arts world. These underwriting programs serve disabled, senior, veteran, and underserved communities. She is a supporter of Broadway Dreams, Actors for Autism, The Miracle Project, Axis Dance, Deaf West Theater, Deaf Film Camp, Positive Exposure 109, SFJAZZ, Jewish Community Center San Francisco (JCCSF) Arts & Ideas, San Francisco Jewish Film Festival, and Osher Marin Jewish Community Center (JCC) Senior Excursions. Michele also supports LightHouse for the Blind, Guide Dogs for the Blind (GDB), Helen Keller Services for the Blind, and That Man May See.
In February 2016, Michele served on a panel co-hosted by New York Women in Film and Television (NYWIFT) and NY ReelAbilities; she spoke on post production accessible media including audio description and captioning for filmmakers. As a member of NYWIFT, Michele serves as a judge on the annual Disability Awareness Film Panel and the Post Production Documentary Film Panel. She originated and sponsored the first annual grant providing audio description and closed captioning for the NYWIFT Disability Awareness Films awarded, now in its fourth year and initiated the same grant for Women in Film (WIF) in 2019. As of July 2018, Michele has also created the first audio description production grant for the NYWIFT In-Kind Post Production Documentary film selected. These women filmmakers are awarded at the annual NYWIFT MUSE Awards. Michele has been the Voice of God (VOG) announcer for the 2018 and 2019 NYWIFT MUSE Awards. She is frequently invited to make appearances for presentations and Q&A sessions at various cinema screenings.
Michele continues to promote and pursue thought-provoking panels, including a film accessibility panel for the 55th New York Film Festival (NYFF) and a recent media accessibility panel for Women in Film LA (WIF). Educating future media makers to incorporate inclusive mindsets has been an important focus of hers. In 2016, Michele initiated and sponsored the first British Academy of Film and Television Arts New York (BAFTA) Media Studies Scholarship for Feirstein School of Cinema graduate film students with disabilities of which both scholarship recipients recently graduated.
The multiple aspirations and advocacy of Woman of Her Word have been featured in interviews with the Hollywood Reporter, Variety, NBC Bay Area Proud, Marin Arts & Culture Magazine, San Francisco Examiner, PRN.FM, KWMR, KPOO radio programs, and multiple podcasts. The select catalog of films and digital media for which Michele voiced the audio description are listed on IMDb, and can be experienced in cinemas, via broadcast such as PBS, DVD, and streaming platforms such as Netflix, Amazon Prime, and Hulu.
Michele's commitment is unwavering in the pursuit for inclusion in the arts. Her very presence is a unifying force, which results in equality of experience to the communities she serves.
---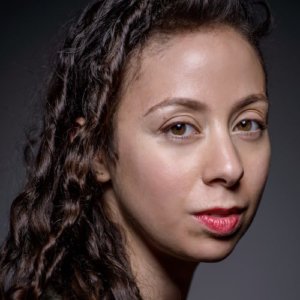 An award-winning cinematographer, Nasreen Alkhateeb's work amplifies under-represented voices by illuminating racial injustice, marginalized youth, melting ice, women peacekeepers, and the construction of the largest telescope NASA has ever attempted. Nasreen has a plethora of lenses she sees the world through. Her ability to motivate audiences is a direct result of being multi-heritage, BiPOC, 1st generation American, and making work through a disabled lens.
In 2020, Nasreen was chosen as the Lead Cinematographer for Kamala Harris' successful Vice Presidential campaign, and Oprah's series Uncomfortable Conversations with a Black Man. In 2019, she executive produced East of the River that screened the Tribeca Film Festival and Slamdance, and she captured two campaigns for NASA and the Women's March, in addition to the Director of Photography on two narrative films highlighting LGBTQ and disabled storylines. In 2016, Nasreen was awarded Cinematographer of the Year by NASA for her coverage of Operation IceBridge.
Nasreen has participated in the SUNDANCE Film Festival and developed programing for AFI DOCS, the Nantucket Film Festival, the Brooklyn International Film Festival, CINE, TIVA, and the EMMYS. She is a Senior Production Advisor at RespectAbility, and a mentee of the American Society of Cinematographers.
Speaking engagements: Disney's The Power of Inclusion, TED, AwesomeCon, StoryCode, Filmgate Miami, Light City Baltimore, NASA Women in Action, Bus Boys & Poets, PORTALS, AMPM, Manhattan Mornings, George Washington University, Ohio University, and Pratt Institute
Her content can be seen on Harpo Productions, NASA, Netflix, Amazon, IFC, BBC, NPR, UNITED NATIONS, SXSW, AMC, Discovery, and WITNESS.
---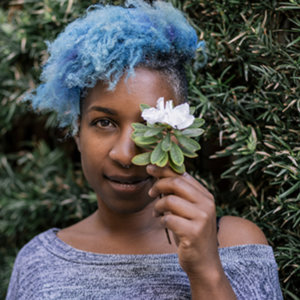 Tchaiko Omawale is an award winning director who grew up as a Global Nomad, a Black Third Culture Kid. She lived in eight different countries while her father worked for UNICEF, moving to the US at sixteen. She graduated from Columbia University then interned for Spike Lee and Mira Nair and assisted feature directors George C. Wolfe and Tom Vaughan. Her first short was a Derek Jarmon/Octavia Butler inspired fantasy film. Tchaiko was awarded the Gaea Sea Change Residency for artists working for social change while making her documentary America's Shadows HIV Risk in Black and Latino Youth. Her feature film Solace starring Hope Olaide Wilson, Lynn Whitfield and Glynn Turman was inspired by her personal experiences with an eating disorder. Solace recently premiered at the LA Film Festival winning Special Jury Mention Best Ensemble Cast and won Audience Award at the New Orleans Film Festival. The film was supported by several organizations including Panavision, Tribeca Film Institute, IFP, Women In Film, Film Independent and Creative Visions. It is currently on the festival circuit with distribution negotiations underway. Tchaiko was a 2017 School of Making Thinking Resident fellow where she created the VR film Shapeshifters. Though she chose a different path from her parents who worked in the International Public Health sector, Tchaiko's choice to contribute to global equality by becoming a director is in line with her upbringing. You can see her work here: www.tchaiko.com