Rockville, Maryland, August 15 – RespectAbility today announced a $1.5 million two-year initiative that will allow exceptionally talented adults with disabilities from across the United States to travel to the Washington, D.C. area for a semester-long career-training fellowship. One of the funders, The Harry and Jeanette Weinberg Foundation, has just committed $200,000 over two years to support this program.
RespectAbility, a nonpartisan nonprofit that fights stigma and advances opportunity so people with disabilities can fully participate in all aspects of community, will run the training as a part of its proven National Leadership Training Program. Depending on the area of focus that they choose, National Leadership Fellows will have the chance to:
Enable diverse people with disabilities to get the skills and jobs they need for a better future.
Fight implicit bias and stigmas by promoting accurate portrayals of people with disabilities in TV, film and the news media.
Educate philanthropists and nonprofits about how they can include people with disabilities equally in their work.
Reach out to candidates for Senate, Governor and the Presidency in a nonpartisan way to encourage key conversations about issues that impact millions of people in America who live with a disability.
Include people with disabilities in faith communities.
Ben Spangenberg, RespectAbility's national leadership program director, said in response to the grant, "I am so thrilled to have the resources to pay Fellows who otherwise could not get the training, contacts and skills that we can provide. This will give opportunities to so many deserving young people with disabilities who will be able to return to their communities and achieve career level employment."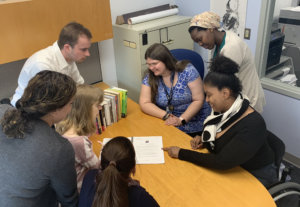 Recently, RespectAbility released a major report that showed most nonprofit organizations do not include many people with disabilities on their staff or lay leadership. The study also showed that they are not responsive enough to the accessibility and program needs of the 1-in-4 adults in America who live with some form of physical, sensory, cognitive, mental health or other disability.
"Thanks to the Weinberg Foundation, talented leaders with disabilities will be able to have a seat at decision making tables where they will be able to advance opportunities for people with and without disabilities alike" said Jennifer Laszlo Mizrahi, president of RespectAbility.
Said Marci Hunn, Program Director, Jobs of the Weinberg Foundation, "This grant supports our commitment to increase competitive employment opportunities for young adults with disabilities.  The program also ensures that employers become more inclusive, resulting in an increase in the hiring of staff with disabilities."
Programs such as RespectAbility's Fellowship program are an important piece to solve America's disability employment problem. Today, only 20.9 percent of working-age people with disabilities are in the workforce and seven percent of people with disabilities graduate college. RespectAbility's Fellowship offers much needed job readiness skills to people with disabilities, so they are able to compete in our tough job market.
To find out more and apply, go to www.RespectAbility.org/about-us/fellowship.