Award to be given at United Nations; 3,000+ Experts from 70+ Countries Involved
Washington, D.C., Feb. 14 – RespectAbility, a United States based nonprofit organization fighting stigmas and advancing opportunities for and with people with disabilities, will be recognized for "Innovative Practice 2019 on Independent Living and Political Participation for People with Disabilities." The award will be given at the United Nations in Vienna, Austria. The prize is for RespectAbility's work in fighting stigmas through Hollywood and job creation for people with disabilities. Fully 1-in-5 people on earth (1.2 billion people) live with some form of disability.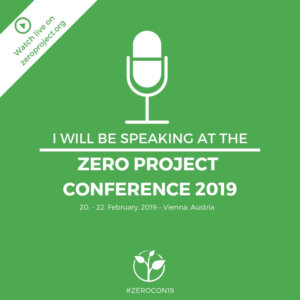 More than 3,000 experts and disability leaders from 70+ countries are involved in the The Zero Conference. This event, founded by the Essl Foundation, brings together over 700 experts from more than 70 countries and 30 exhibitors. The three-day program will start Wednesday, February 20, and will end on Friday, February 22 and will be live-streamed. RespectAbility's founder and president, Jennifer Laszlo Mizrahi, will deliver a co-keynote presentation at the conference. She will be speaking on specific work to fight implicit bias which limits jobs and other opportunities for people with disabilities. To see all the winners, go to: https://zeroproject.org/2019-awardees. All of the presentations will be live-streamed for free.
Since 2013, RespectAbility has been enabling people with disabilities to achieve economic independence by increasing positive representation in the media, encouraging best practices in employment and training young leaders with disabilities. RespectAbility has created the Hollywood Disability Inclusion Toolkit and enhanced the Emmy Award-winning TV show "Born This Way," starring people with Down syndrome. At the political level, RespectAbility focuses on employment by publishing reports on best practices, providing testimony, and creating resources for policy makers. By promoting employment opportunities, the organization collaborates with Hollywood writers to promote positive, accurate, and diverse portrayals of disability.
Says RespectAbility's founder, Jennifer Laszlo Mizrahi, "We are honored to have this recognition and hope to use it as a way to encourage disability leaders and organizations around the world to battle stigmas and advance positive and accurate representation of people with disabilities. You don't have to be in Hollywood to make a difference. Every community has someone with a disability who can partner with you to share a story of success through the news or other media."
RespectAbility also trains 25 to 30 young professionals a year, with and without disabilities, to become future leaders of the disability movement. To date, graduates of its National Leadership Program have gone on to work at the World Bank, the US Government, Hollywood and top universities. To learn more about RespectAbility, go to www.RespectAbility.org.
#zerocon19
Edited by Jennifer Laszlo Mizrahi.