NEW bipartisan poll of likely voters presented by top pollsters, Democratic pollster Stan Greenberg, Ph.D., of Quinlan Rosner Research and Republican Pollster Whit Ayes, Ph.D., of Northstar Opinion.
Download the slide presentation (accessible PPT or PDF).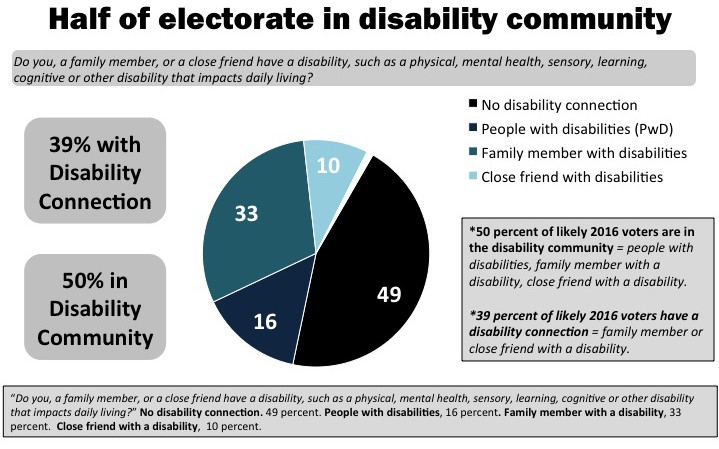 51% of likely voters say they personally, a family member, and/or a close friend has a disability 
Washington, DC. – A survey of 900 likely 2016 voters finds that by an overwhelming majority, voters are more likely to support a candidate who prioritizes a series of policies to advance opportunities for people with disabilities. More than 8 out of 10 voters are more likely to support a candidate who prioritizes "ensuring that children with disabilities get the education and training they need to succeed;" 61 percent are much more likely to support the candidate.
Only 65 percent of youth with disabilities graduate high school, 19 percent less than students without disabilities, a White House study found earlier this month. Youth who do not graduate high school are more likely to be involved in the criminal justice system and have a more difficult time entering the workforce.
Similarly, 84 percent are more likely to support a candidate who prioritizes "expanding job opportunities for people with disabilities, so they can succeed just like anyone else;" 59 percent are much more likely to do so.
Only one in three working-age Americans with a disability has a job, despite the fact that studies show that 70 percent of the 21-million working-age people with disabilities are striving for work. More than 78 percent of non-disabled Americans are employed.
"Our nation was founded on the principle that anyone who works hard should be able to get ahead in life," said Jennifer Laszlo Mizrahi, president of RespectAbility, a nonprofit organization advancing opportunities for people with disabilities. "People with disabilities deserve the opportunity to earn an income and achieve independence, just like anyone else. Companies including Amazon, Starbucks, Pepsi and others have shown that employees with disabilities are loyal, successful and help them make more money. If we find the right jobs for the right people, it can and does increase the bottom line of companies."
On the issue of "ending rape and assault of children and adults with disabilities," voters are 87 percent more likely to support a candidate who makes this issue a priority.
People with disabilities are twice as likely to be victims of crime than people without disabilities. People with disabilities between the ages of 12-15 and 35-49 were three times more likely to be victims of violent crimes.
Said Stan Greenberg, Ph.D., "This survey is a big lesson in how many people are affected by disabilities and how much it matters for elected officials to hear their very clear message. They too want politicians to do something about the risks they face and our founding principles: anyone who works hard should be able to get ahead in life. Ending rape and assault and expanding job and career opportunities matters for the partisans but most of all, for the undecided in this year's congressional elections. They want to be heard."
Likewise, Republican Whit Ayres commented, "We are accustomed to thinking about 'soccer moms,' 'Hispanics' or 'values voters.' But this poll shows that Americans with disabilities – and those who care deeply about them – are a demographic we need to pay attention to in the future."
"Today, children with disabilities are three times more likely to be victims of rape or sexual assault than children without disabilities," commented Mizrahi. "Every nine minutes an adult with a disability is sexually assaulted or raped. Growing up as a young adult with a disability, I know personally how traumatic this is. As a survivor of rape, it is incredibly reassuring to know how seriously voters view this problem and how it impacts their voting behavior."
Strong majorities of likely voters also are more likely to support candidates who prioritize other policies to advance people with disabilities, including, "standing up against Hollywood bigotry and negative portrayals of people with disabilities (65%), ensuring that criminal justice reform specifically addresses the issues of the 750,000 people with disabilities incarcerated in America (58%), promoting positive media portrayals of people with disabilities in TV, Hollywood movies and books (58%).
More than half of voters report that they themselves have a disability (16%), have a family member with a disability (33%), and/or have a close friend with a disability (10%).
The Democratic polling firm Greenberg Quinlan Rosner and the Republican polling firm North Star Opinion Research conducted this bipartisan survey phone survey of 900 likely 2016 voters. This survey took place October 21-24 among national likely voters. Likely voters were determined based on stated intention of voting in 2016, and vote history in 2012 and 2014. Data shown in this deck is among all 2016 likely voters unless otherwise noted.
Margin of error for the full sample is +/-3.27 percentage points at the 95 percent confidence level. Of the 900 respondents, 65 percent were interviewed via cell phone in order to accurately sample the American electorate.
---
Whit Ayres
is a leading Washington, D.C., political consultant with more than 30 years of experience in polling and survey research for high profile political campaigns and associations.
As Founder and President of North Star Opinion Research, a national public opinion and public affairs research firm located in Alexandria, Virginia, Whit provides message development advice and strategic insights to high level political clients including U.S. Senators Marco Rubio, Lamar Alexander, Bob Corker, Lindsey Graham, and Tennessee Gov. Bill Haslam, and association clients including the Boy Scouts of America, the Federalist Society, and the Pharmaceutical Care Management Association.
Whit and former RNC Chairman Ed Gillespie are Co-Founders of Resurgent Republic, a center-right nonprofit which develops and disseminates a steady stream of national polls and focus groups, helping policy makers, think tanks, interest groups and others advocate for policies that are consistent with conservative principles.  Resurgent's research is regularly cited by leading journalists and politicos.
Whit has been active in The American Association of Political Consultants for over 20 years, serving as its Treasurer, President, and Chairman. In 2012, Whit was honored as the Republican Pollster of the Year by the organization. AAPC is a bi-partisan professional society that promotes the political consulting industry, protects political freedom of speech, and fosters ethical behavior in political campaigns.
Whit is a frequent commentator on network and cable media outlets including NBC's Meet the Press, FOX News, CNN, NPR and the BBC.  His comments and analysis appear in The Wall Street Journal, The New York Times, The Washington Post, The Los Angeles Times, USA Today, and numerous regional newspapers.
Whit founded his company after a career as a tenured professor in the Department of Government and International Studies at the University of South Carolina. Whit is a graduate of Davidson College and holds a Ph.D. in political science from the University of North Carolina at Chapel Hill.
Stan Greenberg
is a New York Times best-selling author and polling adviser to presidents, prime ministers and CEOs globally and right now, is conducting deep research in more than a dozen countries. He was the senior pollster for President Bill Clinton and Vice President Al Gore, British Prime Minister Tony Blair, and President Nelson Mandela. Greenberg's corporate clients include Boeing, BP, Microsoft, and other global companies.
Greenberg's new book, American Ascendant: A Revolutionary Nation's Path to Addressing Its Deepest Problems and Leading the 21st Century (November 2015), brings a new lens to our current period of change he likes to the Industrial Revolution. Walter Isaacson, author of Steve Jobs, applauds it and says, he has "a great sense of history as well as deep understanding of the hopes and fears of today's Americans."
His book, Dispatches from the War Room: In the Trenches with Five Extraordinary Leaders, led George Stephanopoulos to conclude, "No single strategist has done more to lay the foundation for modern progressive politics—across the globe."
Greenberg was inducted into the American Association of Political Consultants' "Hall of Fame." He has been described as "the father of modern polling techniques," "the De Niro of all political consultants," and "an unrivaled international 'guru.'" Esquire Magazine named him one of the most important people of the 21st century. The New Yorker reported Ehud Barak's victory in 1999 as either a "stunning upset for the country's Labor Party or… just another Greenberg client taking his place as the head of state." Republican pollster Frank Luntz says, "Stan Greenberg scares the hell out of me. He doesn't just have a finger on the people's pulse; he's got an IV injected into it. He's the best."
He is always on call because his research is relevant, innovative and deep, whether it is exploring the new economy, climate change, new gender roles, political reform, or the hegemonic role of the millennials.
Greenberg always works collaboratively with distinguished Republican pollsters and conducts the bipartisan polls for NPR, The Los Angeles Times and the Bipartisan Policy Center.
Greenberg and James Carville founded Democracy Corps, the leading organization providing in-depth research and strategic advice to progressive groups, candidates, and leaders. When Karl Rove listed in the Wall Street Journal 10 steps to regain the Republican majority, step one was to create a Democracy Corps of their own. The New York Times' Nate Silver rated Democracy Corps' polls the most accurate in the last presidential election.
His book with Carville—It's the Middle Class, Stupid!—was a New York Times best seller.
Greenberg founded the company in 1980 after a decade of teaching at Yale University where he received a Guggenheim Fellowship. He was educated at Miami University and Harvard University, where he received his Ph.D. They have three children and four wondrous grandchildren.