The Steve Bartlett Award recognizes and honors an individual in the private or public sector who demonstrates a strong commitment to using the political system to advance public policy in support of people with disabilities. The award recognizes local, state, and national leaders who advocate policies that help to advance opportunities for people with disabilities in different areas including economic growth, educational excellence and achievement, sustainability, workforce and employment, and equity.
The Steve Bartlett Award is in honor of Steve Bartlett, former Chairperson of RespectAbility, former member of Congress (1983-1991) and former mayor of Dallas.
Nomination Process
Nominee must demonstrate a strong commitment to public policy in the advancement of opportunities for people with disabilities. Nominee may not be a prior recipient of the award. Anyone can submit a nomination. Self-nominations are accepted.
For full consideration, the following must be submitted, in one email:
Nomination: One nomination letter of 1-2 pages, addressing how the nominee meets the criteria outlined below.
Letters of Support: Two, no more than one-page, letters of support of the nominee, addressing the criteria below.
Supporting Documentation: Documentation of the nominee's accomplishments in support of the criteria below.
Nomination Criteria
Please use specific examples to describe the nominee's merits for receiving the award. Nominees should have demonstrated some level of success in their endeavors at this point in their careers. Letters should address, as precisely as possible, how the nominee has consistently shown outstanding or extraordinary performance in one or more of the following areas:
Advocacy: Through use of the political system, nominee advocates to advance public policies to identify and improve opportunities for people with disabilities in the areas of economic growth, educational excellence and achievement, sustainability, workforce and employment, and/or equity.
Leadership: The nominee demonstrates initiative and contributes to the community of people living with disabilities and the support networks in a meaningful way.
Empowerment: The nominee advocates for public policy that promotes greater independence for people with disabilities.
Submitting Application for the Second Annual Steve Bartlett Award
All application materials should be submitted to [email protected]. Please include the nominee's name and the name of the award in the subject line of the email.
DEADLINE: April 14, 2023
Learn More About Steve Bartlett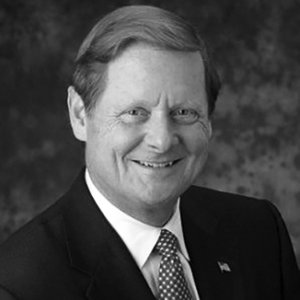 Mr. Bartlett has been active in politics and public policy starting in the 6th grade. His passion for people and policy have led to a life and career that encompasses a wide spectrum of activities including as a contributor to national think tanks, advocate for others on numerous levels, and a catalyst for change through public policy. He has spent a lifetime using his political skills to achieve solid public policy through numerous channels from Republican politics and nonpartisan realms to national and local issues for change and empowerment.
Mr. Bartlett was the principal author of 18 major pieces of legislation including many initiatives on advancing independence for people with disabilities. In addition to being a principal Republican author of the Americans with Disabilities Act (ADA), his legislation included Medicaid eligibility, Section 1619 for Medicare eligibility, supported employment, assistive technology, creation of Towards Independence, the President's Council on Handicapped 1984 report, and mainstreaming reforms for IDEA.
Mr. Bartlett continues to engage and challenge the world of public policy to create positive change for people with disabilities. When not working, Mr. Bartlett spends as much time as he can with his eight grandchildren. His passion for life and family leads him to explore the world around him as much as possible, whether that be a nature walk in the countryside with his grandchildren or finding the beauty in local Texas towns where he resides.