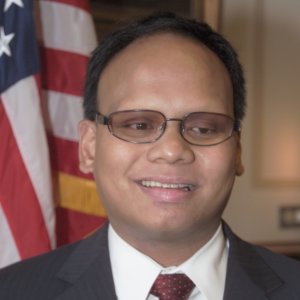 Olegario "Ollie" D. Cantos VII, Esq., has served in various senior roles under both Republican and Democratic administrations. He has worked in the Office of the Assistant Secretary for Civil Rights at the U.S. Department of Education since 2013. Past leadership roles include Staff Attorney and Director of Outreach and Education at the Disability Rights Legal Center in California, General Counsel and Director of Programs for the American Association of People with Disabilities, Special Assistant and later Special Counsel to the Assistant Attorney General for Civil Rights at the U.S. Department of Justice, Vice Chair of the President's Committee for People with Intellectual Disabilities, and Associate Director for Domestic Policy at the White House. He is Advisory Board Vice-Chair of RespectAbility, a national nonprofit nonpartisan cross-disability advocacy organization. He is also Vice President of the Virginia Organization of parents of Blind Children, Affiliated with the National Federation of the Blind.
Mr. Cantos' life story, along with how he adopted three blind triplet boys, was covered by national media outlets including National Public Radio, People Magazine, The Washingtonian Magazine, and ABC's World News Tonight with David Muir in 2017 and in 2020.
To connect with Mr. Cantos on social media, those in the United States may text "Ollie" to 313131.
Past Publications and Writings: