Creating and Sending Invitations
During this pandemic, most event invitations are being sent via email and/or posted to social media. While email invitations may have multiple graphical elements, ensure that images and logos have alt text – image descriptions – for people who are blind and use screen readers. In addition, it is best practice to have an option for someone to click through to a plain text version of the invite for individuals with a variety of disabilities. Please note that some systems, like Eventbrite, are not accessible to people who are blind or have low vision. Learn more about ensuring website accessibility: https://www.respectability.org/2020/01/how-to-ensure-accessible-websites-social-media-and-inclusive-photos.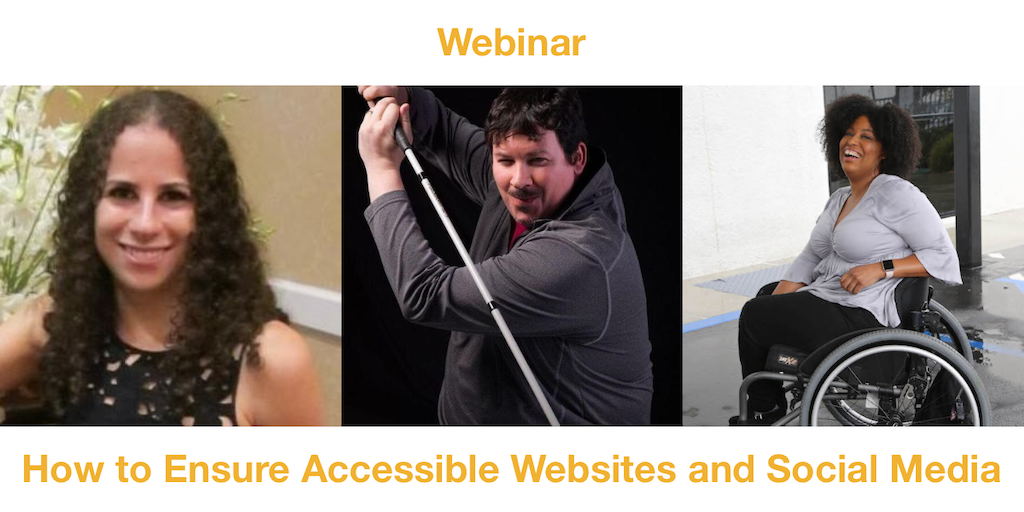 On the sign-up form, ask registrants if they need any accommodations to effectively participate in the event. Additionally, provide a name, email and phone number for someone who can assist people with any accommodation's request. Depending on the size and budget of your organization, it may be fair to set a deadline of 48 hours before the event to request any accommodations. By offering people the option to request accommodations, it does not require you to provide every accommodation requested if your organization is too small to accommodate everything. However, having open communication with individuals requesting accommodations is important, as they may have ideas for workarounds that are doable for your event. Luckily, ensuring accessibility for online meetings is free or very inexpensive.
The invitation also should list how long the event will last as well as what the format of the event will be. Will participants be on video or audio for discussion or will they be more like spectators watching a presentation? If there will be an icebreaker or questions for everyone to answer, let attendees know that ahead of time. Encourage attendees to send questions or comments in advance, which is helpful not only to participants who may want more time to prepare their materials but also to the presenters to help them frame their comments. If there will be time for live Q&A, share that information in the invitation.
It also is important to have an accommodation for individuals who do not have access to video conferencing. By offering the option for attendees to dial in by phone, people with and without disabilities who do have internet access can still participate.
Ensuring Accessible Documents
If you are using any documents or a Microsoft PowerPoint presentation for your online event, distribute it to your attendees in advance. That way, attendees who are blind or have low vision can use screen reader software to familiarize themselves with the materials being presented. PowerPoint has a built-in tool to check accessibility issues in your slide deck and gives you instructions on how to fix them. For help on how to use it, visit the Microsoft Office Support Site: https://support.office.com/en-us/article/make-your-powerpoint-presentations-accessible-to-people-with-disabilities-6f7772b2-2f33-4bd2-8ca7-dae3b2b3ef25. For Word documents, we recommend having a text-only version for people who request one.