CCD hosted two panel discussions on innovative strategies best practices to recruit and hire people with disabilities in competitive integrated employment.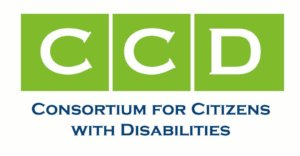 Learn how one state (Washington) successfully transitioned to competitive integrated employment. Learn how state, provider, and local leaders collaborated to create a legislative movement to phase out 14c. Discussion will include ways that other states may create a road map for legislative changes, programmatic changes, and advocacy that can lead to a national change in the nature of work for individuals with disabilities.
The second panel tackled three critical themes: changing attitudinal barriers that impact workforce access, tracking technological developments driving opportunities for remote workers with disabilities, and the predictions about the labor force consequences of "Long COVID." This panel drew together diverse panelists who will leverage their lived disability and intersectional experiences to inform current policymaking efforts around stigmas, technology, and the future of work. Invited panelists included self-advocates and policy professionals from Easterseals, United Spinal, and RespectAbility.
The Consortium for Citizens with Disabilities (CCD) is the largest coalition of national organizations working together to advocate for federal public policy that ensures the self-determination, independence, empowerment, integration and inclusion of children and adults with disabilities in all aspects of society.
Speaker Bios – Panel 1
Alicia B. Epstein has more than fifteen years experience in disability employment policy and advocacy within the nonprofit sector and Federal government. She is the policy manager for SourceAmerica Government Affairs where she advocates key public policies impacting the AbilityOne Program and people with disabilities.
Prior to her current role, she served as senior manager in disability policy at SourceAmerica. In this role, she tracked key public policy issues impacting employment opportunities for people with significant disabilities. Ms. Epstein pursues efforts to influence and initiate disability policy legislation and regulations that enhance employment opportunities for people with disabilities through key stakeholders in Congress, Administration, and the Disability community.
She also serves as a co-chair of the Consortium for Citizens with Disabilities (CCD) Employment and Training Task Force. CCD is the largest coalition of national organizations working together to advocate for federal public policy that ensures the self-determination, independence, empowerment, integration and inclusion of children and adults with disabilities in all aspects of society.
Before coming to SourceAmerica, Alicia worked as a research analyst at the U.S. Department of Labor, Office of Disability Employment Policy (ODEP), where she managed a case study on how people with disabilities are served through the Workforce Development System and a communication initiative project which promotes the use of effective communication tools in the Workforce Development System.
Alicia earned a Master's in Public Administration from American University and a Bachelor of Science in Professional Technical Communication from Rochester Institute of Technology.
Courtney Williams is currently the Director of the Community Employment Alliance. The Community Employment Alliance (CEA) is a Washington State Association that advocates to ensure people with disabilities have the same community employment opportunities as all other citizens. CEA works towards community acceptance and support of all people contributing and participating in society. We believe individuals with disabilities should be prepared with education and training for careers and have the opportunity for jobs alongside people without disabilities based upon their preferences, gifts, interests, and strengths.
The year of 2021 was noteworthy for the CEA. Self-advocates of CEA led the efforts on eliminating sub-minimum wage in Washington State. Not only did the bill to eliminate subminimum wage pass, it passed with bipartisan support.
Moving forward, Courtney is looking forward to continuing to work at the national level to be a point of support for other states who want to change the employment trajectory for individuals with disabilities.
Courtney's employment background includes teaching college courses in Business Management and Education Law. She also has worked in Workforce Development, handling WIOA contracts and Housing. Courtney earned her master's degree in Public Administration from The Evergreen State College in 2016, and her bachelor's degree in Social Work/Pre-Law at Saint Francis University and The Evergreen State College.
Ivanova Smith is an Activist advocate for Atwork! And Self advocate Faculty for University of Washington LEND program. They are self-advocacy leader in Washington leading the state coalition for self-advocate leaders called Self Advocates In Leadership (SAIL).
Chris(tine) Brandt has been CEO of AtWork! since August of 2006. She has led the organization through an evolutionary transformation to change the way people with developmental disabilities get and retain jobs in community businesses. With more than 40 years of experience, Ms. Brandt has developed an innovative board of directors, new funding streams, and a dynamic staff team that is changing the face of employment in Washington State and beyond. AtWork! has changed from an organization focused on providing sheltered workshop services to a leader in customized and integrated employment. Ms. Brandt's vision and passion are fueled by her unfailing belief that everyone has the capacity to work in community settings that are inclusive and to earn at least minimum wage.
Ms. Brandt is a dynamic and thought-provoking presenter and speaker. She provides candid, humorous, and practical insights into change management, employment first implementation, and building organizational capacity. Personal experience, inspiring success stories, coupled with practical tools and techniques equip her audience with renewed motivation, a new vision and strategies for the future.
Ms. Brandt has served on a variety of local and state workgroups and policy task forces. She is Past President of the Issaquah Kiwanis Club and also Past President of the Community Employment Alliance. She is currently Vice President of the board for CONNECT Supply Chain.
Speaker Bios – Panel 2
Alexandra Bennewith is the Vice President, Government Relations at United Spinal Association. Alex directs federal and state policy and advocacy on behalf of the spinal cord injury and paralysis communities. Her department focuses on healthcare and research, employment, transportation, housing, rehabilitation, technology and communications, community supports and services and disability rights issues. In addition, her department manages a nationwide grassroots advocacy network.
Alex is a steering committee co-chair and member of multiple coalitions and committees, including American Spinal Injury Association's Health Policy and Advocacy Committee, the Academy of Spinal Cord Injury Professionals' Advocacy Committee, the ITEM Coalition as well as the Coalition to Preserve Rehabilitation.  Alex also represents United Spinal as a member of the Multiple Sclerosis Coalition.  Alex has close to 25 years of government affairs and public affairs experience. She has a Bachelor of Arts from Brandeis University and a Master of Public Administration from American University.
Michaela Devins is Interim Director, Tech Access Initiative, and Mental Health Counselor at United Spinal Association. Devins is a mental health counselor who has been a C4-C5 quadriplegic for eleven years. She attended graduate school at the University of Pennsylvania in Philadelphia and completed her masters in professional mental health counseling in 2019. Since then, she has worked in outpatient mental health in Center City Philadelphia and now in the Boston area. She is working toward her licensure and hopes to someday build a private practice that will specifically cater to the mental health needs of people with disabilities.
Michaela is also involved in advocacy as United Spinal's Interim Director of the Tech Access Initiative and as a member of the consumer advisory board for Neuralink – a neurotechnology company developing implantable brain–machine interfaces. In her free time, she loves to read, sing with the Metropolitan Chorale of Brookline, and explore new places to travel!
Wade Wingler, ATP, MBA, CEAS, CHSP, is Vice President at Easterseals Crossroads. Wingler provides executive leadership and support to a wide variety of quality, innovative services to people with disabilities and their families. (Assistive Technology, Autism, Adult Day Services, Home Modification, Adaptive Driving and Enterprise IT) He is the agency's information security officer and ensures HIPAA compliance throughout the agency's data systems. He did his undergraduate work at Butler University, holds an MBA from Indiana State University, is a RESNA-certified Assistive Technology Practitioner (ATP) and a Certified Ergonomics Assessment Specialist (CEAS). He launched and grew the INDATA Project's social media platforms, including the creation and hosting of the #1 podcast on assistive technology, Assistive Technology Update.
He is a well-known speaker at national and international conferences and has taught college-level courses on disability, accessibility and technology at Indiana University, Purdue University and Vincennes University. He is a past-chair of the Mayor's Advisory Council on Disability-City of Indianapolis, a past-president of the Indiana Rehabilitation Association, and he serves on a variety of advisory boards and committees for organizations such as The Human-Computer Interaction Department at the School of Informatics at Indiana University-Purdue University Indianapolis and the Government Affairs Committee for the Indiana Association of Rehabilitation Facilities. Wade's personal mission statement is "to be a great husband and father as well as a non-profit-focused, tech savvy senior executive who helps lead people and organizations in reaching and exceeding their goals."
Nelly Nieblas is the Manager of Policy, Advocacy and Engagement at RespectAbility, a nonprofit organization fighting stigmas and advancing opportunities so people with disabilities can fully participate in all aspects of community.
Nieblas is a first-generation Latina with a physical disability. She has a deep drive to make "the outsider the insider" when it comes to social change. Nelly was appointed Legislation and Public Information Manager at the California State Council on Developmental Disabilities by Governor Jerry Brown; and was a United Nations Observer for the United Nations Convention on the Rights of Persons with Disabilities. As a David Rockefeller Center fellow at Harvard, Nelly worked with the Mexican Government to understand the needs of their disability community. She spent four years as Director of Public Policy and External Affairs at Public Allies and was an Assistant Legislative Deputy for Los Angeles County Supervisor Gloria Molina. Nelly holds an MPA from Harvard University's Kennedy School of Government.