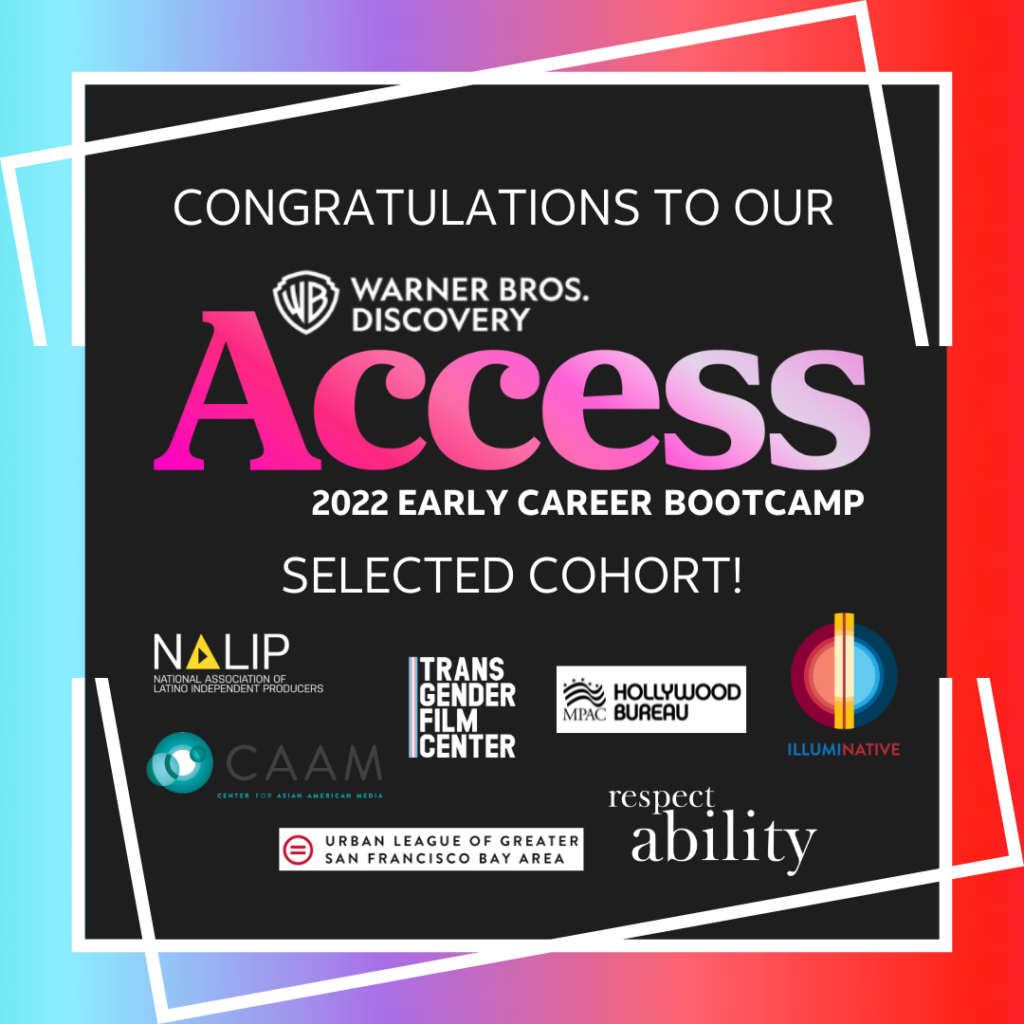 The Warner Bros. Discovery Access Early Career Bootcamp, in partnership with Urban League of Greater San Francisco Bay Area, National Association of Latino Independent Producers, Center for Asian American Media, RespectAbility, IllumiNative, Transgender Film Center, and Muslim Public Affairs Council, seeks to serve early career talent who have deep aspirations to work in the entertainment industry, but little access to resources and opportunity.
By building "the pipeline that will feed the pipeline," WBD Access is cultivating a steady flow of future content creators and future executives by providing an inside look at creating, developing, producing, marketing and distributing a TV show at a world-class media company. Socio-economic barriers and lack of access oftentimes prevents talent from even considering a career in Hollywood, so, through this bootcamp, participants who are keenly interested in what it takes to make a TV show can gain a deeper understanding of the business and learn about the various pathways one can take to get their foot in the door.
The bootcamp will take place weekly on Mondays from August 8, 2022, through September 26, 2022 via a virtual format.
Applications are currently closed for this program. For more information please contact: Lab@RespectAbility.org.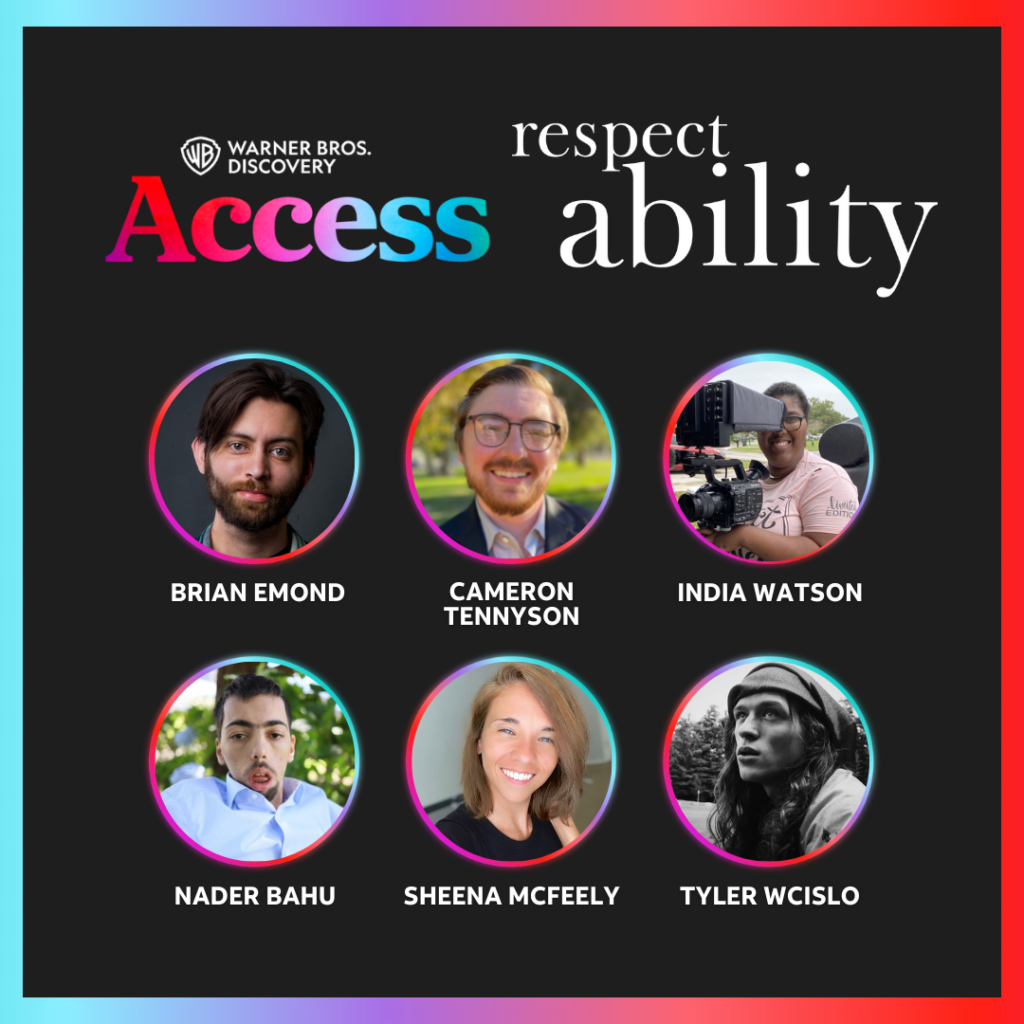 Meet the 2022 RespectAbility Cohort
Brian Emond
Brian Emond is an independent filmmaker and disability right advocate. After spending a decade on the stand-up comedy circuit, Brian decided to focus on his passions for film and cinema. He was a member of the Atlanta-based sketch group, LADIES NIGHT, which produced more than 75 comedic short films. More recently, he was the writer, producer, and star of the feature film "15 Things You Didn't Know About Bigfoot (#1 Will Blow Your Mind)," which is available for streaming on SHOWTIME. Brian also enjoys time at home with his cats.
Cameron Tennyson
Cameron Tennyson knew that he wanted to tell stories from a very young age. Born with a rare heart disease, he watched movies to explore the world around him, and realized he needed to pursue a career in filmmaking. After studying Communication at UC San Diego, Cameron moved to Los Angeles and started working as a Tour Guide at the Warner Bros. Studio. Cameron is very passionate about telling stories about the disabled community that go much deeper than just their disability. He wants to start a production company that focuses on stories about and for the disabled community; one that offers employees full health benefits, pays its interns, celebrates disability, and is a welcoming and accessible workplace for everyone.
India Watson
My name is India Watson and I am 25 years old. I graduated with a Bachelor's Degree in Digital Cinematography at Full sail university. I am a filmmaker, and I live in Lakeland Florida. I love to watch movies and create them as well. I have created 2 documentaries, 2 how to, 1 commercial, and 2 short films. My favorite hobbies are reading and learning new things to add on to my skills I have. My dreams are to have my own production company that I can represent disabled people like myself to see on the screen one day.
Nader Bahu
Nader Bahu, a Disabled man, who is a writer, director, editor, actor, and planner. He has a muscle atrophy disability that causes muscle weakness, which leads to him having an open mouth, voice impairment, an inability to walk, and the weakening of his body over time. Nader has made many short films, which mostly focuses on the disability perspective. He believes that he can make his films despite his circumstances and limitations as a disabled person. The films that he made have won awards and were shown in a few film festivals.
Sheena McFeely
Being Deaf and an immigrant straight out of Hong Kong did not stop tween Sheena from acting. Due to lack of acting opportunities, Sheena majored in screenwriting. But was deterred by her professors for not believing that she, a tiny Deaf woman, could succeed in Hollywood. Dashed dreams have a way of coming back. Thanks to motherhood and the rise of social media, Sheena created ASL Nook web series starring her family, inspiring millions to learn sign language. This led her family to be in one of Disney's most viral commercials as well as A&E's Deaf Out Loud documentary. In 2019, Sheena was honored with the prestigious SXSW Community Service Award for her remarkable progress in the authentic media representation of Deaf people. More recently, she aims to be an executive producer by working on several ground-breaking projects that will hopefully hit your screens sooner than later.
Tyler Wcislo
Tyler Wcislo is a Filmmaker and Mix Media Artist with Cerebral Palsy. Wcislo got into Film and Design in High School at Pioneer Valley Performing Arts, and later Communications at Holyoke Community College. Wcislo's central interest in Art largely extends from the ability for Consciousness to turn in on itself as a non-conceptual experience of being through the intentionality of form. While specifically within film, Wcislo is largely focused on narrative constructs of personhood being presented as introspective gateways into human nature as being understood as this non-conceptual experience of consciousness and the implications of that within a civilizations culture and societal systems.