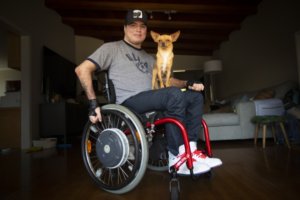 Even before the pandemic, only 27 percent of people with spinal cord injuries (SCI) were employed 10 years after injury. With more than 358,000 people living with SCI in the United States, RespectAbility is working to create opportunities so these individuals can succeed in their chosen career.
Funding from the Craig H. Neilsen Foundation will support a virtual apprenticeship program that will provide four exceptionally talented adults with SCI with intensive training, mentoring and opportunities for networking. Through an advanced training program, the apprentices will gain the skills necessary for careers advancing diversity, equity and inclusion initiatives. The apprentices also will be involved in several projects in the entertainment industry to reduce stigmas and long-standing barriers that prevent people with SCI and other disabilities from obtaining employment.
The application process for RespectAbility's apprenticeship program for people with SCI opens on October 12, 2020. The deadline for applications is October 28, 2020 at 5:00 p.m. PT. The program will run from November 2020 through Spring 2021. A minimum commitment of 15 hours per week is required.
This program enables talented people with spinal cord injuries to gain critical skills, contacts and experiences necessary to be accepted into graduate school or help create pathways that lead to careers in public policy, the entertainment and news media, diversity, equity and inclusion or advocacy.
Applicants can choose one of four specific tracks. Learn about each of them at the links below:
This program is fully accessible for people with disabilities and offers full-time in-house job coaching, skills development and networking opportunities. Fellows in our National Apprenticeship Program for People with Spinal Cord Injury will receive $15 an hour.
IMPORTANT DETAILS FOR APPLICANTS
Excellent communication and organizational skills are required. Participants should exhibit leadership skills and the ability to complete their own projects.
A bachelor's degree is not required as long as applicants have acquired the skills needed for their chosen career path.
Participants will be required to commit at least 15 hours/week for up to six months. Specific hours to be determined in conversation with your supervisor.
In addition to weekly trainings for all Fellows, bi-monthly training sessions will be held specifically for this cohort.
EXPECTATIONS
A minimum commitment of 15 hours per week.
Participation in team meetings on Mondays, Tuesdays and Wednesdays.
Attendance in weekly speaker series.
Work with the National Leadership Program Director on advancing your career goals. This will include strengthening your resume, cover letter and building your professional network.
HOW TO APPLY
Complete the form below and send your resume and cover letter to Ben Spangenberg at 

[email protected]

.
The cover letter should explain why this Apprenticeship is of interest to you, as well as how your skills, focus and independent drive have the potential to impact the SCI community.