Enabling People with Disabilities to Achieve Jobs and a Better Future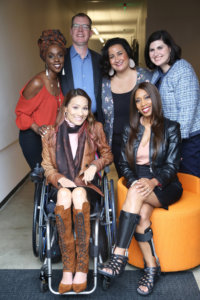 Fully 1-in-5 people have a learning, mental health, physical, sensory or other disability that is a barrier to everyday living. People can be born with a disability, or acquire one due to an accident, aging, gun violence or in military service to our nation. It is time for people with disabilities to be seen for their tremendous human potential — and what they CAN do.
Because people with disabilities always have to find work-arounds, they become natural innovators. Thomas Edison had learning disabilities, Harriet Tubman had epilepsy, Stephen Hawking used a wheelchair and EY co-founder Arthur Young was deaf. Today JPMorgan Chase, Coca-Cola, Walgreens, Microsoft, EY and others realize that hiring people with disabilities leads to a better bottom line. RespectAbility and our partners have introduced replicable stigma-reduction and proven employment practices that have helped lead to a 4-fold improvement in jobs for people with disabilities. At the same time, it is helping employers because people with disabilities bring innovation, loyalty and great work. But more people with disabilities need education, skills and jobs for the future.
Today only 65 percent of students with disabilities graduate high school and only seven percent complete college. Despite the fact that studies show that more than 70 percent of working-age people with disabilities want to work, only 1-in-3 Americans with disabilities has a job. This leads to poverty, prison and poor health outcomes. Philanthropists have the opportunity to fight implicit bias and failed systems, as well as to enable millions of people with disabilities to have a better future. Together we can lift up marginalized people so they can achieve success.
RespectAbility is philanthropy's partner to enable funders to have the maximum impact they desire, whether that is in education, training, employment, criminal justice, health, the arts access or other key issues. We encourage you to learn more by reading the resources below. Whenever you need free help and/or partners, reach out to us. We are here for you! Email Franklin Anderson at FranklinA@RespectAbility.org today!
Watch this short video to hear from diverse people with disabilities themselves:
Free Resources: Inclusive Philanthropy Toolkit
Ensuring Accessibility
Key Reading
Disability Funders and Inclusive Statements
View More Videos
| | | |
| --- | --- | --- |
| | | |
| 60 second PSA | 30 second PSA | 15 second PSA |
Questions?
Contact Franklin Anderson at FranklinA@RespectAbility.org.
More Resources You Can Use