While COVID-19 vaccinations have started, the pandemic is still ravaging lives, livelihoods and our children's education in its wake. So how will we move forward on diversity, equity and inclusion as we make our way out of this pandemic? How can the disability community move ahead and work to advance other marginalized groups at the same time?
In the aftermath of one of the most divisive election cycles in recent memory, there is a proven place for positive messages that will win hearts and minds on critical issues facing Americans. Indeed, the opposite holds true as well. Competing to show who is suffering the most actually repels support by playing what has been called a game of "Oppression Olympics."
Over the course of more than seven years, RespectAbility has engaged in strategic public opinion research to advance opportunities and reduce stigma so people with disabilities can fully participate in all aspects of community life.
Nearly 30 years after the Americans with Disabilities Act (ADA) was signed into law, research shows that pre-COVID, 70% of working age Americans (ages 18-64) with disabilities were out of the workforce, even though 71% say that they want to work. While there are systemic policy, program and legislative challenges to advancing opportunities for people with disabilities, research consistently shows that whether because of overt or unconscious bias, stigma remains the primary barrier.
Which begs the question — how do people with disabilities and those who care about them crush this barrier?
The short answer is positive, inclusive, hopeful messages supported by clear impactful facts that matter to a persuadable audience.
While one in five Americans has a disability and many more have a close friend or relative with a disability, many Americans have significant misperceptions fueling these stigmas. Studies show widespread stigmas like people with disabilities being primarily seen as "warm" but not "competent," or as dependent or helpless. More exposure and inclusion are needed. We need more and better communication, more people with disabilities on TV and computer screens, and more people with disabilities in inclusive education and the workplace.
Research Driven Messaging and Strategy
Since its inception RespectAbility has conducted public opinion research to examine the issues and attitudes surrounding employment and inclusion of people with disabilities (PwDs) in America. Over the past seven years, we have held dozens of focus groups and surveyed thousands of Americans with and without disabilities. The cumulative scope and scale of this research has been vast, covering employment, philanthropy, religion, politics and more. At the turn of the decade it seemed appropriate to revisit this body of research and share the most significant messaging theme – stay POSITIVE!
The Tough Stuff
In advocacy, an audience can be divided into three groups:  those who already agree with you (the "Amen choir"); those who will never agree with you; and the "persuadables" in the middle. In the case of disability advocacy, it's easy for well-intentioned advocates to focus time and resources preaching to the choir about strategies and messages that make us feel good but do little to bring new folks into the tent.
Statements that dictate what "should" be done or appear negative won't move people. No one wants to be told what to do. They must be motivated and know how to act. Persuadables react strongly against any message that says what they "should" do, or that comes from a negative perspective in communicating about and advocating for people with disabilities. The persuadables make up the largest swath of the American public, if only for their perceived lack of personal contact or connection to the disability community.
People with disabilities must be able to "come out of the closet" and safely self-disclose disability. Sadly, due to stigmas that limit career and social advancement, many people with disabilities don't choose to self-disclose. This is compounded by the fact that many people have nonvisible disabilities, including mental health conditions, chronic pain and learning disabilities. Many of these people are still "in the closet," leaving countless people who have disabilities with an overwhelming sense of being alone as they are unaware of how many others share similar barriers to success. Moreover, many successful people who have disabilities don't self-disclose the disability they live with every day, because they are afraid that if people learn about their disabilities, it could limit their work or social prospects. This suggests that a big part of fighting for equity is to advance both disability pride and acceptance so people can self-identify with the disability community without fear of new barriers.
The disability community has taken cues from the LGBTQ+ playbook in their quest for equality. While there is still a long way to go, American public opinion has shifted dramatically over the past decade in favor of same-sex marriage from 60% opposed in 2004 to 61% support in 2019. This shift was influenced by messaging like "This is about everyday Americans who want the same chance as everyone else to pursue health and happiness, earn a living, be safe in their communities, serve their country and take care of the ones they love." This emphasis on common ground and common values, rather than differences, is credited with making it more difficult to cast gay people as being "other," "different" or "not like me." It also makes it more difficult for Americans to dismiss or ignore the harms and daily injustices that LGBTQ+ people face.
Research shows that many of these same concepts work to increase support for employment of Americans with disabilities:
Our communities are at their best when all people, including people with disabilities, have the opportunity to get skills, jobs and success.
At least 9 in 10 voters agree that our communities are at their best when all people, including people with disabilities, have opportunities, and that people with disabilities should be at decision-making tables just like everyone else.
Question: Now let me read you some statements and please tell me if you agree or disagree with each statement.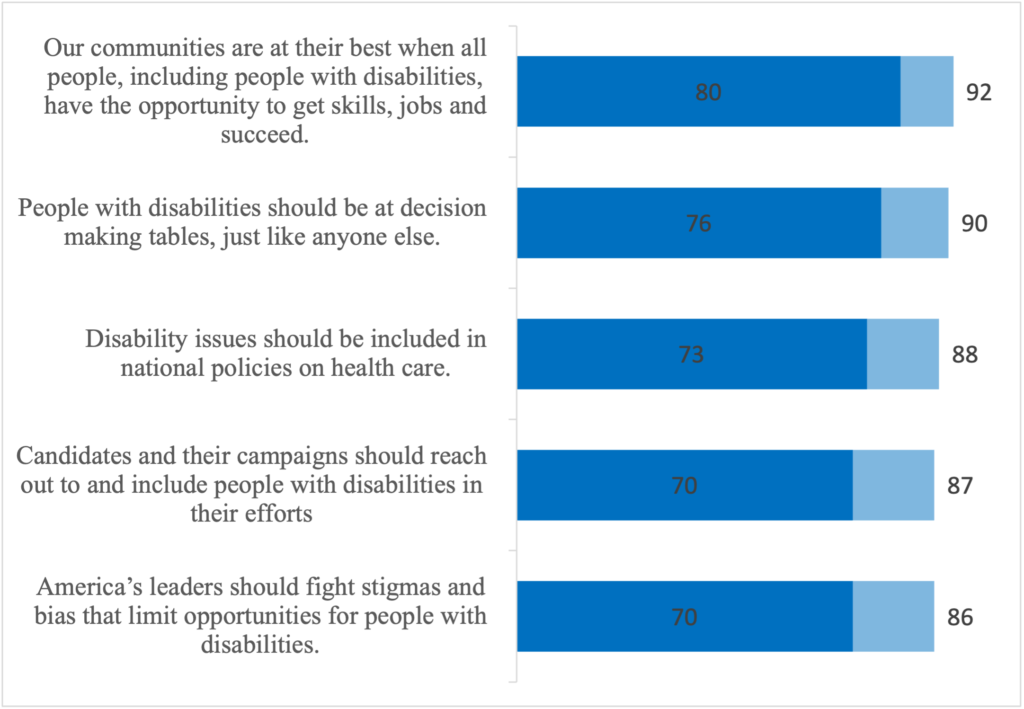 Lake Research Partners and The Tarrance Group designed and administered this pre-election and election night survey, which was conducted using professional interviewers from October 31 – November 3, 2020. The questions about voting and the demographics reached a total of 2,400 voters nationwide who voted in the 2020 elections or who were planning to vote later on Tuesday – 1,335 interviews among voters who were reached on cell phones, including 600 interviews completed by text-to-online, and 1,065 interviews among voters who were reached on landlines (margin of error +/- 2.0%). Issue questions reached a total of 1,200 voters nationwide who voted in the 2020 elections or who were planning to vote later on Tuesday (margin of error of +/-2.8%). (Lake Research Partners and The Tarrance Group, November 2020)
The opinion landscape in American today is dynamic and conversations around diversity, equity and inclusion can sometimes feel like walking through a minefield. Will people be accused of ableism, cultural appropriation, cancel culture or identity politics? While we are increasingly divided and entrenched in our views, certain language choices force us further from each other while trying to tackle tough issues. Whether those conversations are about people with disabilities, gender identity, sexual orientation or race, research has made clear what language works and what may instead alienate our intended audience.
Not every conversation can or should be comfortable, nor would we presume to suggest how to engage in this critical work in areas beyond our own expertise in communicating about disabilities. However, these basic research and communication strategies are sound and may be helpful to advocates across the board.
Reflecting further on the research and groundwork laid by the LGBTQ+ community, research shows that even switching specific words such as "gay couples" or "gay and lesbian couples" rather than "homosexual couples" or "same-sex couples" is more effective. Similarly, in advocating for increased inclusion of people with disabilities, "welcoming" and "respect" are far more powerful than "equitable" or "open tent."  LGBTQ+ research also concludes that "Attacking anti-LGBTQ+ activists doesn't give Americans a reason to support equality for LGBTQ+ people; rather, it can make them want to back away from the person or group doing the name calling." For this reason, research encourages avoiding words like bigotry, prejudice and hatred.
This isn't easy. We recognize that when we are advocating for ourselves or our family, loved ones and friends about their fundamental humanity and inclusion in society, at times we want to scream at the world from the roof tops about the injustice and inequality. We might feel better for a time, and it can work to rally the base, but with the limited time and resources, research shows us a more effective path forward.
View PPT of slides with additional data used in this report: https://www.respectability.org/wp-content/uploads/2020/12/Slides-Positive-Messaging.pptx.