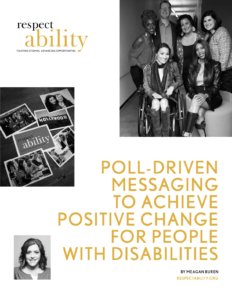 Over the course of more than seven years, RespectAbility has engaged in strategic public opinion research to advance opportunities and reduce stigma so people with disabilities can fully participate in all aspects of community life.
Nearly 30 years after the Americans with Disabilities Act (ADA) was signed into law, research shows that pre-COVID, 70% of working age Americans (ages 18-64) with disabilities were out of the workforce, even though 71% say that they want to work. While there are systemic policy, program and legislative challenges to advancing opportunities for people with disabilities, research consistently shows that whether because of overt or unconscious bias, stigma remains the primary barrier.
Which begs the question — how do people with disabilities and those who care about them crush this barrier?
The short answer is positive, inclusive, hopeful messages supported by clear impactful facts that matter to a persuadable audience.
Read transcript
Download accessible PowerPoint
Download the PDF or accessible Word document or view each section of the report by following the links below: