Deirdre Morales (she/her) is a writer and producer based on the east coast. Originally from rural NH, Deirdre began her career in children's television at Sesame Workshop and "The Wonder Pets" on Nick, Jr. before receiving her MFA in film production from Florida State University's College of Motion Picture Arts. As a film student, Deirdre was a finalist for the PGA Debra Hill Fellowship and as a writer, her feature screenplay was a top ten finalist in the 2015 Bluecat Screenplay Competition out of over 5,000 entries. After graduation, Deirdre became Vice President of The Pod Advertising where she produced Emmy-winning video content and was the recipient of a gold addy for her work as a video producer and songwriter for the "Safer, Smarter Kids" animated series as part of a childhood sexual abuse prevention curriculum through the Lauren's Kids foundation and Florida Department of Education. Other notable career milestones include amplifying diverse filmmakers through her work at Wise Entertainment and Film Independent's artist development programs in Los Angeles. Recognizing that neurodivergent voices have been largely left out of the DEI conversation in film and television and specifically children's media, Deirdre decided to create "N is for Neurodiversity," an inclusive preschool series designed for neurodivergent children and their caregivers.
"N is for Neurodiversity"
N is for Neurodiversity is an informative and entertaining TV series for preschoolers and their caregivers! Join our neurodivergent host Jamie in their sensory-friendly classroom where they invite kids to learn, play, create, and advocate, in a space that feels inclusive and safe.
Actors: Lindz Amer, Emmett Penna, Brianna Rivera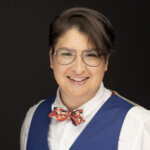 Lindz Amer creates LGBTQ+ and intersectional social justice media for kids and families. They created their beloved LGBTQ+ family webseries Queer Kid Stuff in 2016 which now has 4M lifetime views and counting! Their debut book "Rainbow Parenting: Your Guide to Raising Queer Kid and Their Allies" publishes on May 30, 2023 with St. Martin's Press. Currently, they host the Rainbow Parenting podcast, perform at schools and libraries across the country, while also writing and consulting for children's television. They worked with Nick Jr on the Webby award-winning Blues Clues & You "Pride Parade" music video, The Fabulous Show with Fay and Fluffy, Spin Master, and more! You can watch their TED Talk on why kids need to learn about gender and sexuality, now with more than 2.5 million views!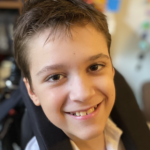 Emmett Penna is a 12-year-old student at iBrain in New York. He loves swimming, the Minions, weather reporting, and meeting new people. He also has a great relationship with the camera! He has appeared on Sesame Street, The Helpsters, and various print ad campaigns.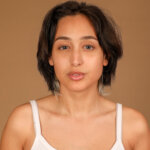 Brianna Rivera is so excited to be a part of RespectAbility Children's Content Lab for Disabled TV Creators. Brianna, a graduate of University of the Arts, is a singer and actor. One of their main goals in life is to work towards inclusivity for all people and be a good representation for the Hispanic, LGBTQIA+ and Non-Binary community.