"Leaders of the Future" Series
Including people with disabilities is something that more than 90% of Jewish organizations say they want to do and yet a survey of the Jewish world shows that fewer than 20% of Jews can identify a single leader with a disability in Jewish communal life. This series introduces Jewish lay leaders with disabilities to topics and skills that will help them to lead as volunteers and professionals in nonprofit organizations.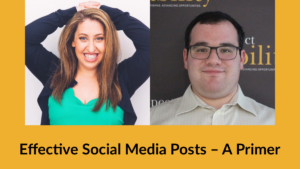 Facebook, Twitter, Instagram and other social media platforms have become not just an important way to get out your message, but the most important way to get out your message. While everyone seems to have a Facebook page, a quick scroll through the average social media feed shows that we greatly vary in our ability to use these tools effectively and craft the messages that work. This workshop was designed to close that gap and will be useful not only to contribute to nonprofits, but in anything that you want to do.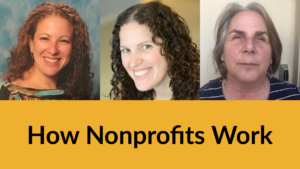 Whether serving on a board or helping with programs, getting things done in the nonprofit world is immensely easier if you understand how nonprofits work. This session will give the basics of nonprofit operation, including budget, mission and purpose, the role of the board, staff and volunteers, bylaws and grant agreements, and how you can get involved.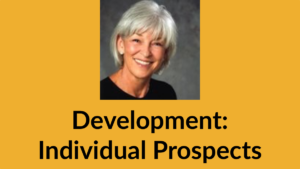 Money makes the world go round, but relationships are what truly build lasting connections to donors and support for our organizations. This session will teach you how to build these connections, from finding prospects, to opening dialogue, all the way to closing a gift. This session focused on individual prospects, from friends to philanthropists.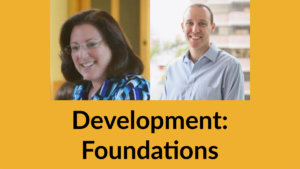 Foundation funding is at the core of many organizations. There is an art to every part of the process of working with a foundation. From grant proposals to program descriptions, to outcomes and aligning with funder priorities. This panel featured two leaders from the Jewish foundation world who will introduce each of these topics, explaining both how you as a volunteer can help, and how you might join the foundation world as a professional.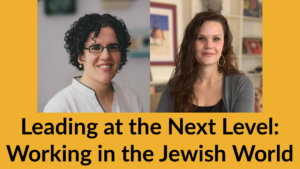 There are many ways to lead in Jewish organizations, from donating time and talent, to active participation. Some will take the ultimate plunge and choose to work professionally for a Jewish organization. In this session, we focused both on the types of opportunities available, and the ways to build on your network and use modern technology so that you may contribute your time and talent.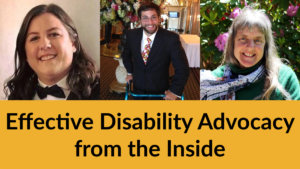 One of the greatest ways that leaders with disabilities and their allies can strengthen the organizations in which they participate is by helping to move them toward greater inclusion. That said, the role of an internal advocate is fundamentally different from that of an external change agent. Learn from some successful Jews with disabilities and their allies about how they've made change from the inside at their organizations.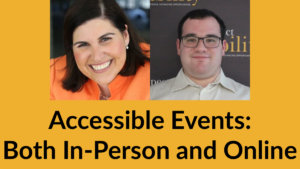 Although 72 percent of nonprofit organizations say they have a policy of nondiscrimination against people with disabilities, too few take simple steps to make their programming truly accessible. For example, fewer than 60 percent of their events are always held in physically accessible spaces. Fewer than one-third (30 percent) offer opportunities for participants at public events to request accommodations like sign language interpreters, live captioning, or food allergy alternatives. This session gave leaders the information they need to ensure that their practices match their principles so that they can benefit from the talents and perspectives of people with disabilities.
Disability Access and Inclusion Training Series for Jewish Organizations and Activists
Jewish organizations, leaders and activists were invited to a free online training series so they could learn how to welcome, respect and include people with disabilities from all backgrounds in the important work that they do. All sessions included American Sign Language (ASL) interpreters and captions, and were screen reader accessible.
If you are in the nonprofit sector, you live your values in your work every day. For many of us, those values spring deeply from our Jewish identity. We all know that the Torah calls upon us to be just, and to be charitable, but did you know that it also calls upon us to be inclusive? Join us for yet another connection between your work and your values, as you learn about how the inclusion that you already believe in as deeply Jewish roots.
From Jewish day school to Sunday school to beyond, Jewish education is a hallmark of Jewish identity. Learn from a group of amazing panelists who shared great work that the Jewish world is doing and ideas that you can replicate in order to ensure that Jews with disabilities have access to this treasured legacy, online and off.
From Itzhak Pearlman to Marlee Matlin, we all know that there are tremendously talented Jews with disabilities, and that they can make our organizations stronger in all aspects of our mission, including inclusion. Watch this webinar if you want to learn how to attract amazing Jews with disabilities to your volunteer team, your boards, and maybe even your staff!
Making your event accessible is easier than you think. This session gave a simple accessibility checklist, as well as the processes and confidence that you need to make all of your events accessible, both virtual, and in person!
Today's website is the front lobby of an organization, and social media is fast supplanting the more traditional ways that our organizations connect with the public. We can't help you decorate your lobby, but we can make sure that it is warm and welcoming for Jews of all kinds, including Jews with disabilities. Learn from our dynamic and expert team everything you need to know to open your digital door to all!

We shared how to take your deep commitment to Diversity and Inclusion and make it a reality. Learn from some truly successful leaders as they share the secret of their Diversity and Inclusion success, exploring the successful disability initiatives of which they've been apart, and looking at their intersection with other initiatives in the diversity space, including LGBTQ+ and beyond.
While our main focus is on doing inclusion right, at some point your organization may need to know little bit about its legal rights and obligations. This session covered those topics, including the special sensitivities and limitations applying to religious organizations.