Welcome to your journey of disability inclusion! Your commitment to ensure that the one-in-five members of the Jewish community who have disabilities can bring their talents, gifts, and whole selves to our community can truly strengthen us all. This toolkit is here to help you succeed!
Download the accessible Word document, or view each section of the toolkit by following the links below:
Introduction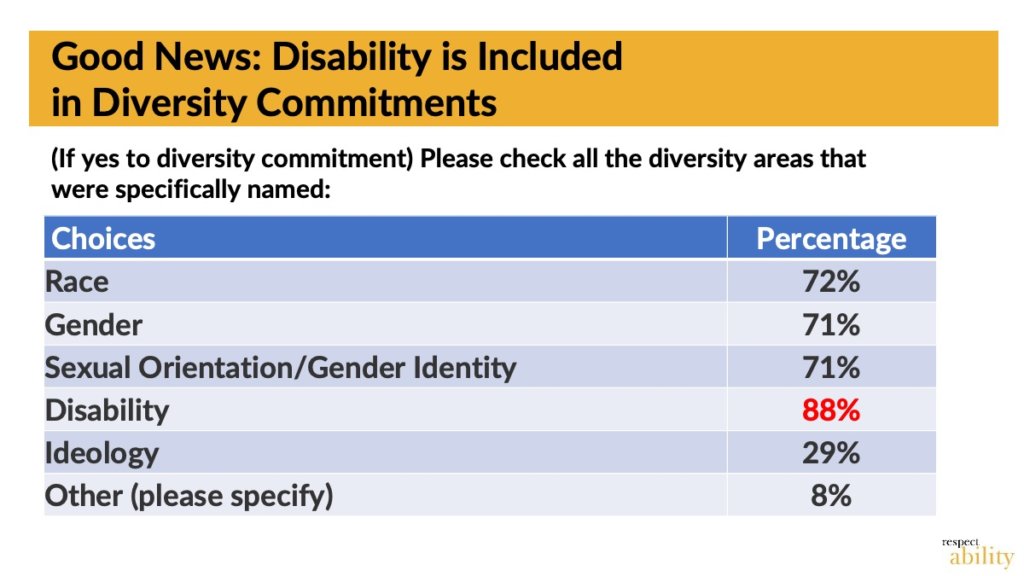 When RespectAbility was founded in 2013, there were very few disability inclusion initiatives in the Jewish community. Now, thanks to the hard work of many leaders in the community, there are several such initiatives. In fact, according to a large-scale 2021 survey conducted by RespectAbility, 88 percent of diversity commitments made by faith organizations specifically included disability. This represents major progress in the last decade that is worth celebrating. Respondents shared examples of success, including:
"Friendship Circle run by Chabad has made a big impact on how the Jewish community engages individuals with disabilities."
"We raised money to build a ramp up to the bimah so it would be accessible to anyone in a wheelchair or with mobility issues."
"My synagogue began incorporating visual descriptions into all virtual events to support low-vision congregants."
"Accommodations have been regularly accessible on Zoom programming via subtitles, sharing screens to make notes available in real time, and other great technological means of inclusion."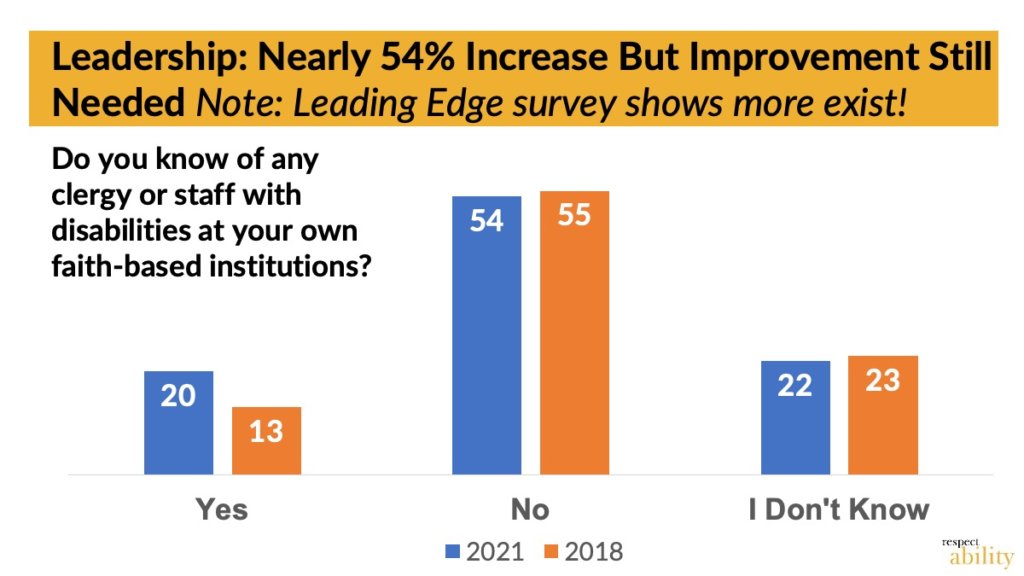 But there is still room for growth. While a Leading Edge survey of over 11,000 Jewish professionals showed more than 800 people with disabilities work for Jewish organizations, only 20 percent of respondents to the RespectAbility survey said they knew any clergy or staff with disabilities at their own faith-based institutions.
This gap implies that people with disabilities are not comfortable enough in the Jewish community to self-disclose. And in response to the question, "have you or another person with a disability in your household ever been turned away from an activity at an organization in your faith community because of its inability or unwillingness to make a reasonable accommodation?" 22 percent of respondents said yes. Respondents shared painful experiences of exclusion, including:
"My son was welcome at synagogue preschool but only if we hired / provided a 1:1 support person for him (doubling the cost of his attending) and only if his inclusion did not negatively affect the experience of other kids and teachers."
"Both my husband and I have been excluded, because my autism and his anxiety disorder made other congregants/club members feel uncomfortable. Some said we are 'too complicated' needing 'always' special accommodation."
"Online programs that do not include closed captioning or similar, holiday celebrations and event that did not factor in the needs and access of those with disabilities – those accommodations need to be considered essential, NOT optional / nice to have."
Beyond these anecdotes, we surveyed the community to see where there was the most access and where there were the most challenges. These are their responses:
| | | |
| --- | --- | --- |
| Segment of Jewish Community | Best Access | Most Challenging |
| Jewish Federation | 5% | 3% |
| Jewish Day Schools | 4% | 12% |
| Jewish Summer Camps | 9% | 5% |
| Synagogues | 21% | 18% |
| Social Organizations such as Pop-Up Shabbat, Chavurahs | 3% | 5% |
| Jewish Human Services Organizations | 14% | 1% |
| Jewish Social Justice/Civic Engagement/Advocacy Groups | 5% | 2% |
| I Don't Know | 32% | 50% |
| Other (please specify) | 7% | 4% |
In addition to questions of access within the programming of the general Jewish community, there is a further issue that while a great number Jewish inclusion programs are set up for people with intellectual disabilities, most people with disabilities do not have an intellectual disability. Below, you can see the disabilities of the survey respondents:
| | | |
| --- | --- | --- |
| Disability | Percentage | Number |
| On The Autism Spectrum | 13.35% | 243 |
| Learning Disability | 15.44% | 281 |
| Developmental Disability | 8.52% | 155 |
| Cognitive Disability | 7.36% | 134 |
| Intellectual Disability | 5.49% | 100 |
| Speech Or Language Disability | 6.98% | 127 |
| Mental Health | 20.88% | 380 |
| Orthopedic Disability | 11.92% | 217 |
| Hard Of Hearing/Hearing Loss | 14.01% | 255 |
| Deafness | 2.75% | 50 |
| Blindness Or Low Vision | 3.46% | 63 |
| Traumatic Brain Injury | 2.25% | 41 |
| Neuromuscular Disability | 5.60% | 102 |
| Neurological Disability | 7.86% | 143 |
| Immuno-Deficiency | 4.07% | 74 |
| Auto-Immune | 10.11% | 184 |
| Chronic Pain | 15.11% | 275 |
| Other (please specify) | 11.87% | 216 |
Major studies have found that people with disabilities are often viewed through the lens of what they cannot do, instead of what they can achieve. But an Accenture study showed that hiring disabled employees actually makes companies more successful. The same is true of Jewish organizations.
This toolkit will provide a wealth of knowledge on how to be more inclusive. It starts by recognizing that creating a truly inclusive organization is more than any one practice. For it to truly take root in your organization, leadership at all levels need to communicate, publicly and repeatedly, the idea that all types of people, including individuals with disabilities, are of equal value. Accessibility needs to be built into all diversity, equity, and inclusion efforts, programming, human resource systems, and communications. From a practical perspective, this is not nearly as hard as it may sound, and this toolkit will guide you. It all starts with a values-based commitment.
The good news is that this value encompasses both justice and benefit, and this is well known to the Jewish community. 57% of the over 2300 respondents to our survey found that the most convincing reason why inclusion of people with disabilities should be a more important priority for the Jewish community is because "we are a stronger community when we are welcoming, diverse, and respect one another. Everyone should feel that their presence and participation is welcome and meaningful."
We will benefit when our children, parents, grandparents, and friends with disabilities have an equal opportunity to fully participate in our community. And we know that problems are best solved by working with people who have experienced them firsthand and who understand the solutions that work. This means that the more Jews with disabilities sit at decision making tables, the easier we will find it to include even more.
Throughout this guide, there are resources for people of all ages. We address topics including Jewish education, Jewish values, prayers & services, hosting accessible in-person, virtual, and hybrid events, appropriate language, disability etiquette, and more. Not all the materials offered are specific to Jewish environments, but all are important to them. Where possible, we have modified this content to address specific considerations of Jewish law and practice. Of course, you should always consult your religious authority on what is permitted, but if you find that you are having trouble resolving an apparent conflict between Jewish law and the guidance within this toolkit, please don't hesitate to email [email protected] in case we can help clarify strategies for success.