JDAIM Reads 2023 Selection for Adults
Being Heumann: An Unrepentant Memoir of a Disability Rights Activist
By Judith Heumann and Kristen Joiner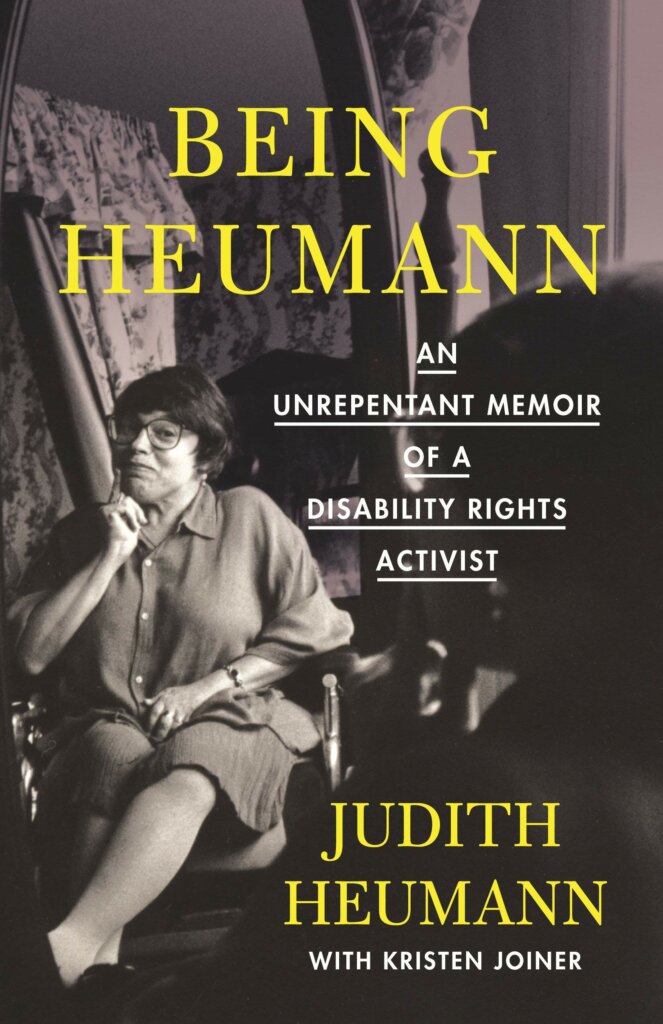 A story of fighting to belong in a world that wasn't built for all of us and of one woman's activism—from the streets of Brooklyn and San Francisco to inside the halls of Washington—Being Heumann recounts Judy Heumann's lifelong battle to achieve respect, acceptance, and inclusion in society.
Paralyzed from polio at eighteen months, Judy's struggle for equality began early in life. From fighting to attend grade school after being described as a "fire hazard" to later winning a lawsuit against the New York City school system for denying her a teacher's license because of her paralysis, Judy's actions set a precedent that fundamentally improved rights for disabled people.
As a young woman, Judy rolled her wheelchair through the doors of the US Department of Health, Education, and Welfare in San Francisco as a leader of the Section 504 Sit-In, the longest takeover of a governmental building in US history. Working with a community of over 150 disabled activists and allies, Judy successfully pressured the Carter administration to implement protections for disabled peoples' rights, sparking a national movement and leading to the creation of the Americans with Disabilities Act.
Candid, intimate, and irreverent, Judy Heumann's memoir about resistance to exclusion invites readers to imagine and make real a world in which we all belong.
JDAIM Reads 2023 Selections for Teens and Young Adults
Rolling Warrior: The Incredible, Sometimes Awkward, True Story of a Rebel Girl on Wheels Who Helped Spark a Revolution
Written by Judith Heuman and Kristen Joiner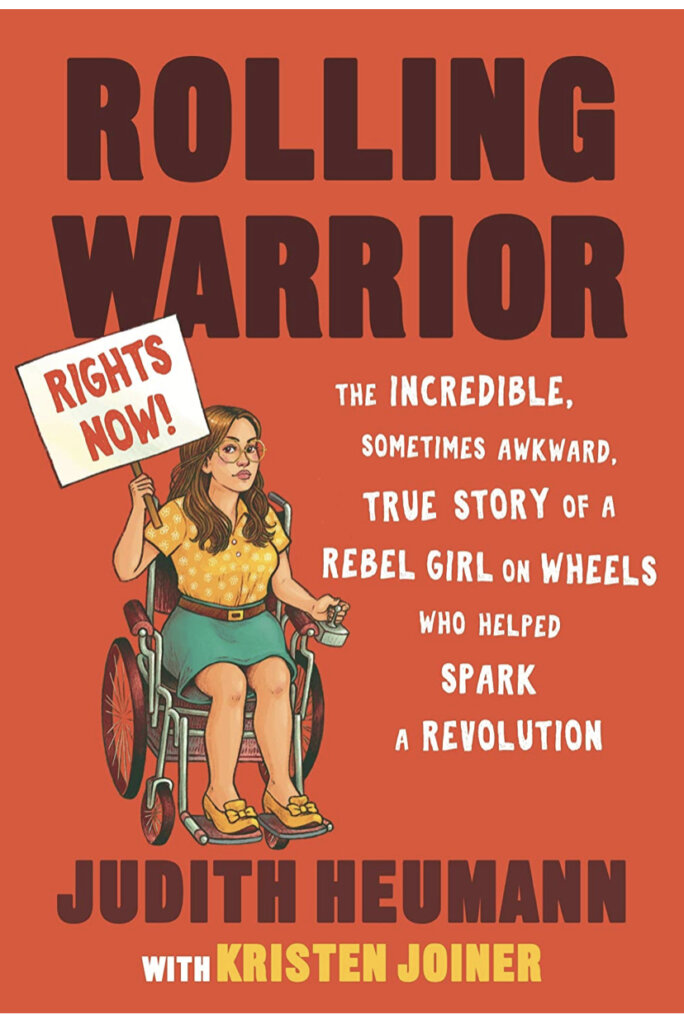 As featured in the Oscar-nominated documentary Crip Camp, one of the most influential disability rights activists in US history tells her story of fighting to belong.
"If I didn't fight, who would?"
Judy Heumann was only 5 years old when she was first denied her right to attend school. Paralyzed from polio and raised by her Holocaust-surviving parents in New York City, Judy had a drive for equality that was instilled early in life.
In this young readers' edition of her acclaimed memoir, Being Heumann, Judy shares her journey of battling for equal access in an unequal world—from fighting to attend grade school after being described as a "fire hazard" because of her wheelchair, to suing the New York City school system for denying her a teacher's license because of her disability. Judy went on to lead 150 disabled people in the longest sit-in protest in US history at the San Francisco Federal Building. Cut off from the outside world, the group slept on office floors, faced down bomb threats, and risked their lives to win the world's attention and the first civil rights legislation for disabled people.
Judy's bravery, persistence, and signature rebellious streak will speak to every person fighting to belong and fighting for social justice.
"For the first time, I see myself in someone else. Judy's lifelong fight and fierce advocacy around disability justice have undeniably paved the way for me to achieve what I have today. . . . A must-read for all young people."
—Ali Stroker, Tony Award–winning actress
Finding Audrey
Written by Sophie Kinsella
Genre: Young adult fiction
Age Group: Older teens/ young adults
Topics: bullying, mental health, seeking help, social anxiety, anxiety, depression, family, friendship, & recovery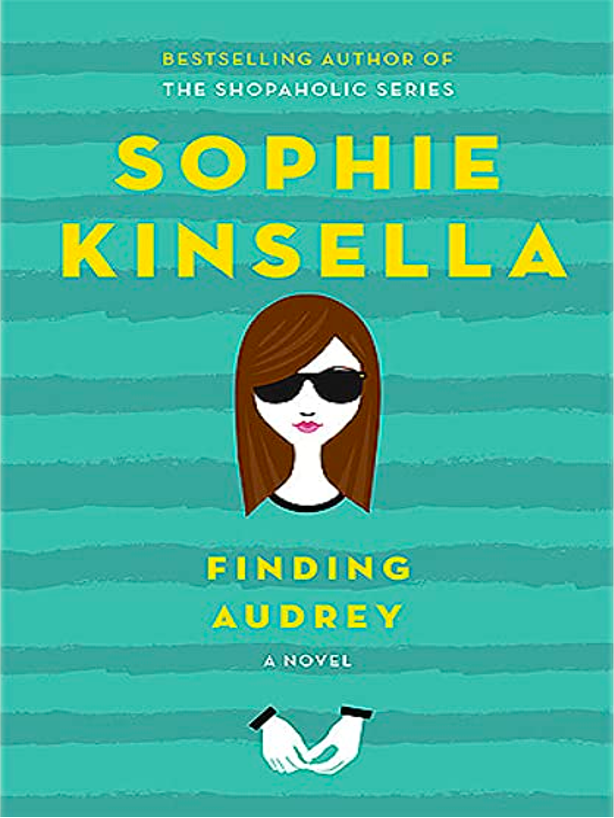 From the #1 New York Times bestselling author of the Shopaholic series comes a terrific blend of comedy, romance, and psychological recovery in a contemporary YA novel.
An anxiety disorder disrupts fourteen-year-old Audrey's daily life. In school she experienced bullying, and as a result has become virtually a prisoner in her own home. Audrey wears dark glasses all the time, even in the house. She almost never goes out, doesn't talk to new people, and finds making eye contact to be nearly impossible. This is the story of her journey to recovery. She has been making slow but steady progress with Dr. Sarah, but when Audrey meets Linus, her brother's gaming teammate, she is energized. She connects with him. Audrey can talk through her fears with Linus in a way she's never been able to do with anyone before. As their friendship deepens and her recovery gains momentum, a sweet romantic connection develops, one that helps not just Audrey but also her entire family.
Finding Audrey teaches that: it's okay to ask for help, it's okay to be private, talking to a therapist or psychologist about your own struggles on a regular basis is how you learn about yourself, recovery is a process that happens over time, be patient with yourself as you become more self-aware, be who you are, many people live with a mental health condition, be kind.
Anybody Here Seen Frenchie?
Written by Leslie Connor
Genre: Young adult fiction novel
Age Group: 8-12 years
Topics: disability, friendship, neurodivergence, community, diversity, acceptance, and adaptation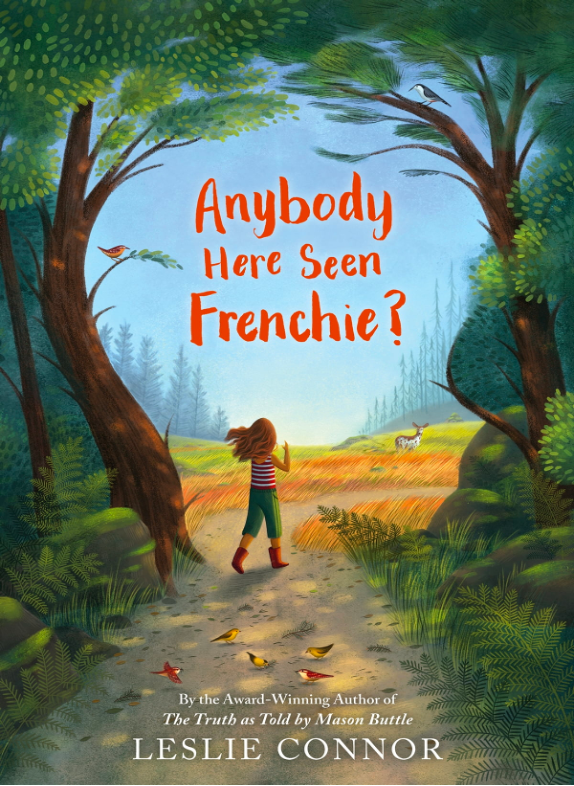 A big-hearted, beautiful, and funny novel told from multiple viewpoints about neurodiversity, friendship, and community from the award-winning author of The Truth as Told by Mason Buttle, Leslie Connor. This is a good book about how people can communicate with each other and presents the important concept that every person has unique gifts, strengths, and skills.
Eleven year old Aurora Petrequin's life changes when she becomes best friends with Frenchie Livernois, a new neighbor her age who doesn't speak. Aurora is bouncy, loud and impulsive—"a big old blurter." Making friends has never come easily. When Frenchie, who is autistic, silently chose Aurora as his person back in third grade, she chose him back. They make a good team, sharing their love of the natural world in coastal Maine.
At school, Aurora looks out for Frenchie, who has been her classmate until this year. One morning, Frenchie doesn't make it to his classroom. Aurora feels she's to blame. The entire town begins to search, and everyone wonders: How is it possible that nobody has seen Frenchie?
At the heart of this story is the friendship between Aurora and Frenchie. Conflict arises when Aurora is better able to expand her social skills and make new friends. When Frenchie goes missing, Aurora must figure out how to use her voice to help find him, and lift him up when he is found.
Anyone Here Seen Frenchie teaches: friendships create a sense of belonging, accept and respect others just as they are, always be there when someone needs a friend to talk to, be who you are, you can make a difference in someone's life by being their friend, always include others so they can feel like they belong.
JDAIM Reads 2023 Selections for Children
Fighting For Yes!: The Story of Disability Rights Activist Judith Heumann
Written by Maryann Cocca-Leffler and illustrated by Vivien Mildenberger
Genre: Picture book biography
Age Group: 6-10
Topics: history of the disability rights movement, disability, political activism, special education, making a difference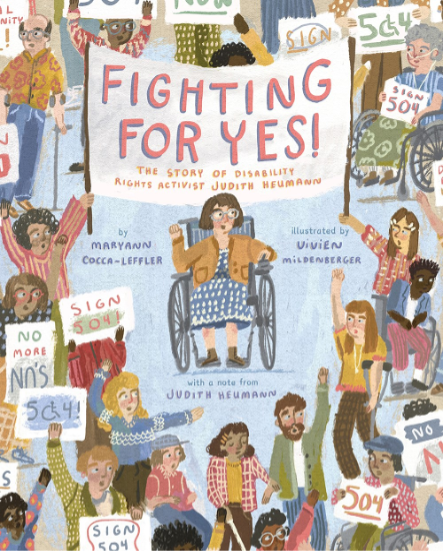 Fighting for Yes! celebrates the life and work of disability rights activist and icon Judith Heumann, highlighting one of her landmark achievements–leading the historic 504 Sit-in in 1977.
From a very young age, Judy Heumann heard the word NO. When she wanted to attend public school, the principal said, "NO." When she wanted her teaching license, the New York Board of Education said, "NO." Judy and people with disabilities everywhere were tired of hearing "NO."
In the 1970s an important disability rights law, Section 504 of The Rehabilitation Act of 1973, was waiting to be signed. Judy and other disability rights activists fought for "YES!" They held a sit-in until Section 504 was signed into law. Section 504 laid the foundation for the Americans with Disabilities Act, which was established thanks in large part to the ongoing work of Judy and her community.
Along with a personal reflection from Judy herself, this picture book biography captures the impact and influence of one of America's greatest living activists.
All The Way To The Top: How One Girl's Fight for Americans With Disabilities Changed Everything
Written by Annette Bay Pimentel and illustrated by Nabi H. Ali with foreword from Jennifer Keelan-Chaffins
Genre: Nonfiction picture book
Age Group: Kindergarten-4th grade
Topics: disability, civil rights, discrimination against people with disabilities, Americans with Disabilities Act, activism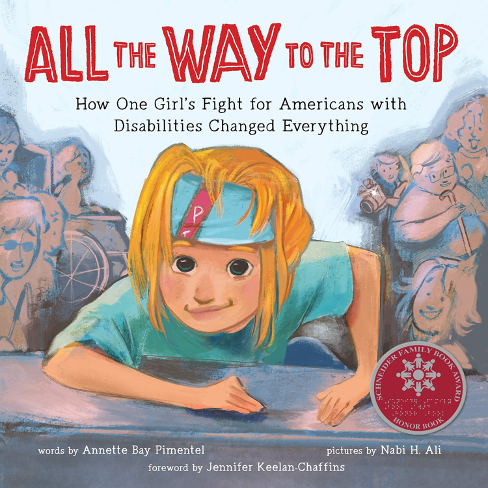 This is the official illustrated biography of Jennifer Keelan-Chaffins; the struggle for inclusion and the fight for equality, at school and on the steps of the US Capitol.
Jennifer Keelan was determined to make a change—even if she was just a kid. She never thought her wheelchair could slow her down, but the way the world around her was built made it hard to do even simple things like go to school or eat lunch in the cafeteria. With her family's encouragement she goes to protests around the country and becomes part of the movement that helped get the Americans with Disabilities Act passed by Congress. This is the inspiring, true story of Jennifer Keelan, the activist whose participation in the Capitol Crawl at just eight years old encouraged Congress to pass the Americans with Disabilities Act.
In My Kehillah – A Book About Friends with Disabilities  
Written by Gabrielle Kaplan-Mayer and illustrated by Robin Fradkin Matthews
Genre: Fiction children's book
Age Group: 4 to 8
Topics: Jewish values, disabilities, friendship, school, community, inclusion, belonging.
This delightful book encourages young learners to be inclusive of their peers with physical, cognitive, and learning disabilities.
In My Kehillah helps children learn about four Jewish concepts that teach us to be inclusive: Adam Yechidi Nivra (every person is a unique creation), Chesed (loving kindness), Kavod (respect), and Kehillah (community).
A discussion guide is included at the end of the book.
The Boy with Big, Big Feelings
Written by Britney Winn Lee and illustrated by Jacob Souva
Genre: Fiction picture book
Age Group: 4-8
Topics: emotions, hiding feelings, mental health, highly sensitive, worry, rejection, navigating the emotional challenges, different feelings, self-awareness, and coping with the array of emotions.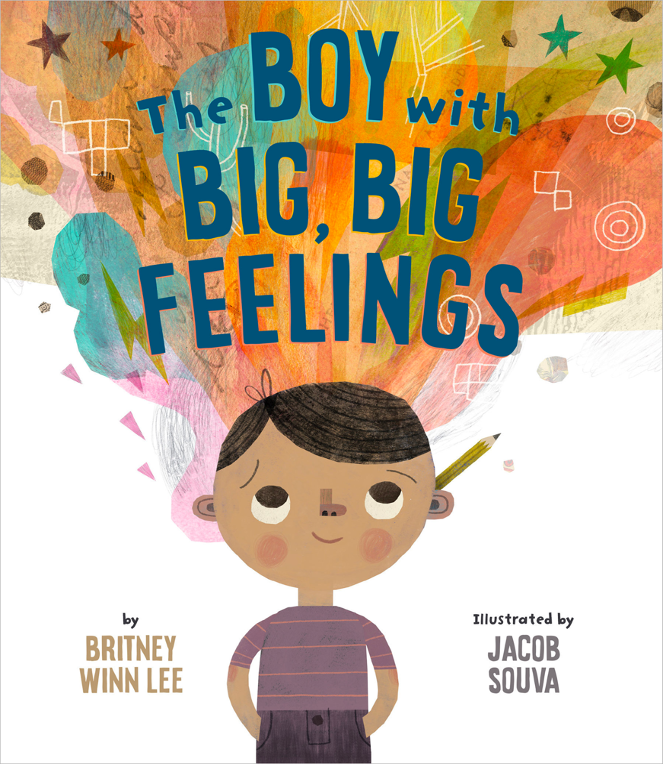 An instant classic in the world of Social-Emotional Learning, this bestselling picture book tells the story of one little boy with some big, big emotions — and how he learns to see them for the gifts they are.
The Boy with Big, Big Feelings is relatable for any child — especially for a child experiencing anxiety, extreme emotions, a child identified as a Highly Sensitive Person, or a child on the autism spectrum. Beautifully illustrated and written in rhyming verse, children and adults explore the whole spectrum of feelings and readers navigate the emotional challenges they face throughout the day.
The main character has feelings so big that they glow from his cheeks, spill out of his eyes, and jump up and down on his chest. When he hears a joke, he bursts with joy. When a loud truck drives by, he cries. When his loved ones are having a hard day, he feels their emotions as if they were his own.
The boy tries to cope by stuffing down his feelings, but with a little help and artistic inspiration, the boy realizes his feelings are something to be celebrated.
The Boy with Big, Big Feelings teaches, having big feelings is nothing to be ashamed of, it's okay for a child at a young age to experience anxiety and extreme emotions, everyone deals with emotions at different points of their life from being a baby to being an adult, finding a friend who also lives with emotional struggles is very important, especially at a younger age, we are all in this together as we learn to navigate the array of emotions