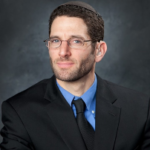 Serving Congregation Kerem Shalom in Concord Massachusetts, Rabbi Darby Jared Leigh, a native New Yorker, is a life-long "truth-seeker." His rabbinate is characterized by creativity, inclusivity, and a commitment to diversity. Rabbi Leigh describes himself as "committed to finding creative ways to engage Jews of all ages and backgrounds and to creating welcoming, caring communities with intellectual honesty and spiritual depth." His rabbinate is characterized by creativity, inclusivity, and a commitment to diversity.
Rabbi Leigh received a bachelor's degree in religion summa cum laude from the University of Rochester. Deaf himself, he then toured with the National Theater of the Deaf (NTD) and served as a social worker and counselor at the New York Society for the Deaf. Rabbi Leigh earned a master's degree in religion from Columbia University and his rabbinic ordination and a Master of Arts in Hebrew Letters from the Reconstructionist Rabbinical College.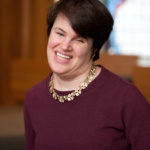 Based in the Washington, D.C., area, Rabbi Lauren Tuchman is a sought after speaker, spiritual leader and educator. Ordained by The Jewish Theological Seminary in 2018, she is the first female rabbi who is blind. She has taught at numerous synagogues and other Jewish venues throughout North America and was named to the Jewish Week's 36 under 36 for her innovative leadership concerning inclusion of Jews with disabilities in all aspects of Jewish life. In 2017, Rabbi Tuchman delivered an ELI Talk entitled "We All Were At Sinai: The Transformative Power of Inclusive Torah."
Rabbi Tuchman has trained and continues to teach with Rabbi David Jaffe and the Inside Out Wisdom and Action Project, which provides a space for Jewish spiritual and contemplative practice for social justice activists rooted in the spiritual discipline of Mussar and the teachings of Rabbi Nachman of Breslov. She serves on the board of JOIN for Justice, which trains Jews in community organizing for social change.