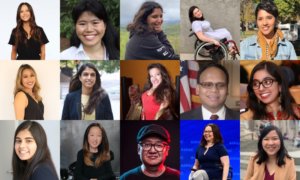 The intersection of identity with disability uniquely affects people of all races. For Asian-Americans and Pacific Islanders (AAPI) this is compounded by the fact that AAPIs are a wildly diverse ethnic group and have an equally diverse range of experiences. With a population expected to surpass 40 million by 2060, and 1.3 million disabled, it is important to understand the intersection between AAPI identity and the disability experience. There is no better time to address these issues than in May while we observe AAPI Heritage Month. Historically AAPIs, especially AAPIs with disabilities, have been underrepresented in disability studies. Surveys on disability often lump this diverse group together as "Asian," which includes 20 distinct nationalities in the US Census. Despite the size and vibrancy of the AAPI population, the visibility of AAPIs with disabilities remains low. Disclosure of disability is essential for access to services, and yet disclosure among AAPIs is lower than in other ethnic groups.
Reticence to disclose a disability in the AAPI community can be due to the internalization of harmful stereotypes. One of the most pervasive of these stereotypes is the "model minority" myth, in which AAPIs are described as being more smart, successful, or hardworking than other minority groups. This idealized image is limiting, can create a divide between AAPIs and other minority groups, and does not allow room for the disability experience. The "model minority" myth masks or disguises the disability experience of AAPIs and has contributed to a lack of research and debate about this issue. The social pressures of conformity may also increase the reticence of individuals to disclose disability status. This can reduce access to medical assistance, employment accommodations, and other disability services. Once disabled AAPIs do gain access to disability services, some—particularly those who are first or second-generation immigrants—encounter language barriers that can further reduce their access to services, a problem that is only amplified by lack of culturally competent service providers.
The intersection of AAPI Identity and disability highlights the need for more specialized and personalized responses to disability issues. AAPIs with disabilities ought to be centered in this discussion so that their voices and experiences can be part of the discourse on disability experience. Additionally, employers and service providers must invest in recruiting people from AAPI backgrounds and allow for AAPI individuals to find ways to engage within their own context. Researchers working with AAPIs with disabilities should develop a culturally anchored perspective which is sensitive to the needs of this population and is willing to adapt to the unique context of each individual. The disabled community as a whole must work together to highlight the unique ways in which we address and overcome the challenges that each of us face. We must also continue to educate others about our experiences and provide allies with the opportunity and resources to assist us.
This May, take the time to listen to the stories of AAPIs with disabilities. There are many fantastic organizations and activists who are working in this space. A notable example is the Asian Americans with Disabilities Initiative, a youth-led advocacy group founded in July 2021. They recently published an excellent Resource Guide for those interested in learning more about AAPI disability issues, which you can access on their website. I'd also like to take this opportunity to share the work of disability activist and author Alice Wong, founder of the Disability Visibility Project. Her recently published memoir Year of the Tiger: An Activist's Life provides refreshingly candid insight into the AAPI disability experience. Her story reminds us all that one of the most important things that disability activists and their allies can do is to amplify one another's voices. An intersectional approach that allows each of us to tell our stories without drowning each other out reminds us that disability can both be part of our individual identity while also transcending our particular experience – disability is bigger than any one of us.