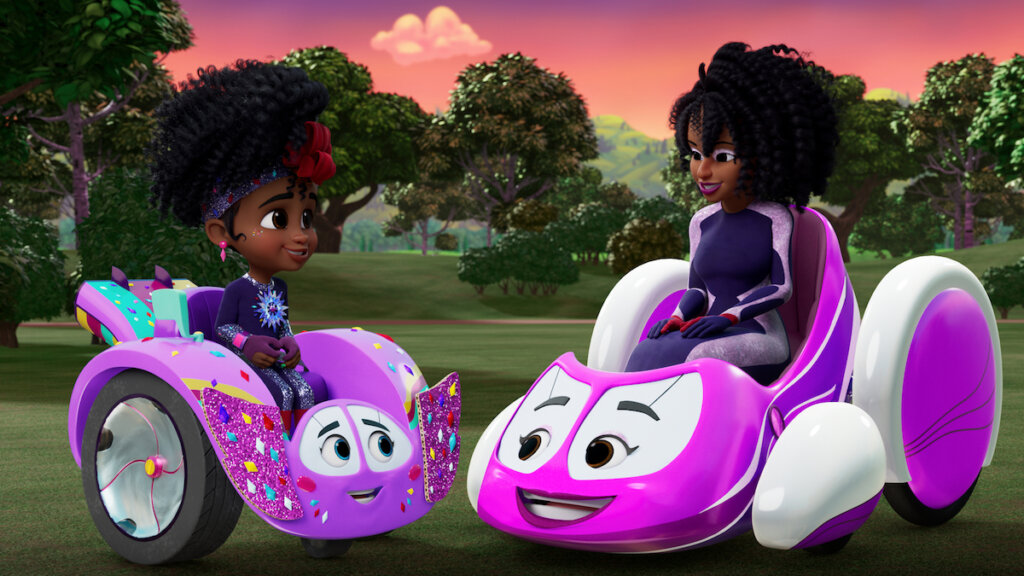 Los Angeles, March 15 – With one-in-five people having a disability in the U.S., the lack of representation – less than one percent in children's television – means that millions of children are unable to see themselves in media today. Furthermore, when representation exists, a great deal of disability representation on screen is of white males. Disney Junior's Firebuds, however, explores the diversity missing from disability representation.
Set in a fantastical world where talking vehicles live, work, and play with the humans who drive them, "All That Jazzy" follows the eponymous character (Lauren "Lolo" Spencer), a young Black girl with spina bifida, whose "vroom-mate" is wheelchair car Piper (Sammi Haney). After watching a dance performance starring Ayanna (Tatiana Lee) and Gliderbella (Ali Stroker), Jazzy is inspired to become a lead dancer, too.
"Firebuds is such an amazing series to be part of. In order to build inclusivity and normalize the diversity in our world, we have to start by teaching our children," Spencer said. "Playing a character like 'Jazzy' and having characters like 'Castor' [a vroom-mate with a cleft hood] who reflect the differences of real people and show the importance of embracing others regardless of those differences, is truly an honor. I'm grateful that I can help spread such an important message."
The messages received during childhood carry over into adulthood. TV shows like Firebuds also can build a child's self-esteem when someone like them appears on screen—which remains much-needed for disabled people of color.
In entertainment, almost all portrayals of disabled people center around white characters, but disability can impact anyone from any community, including Black, AANHPI, Latinx, Native American, LGBTQIA+, etc. What distinguishes "All That Jazzy" and Firebuds among the surge for disability representation is its intersectionality. Kimberlé Crenshaw coined this term in 1989 to describe how race, class, gender, and other individual characteristics "intersect" with one another and overlap.
"If I saw myself represented growing up, I would've felt validated and more self-confident," Lee said. "I would've not gaslit myself."
As a Black woman with spina bifida, Lee also consulted on the episode to ensure authentic representation. Her lived experience helps to prevent the mischaracterizations and stereotypes that many films and TV shows perpetuate about disabled characters.
"I hope that from the episode, every little disabled Black girl will feel seen, know that we exist, and know that we are amazing," she said. "I'm excited to see more stories about disabled Black girls living their best lives and conquering the world."
The Emmy-Award winning creator and executive producer of Firebuds Craig Gerber also shares this sentiment.
"When children who aren't used to being represented in media see themselves on-screen, it is both reassuring and empowering," said Gerber. "I hope children who have a disability or other medical challenges will be inspired by seeing characters like them front and center, having moments of growth and heroism. Talking vehicles and exciting rescues may be the engine, so to speak, but the heart of 'Firebuds' is the spirit of empathy, volunteerism, and representation."
"All That Jazzy" premieres March 15 on Disney+ and airs Friday, April 7 on Disney Channel and Disney Junior.