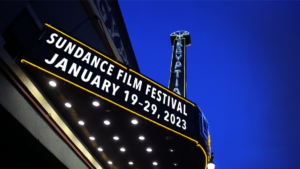 Park City, Feb 5 – Feature-length films that premiered at Sundance such as Is There Anybody Out There?, Still: A Michael J. Fox Movie, and The Tuba Thieves, as well as a number of shorts, explicitly included elements of disability and deafness throughout. However, several additional films featured casual inclusion of disability, which also helps to normalize having a disability in society.
For example, a teenage camper in Theater Camp uses a power wheelchair. We see him both in a montage while auditioning for a show, and later rolling through camp. He is portrayed similarly to other campers. In Slow, contemporary dancer Elena (Greta Grinevičiūtė) meets Dovydas (Kęstutis Cicėnas), who's assigned to interpret for her class of deaf youth. While the film is not about this class but rather their relationship, the casual inclusion of this class helps normalize deaf students. In Magazine Dreams, aspiring professional bodybuilder Killian Maddox is a caregiver for his disabled grandfather. In a documentary about Little Richard, viewers learn that he had limb differences, mental health conditions, and later on in his life, became a wheelchair user. And in Chanshi, a series about a young Jewish Orthodox woman finding herself, mental health is discussed.
With one-in-five people having a disability in the U.S. today, the lack of representation – just 2.3 percent of characters in the 100 top-grossing films of 2019 and 8 percent in family films – means that millions of people are unable to see themselves reflected in media. While none of the films mentioned above are about disability, the casual inclusion of disability in them is important.
Several Sundance Films Feature Disability as the Theme
Is There Anybody Out There? is a film centered entirely on disability and ableism. Director Ella Glendining, born with no hip joints and short femurs, evaded surgical intervention during her childhood to change her image. Through the course of her film, she interviews a group of disabled folks who share her diagnosis, which is quite rare. As she guides the conversations, she poses the same quandary to them: should disabled people change their disability?
Entertainment Media Apprentice Samuel Krauss reviewed this film: "Though much of the film weaves in and out of different disability themes, it's really an excellent documentary to show how the lives of disabled people are decided on."
"It's about the soul," Glendining said during an interview ahead of the film's premiere during the Sundance Film Festival. "It's about what ableism can do to you!"
View this post on Instagram
Presented as an interview and told through both archival and scripted elements, Still: A Michael J. Fox Movie is about owning your narrative, which often is difficult for disabled individuals to do. All too often, society determines the worth of an individual based on preconceived notions. Even when the most successful people acquire a disability, society is quick to judge and make assumptions that they are now less than.
"I realized I didn't have to do anything other than be myself," Fox says in the documentary. "I was still me, people recognized. Just me plus Parkinson's."
Fox went on to authentically represent Parkinson's in shows such as The Good Wife, defying common tropes associated with disabled people on screen. "Some people would view the news of my disease as an ending," Fox says in the documentary. "But I was starting to sense that it was really a beginning."
Deaf writer/director Alison O'Daniel's The Tuba Thieves challenges viewers to reevaluate what it means to experience sound and music in cinema. This is a film about listening. During the film's premiere, balloons were handed out to audience members, who held them throughout the film. This allowed viewers to experience the music and bass in a new way through the balloon's vibrations. Music was first composed, then images were added. This film, which felt like an exhibit, also addressed a trope that deaf individuals do not enjoy sound and music, visually and audibly showing the audience that this is not accurate.
Sundance Shorts Delve Deep into Disability Topics
Four shorts – two live action and two animated – tackled specific disability themes.
Take Me Home, which won the Julia S Gouw Film Challenge in partnership with Janet Yang Productions and the Coalition of Asian Pacifics in Entertainment, follows a cognitively disabled adult named Anna who lives with her aging mother in Midland, Florida. Entertainment Media Apprentice Jeremy Hsing reviewed this short: "Whereas a lesser film would use 'trauma porn' in the pursuit of sympathy, Take Me Home shows the viewer humanity in the pursuit of empathy. The film doesn't answer every question or solve every problem, but it lays the path to take that first step."
Written by Kitoko Mai and directed by Nicole Bauzin, Thriving: A Dissociated Reverie is a surrealist journey into Kitoko's world that takes any preconceived notion of Dissociative Identity Disorder, and twists it in a playful yet insightful manner. Entertainment Media Coordinator Isabella Vargas reviewed this short: "Empowering, fun, profound, sexy, and a vivid explosion of color, Thriving: A Dissociated Reverie will make you fall in love with Kitoko's power and Bazuin's visual feast. It is a love letter to the potential of cinema as well as an experiment in exploring some of the most complex and nuanced human experiences. Thriving: A Dissociated Reverie shows just how important it is to have diverse disabled voices helming the camera as it uncovers a whole new facet of humanity."
Gabriel Gabriel Garble's animated short film Well Wishes My Love, Your Love is a mesmerizing experience with a carefully crafted animated style that will take you into another world. An accomplished illustrator outside of being an animation director, Garble's experimental film is breaking the barriers of animation as a whole and how we as an audience can experience a film. Entertainment Media Coordinator Isabella Vargas reviewed this short: "Garble creates a world where everything is one whole and where nothing is 'other.' This in itself feels touching in the sense that people with prosthetic limbs risk feeling 'othered' in their community. However, as the film depicts, their disability aids belong to the world around them just like anything else does."
The experimental short By Water follows an unlikely hero's journey into his subconscious, where each memory becomes a cathartic vehicle for reconciliation and healing for himself and his sibling. Entertainment Media Apprentice Jeremy Hsing reviewed this short: "By Water is reminiscent of something you would likely see at an art gallery at the Museum of Modern Art. It captures the feeling of waking up from a dream, when you don't know precisely what happened, but you feel different, compelled even. It points to past memories and future possibilities. It merges the inescapable past with the ever-changing present. And most of all, it creates a telepathic connection into Kwayana's internal journey of processing the memory of her brother."
Lack of Accessibility Hampers Inclusion of Disabled Attendees
Early on during the festival, jurors walked out of a film's premiere after Sundance did not provide adequate captioning for deaf and hard of hearing audience members, including Marlee Matlin, an official juror. "This is a stark reminder that there is so much more work to be done and barriers to break down," said RespectAbility Board Vice Chair Delbert Whetter. "The good news is that people are beginning to pay attention. We all play a part in either dismantling or sustaining inequities in the system."
Filmmaker Alison O'Daniel, who wrote and directed The Tuba Thieves, shared about the importance of open captions, which her films includes.
"You can't turn them off," she wrote in Variety. "This makes the film fully accessible, as the captions are woven into the fabric of the narrative of the film. They were constructed in tandem with the sound and the images and the story."
She continued: "The case is made too often that we're a huge market with money to spend. Also, I'd like to point out that Gen Z and Millennials are turning on captions in huge numbers, so if the fear of a film not being sold is a reason to not caption, that's a huge missed financial opportunity. Economics should not be the reason for access. Access should be the reason for access."
Before this incident, eight films at the festival offered at least one screening with open captions. Only two films, The Tuba Thieves and Is There Anybody Out There?, both created by disabled filmmakers, offered open captions for every screening. After this incident, several other filmmakers quickly scrambled to add open captions to their films, offered at various remaining screenings of these films.
In addition, several disabled attendees and those who would have liked to attend complained about the lack of physical accessibility. Sundance's location in Park City and timing in winter makes it a difficult festival to get around. Personally, I found myself asking for help from strangers to ensure when crossing a street or walking down a sidewalk that I could have assistance to not slip on ice. My disability often affects my balance, making it easier to fall. I was thankful that everyone I asked was extremely enthusiastic about helping me. In addition, many of the buildings on Main Street are historical and not accessible. For example, many events were up or down a flight of stairs. I appreciated how various organizers reached out to me to share the accessibility challenges. I am personally able to walk up or down a flight of stairs. However, many members of the disability community cannot, preventing full inclusion at many Sundance events, including those presented by official partners.
A large majority of films were offered during the virtual Sundance Film Festival, allowing viewers to watch from their comfort of home. All of these films included closed captioning (where each viewer can choose to toggle on/off), and an increasing variety offered audio description, which allows blind and low vision viewers more fully be able to participate. However, a few films were not available virtually due to agreements with the filmmakers.
As more films include disability, whether as the focus or through casual inclusion, it continues to be important that all viewers, including those with a variety of disabilities, have equal access to view and engage with the content.