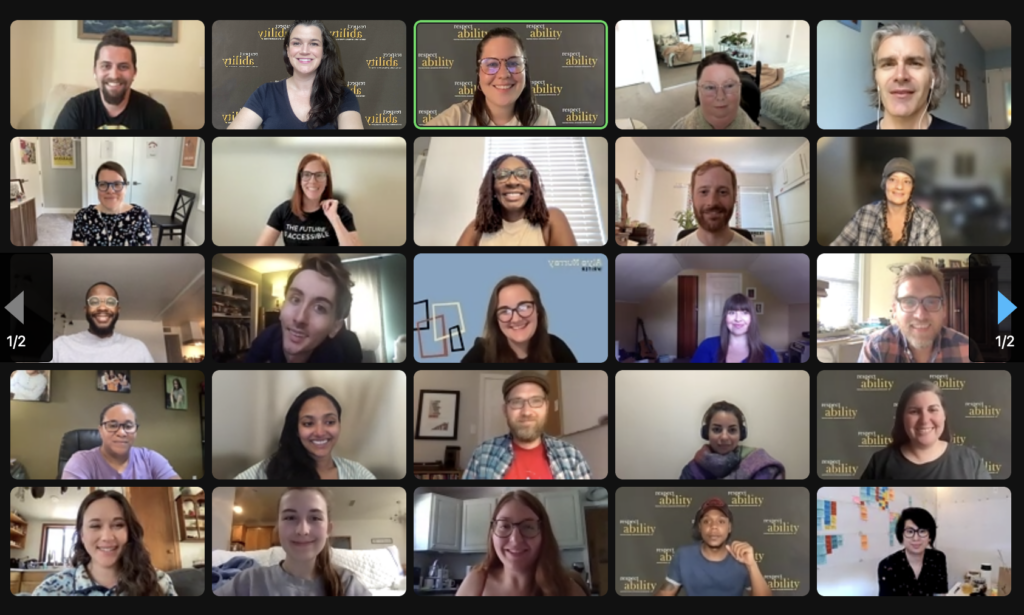 Los Angeles, Sept. 2 – RespectAbility's Virtual Entertainment Lab continued this past week featuring a panel of television writers — Marc Muszynski (Abby's, Dexter: New Blood), Xavier Stiles (Black Belts, Hemlock Grove), Diana Romero (4400, Good Trouble), Keisha Zollar (Busy Tonight, Agent King), and Katherine Beattie (NCIS: New Orleans, Californication). Panelists shared lessons learned from working in the writers' room and on set, their career paths to writing for television, and their experiences as disabled creatives working in the entertainment industry.
Not all paths to writing for television are linear, but some writers find the best path is through education. "I tried to take the traditional route," shared Stiles, who studied film at Arizona State University. While studying, a professor recommended him to a showrunner for Netflix's Hemlock Grove. Since then, Stiles has worked on array of shows ranging from ABC's Stumptown to Disney Launchpad's Black Belts. When asked about what material writers should have in their portfolio, Stiles explained that having a variety of script types and genres is important, but "the strong POV (point of view) is still what everyone is looking for at the end of the day."
Muszynski, a television writer and comedian who is an alumnus of RespectAbility's 2019 Entertainment Lab, discussed the importance of finding community and fostering relationships with mentors and peers, saying "it's about nurturing that network of people you worked with." Muszynski described how relationships with his mentors and other writers helped him land internships and assistant positions at Sony Pictures and NBC, which led him to opportunities in television writing. Muszynski has worked on sitcoms such as Abby's, dramas like Dexter: New Blood, and even children's programming such as Polly Pocket. Coming from a sketch comedy and improvisation background, Muszynski shared his biggest takeaway from his career thus far – "just keep saying yes to stuff that seems interesting and just follow it until it takes you somewhere."
After working in film for several years, Romero decided to pivot into television writing in 2018. An alumna of the American Film Institute, a Producers Guild Power of Diversity Workshop Fellow, and RespectAbility's 2020 Entertainment Lab, Romero recently served as a writers' assistant on the CW's 4400, a television show that had a main character with a disability. She now works as a writers' assistant on Freeform's Good Trouble. While the industry can be challenging and transitioning into writing for television be difficult, Romero recommended that all participants go for every opportunity that can improve their writing and networking skills. "I hustled," she said. "I signed up for every networking program, every mentoring program and writing fellowships I could find. I signed up for anything free."
Like Muszynski and Romero, Zollar became a television writer after working in other facets of the industry. Zollar's background in acting, improvisation, and comedy led her to pursue writing and script development. She has worked in animation on shows such as Agent King and on late-night talk shows Busy Tonight and The Opposition with Jordan Klepper. In such a fast-paced and ever-changing industry, Zollar advised the Lab Fellows to look at each opportunity—no matter how short-lived—with perseverance and hope. "Because of a few shows being cancelled, I actually got more opportunities," shared Zollar. She encouraged the Lab Fellows to make connections and put in their best efforts into each project, as future projects could become available due to connections made earlier in their careers.
After working as an entertainment intern and background actor, Beattie began her career as a production assistant on Showtime's Californication. She later became a script coordinator for the show for three seasons. While Beattie enjoyed her time in the writer's room for a cable program, she set her sights on writing for a network show. After being recommended by another writer she previously worked with, Beattie became a staff writer and producer for NCIS: New Orleans. When it comes to moving forward in the entertainment business, Beattie shared that each person must think about their own ambitions and needs, saying that "you have to tell people what you want in this business." Beattie now works as a co-executive producer on the original NCIS.
A larger theme of the session was how to self-disclose and advocate on set. The panelists agreed that finding allies and speaking up in new environments is important for one's own well-being. "I get in spaces and think: okay, who is my ally," said Zollar.
When it comes to personal safety and accommodations on set, the panelists advised the Lab Fellows to speak up and tell others what they need. "You have to be the one to say, 'this is exactly what I need and this is how I need it,'" said Beattie. "This will make my work better and our day easier." While accessibility still has a long way to go in the entertainment industry, the Lab Fellows are better prepared to enter the industry due to the panelists' advice.
RespectAbility's fourth annual Lab for Entertainment Professionals with Disabilities brings authentic and diverse portrayals of people with disabilities to the screen by creating a pipeline of diverse professionals with disabilities behind the camera. Participants include people with physical, cognitive, sensory, mental health, and other disabilities. Lab alumni currently work for a variety of studio partners including DreamWorks Animation, Netflix, Nickelodeon, Paramount Pictures, Sony Pictures Entertainment, and The Walt Disney Company, as well as in a variety of writers' rooms. Others have had films featured at festivals such as Cannes Short Film Festival, SXSW, Slamdance, and Tribeca, and participated in additional career track programs including with Film Independent and Sundance Institute.