"I've been working hard to integrate accessibility into St. Luke's idea of what a Beloved Community looks like—what is a community, after all, without disabled people in its midst?"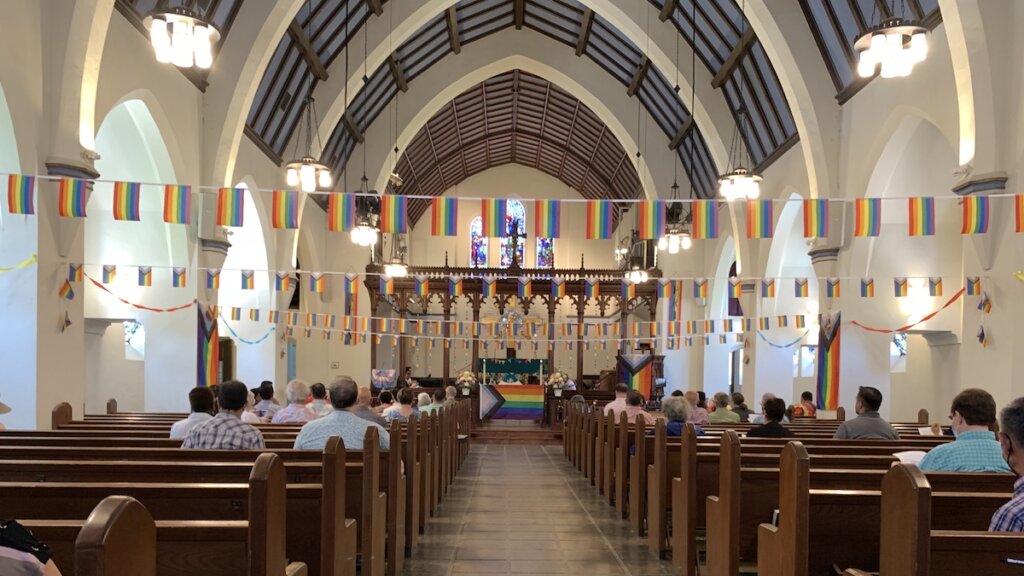 Ten years ago this fall, on what my therapist at the time pointed out was also Yom Kippur, I stepped foot into St. Luke's Episcopal Church in Long Beach, California for the first time. It was my home from that moment on.
At the age of 21, I'd realized I no longer felt at home in the tradition in which I'd grown up. It no longer served me as I and my worldview changed.
Joining the Episcopal Church gave me room to be who I was. When I joined St. Luke's, I identified as straight. Spending time amongst my Christian LGBTQIA+ elders allowed me the space to realize I myself was queer, and to come out to myself and those around me. In a church that welcomes and affirms LGBTQIA+ people with open arms, I was no longer the abomination I'd feared I was since teenagehood. Needless to say, growing up queer in the denomination of my youth wasn't especially easy.
Nor was growing up disabled and neurodivergent, for reasons I've detailed in other pieces I've written for the Faith Inclusion and Belonging Newsletter. It hasn't always been easy in the Episcopal Church, either. But in this tradition, I at least feel people are willing to hear me out, even if they aren't immediately receptive. In the best circumstances, I've seen substantial change in structure and practice. It's always a work in progress, right? We and our institutions all are.
I've grown a lot since the upheaval of switching from one vastly different Christian tradition to another. A decade later, I've also joined RespectAbility and have had the opportunity to explore Judaism with so many wonderful colleagues. I've now begun to understand the significance of my own life-shifting change coinciding with one of the holiest days on the Jewish calendar. For me, it was the beginning of something beautiful and holy.
The ethos of the Episcopal tradition is largely bent towards social justice, and St. Luke's in particular has a long history of ever-expanding work of this nature. I see parallels between the Jewish idea of Tikkun Olam, or, "repair of the world" and St. Luke's vision of "pursuing spiritual and social transformation."
For over 25 years, St. Luke's has clothed, fed, and provided showers for our unhoused neighbors, many of whom are also disabled and mentally ill. For the past year, we have partnered with an organization working to change immigration policies, the carceral system, and housing and economic injustices in Los Angeles County. I see an alignment with the work of the church and the prophet Isaiah's call to
loose the bonds of injustice,
to undo the straps of the yoke,
to let the oppressed go free,
and to break every yoke 
(Isaiah 58:6, New Revised Standard Version)
This is the fast at the heart of Christian responsibility.
It is true that my own commitment to social justice has grown steadily since the beginning of my time with St. Luke's, and is what ultimately brought me to RespectAbility's growing Faith Inclusion and Belonging department.
As a disabled person, I long to see justice and equity for our community, and especially for those among us marginalized by multiple intersecting identities. In my parish, we are striving to become what we call a Beloved Community. To me, this sounds a lot like the Faith Inclusion and Belonging department's commitment to fostering faith spaces where disabled people belong and flourish. I've been working hard to integrate accessibility into St. Luke's idea of what a Beloved Community looks like—what is a community, after all, without disabled people in its midst?
I am currently in the process of co-creating a bible study that aims to dispel the ableist theologies that members of the church use to perpetuate marginalization of disabled people. I also hope to start storytelling sessions wherein members of our congregation with hearing loss will be able to express their experiences and the ways St. Luke's can effectively address the barriers they face in the church. I hope this will be but the beginning of important accessibility work to come.
None of this work has been without challenge, but I'm so glad to be doing it in community, both with people of other faiths and of my own. It takes all of us together to make change in our world.
On a weekly basis in the Episcopal church, we corporately repent and ask forgiveness for things we have done and "left undone." It seems to me that this unified, out-loud acknowledgement means we are asking each other for forgiveness as much as we are asking God. I understand our words as a means of repenting for the ways we've hurt others and the ways we've failed to love and serve those in our midst. For me especially, this includes how we have harmed and excluded disabled people. May God give us grace as we continue to learn from our mistakes in becoming a Beloved Community.