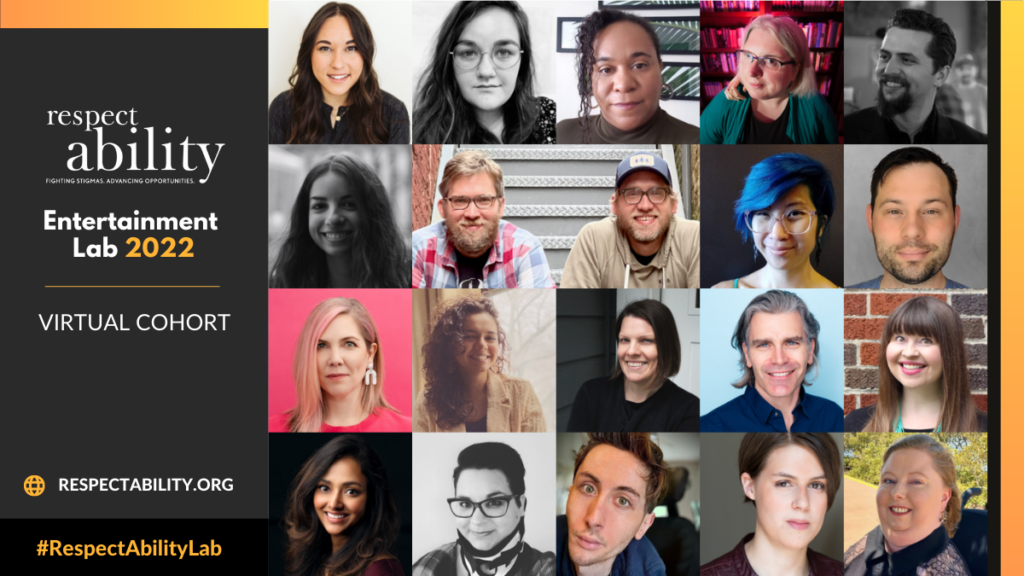 Los Angeles, Aug. 15 – To continue to ensure accessibility for disabled entertainment professionals, the RespectAbility Entertainment Lab will host a virtual cohort this year, building on the success of a virtual format begun during the COVID-19 pandemic.
Eighteen individuals and one writing duo, from the United States, Canada, Argentina, and Australia, will participate in semiweekly meetings, presentations, and discussions throughout August and September with industry professionals and executives from partner studios, nonprofits, and production companies. In addition, they will have opportunities to workshop their materials for feedback from other cohort members.
RespectAbility, a diverse, disability-led nonprofit that works to create systemic change in how society views and values people with disabilities, piloted the Lab in 2019 in Los Angeles. The Lab went virtual in 2020 and 2021 before holding an in-person cohort in Los Angeles in June and July of this year. The virtual format in prior years proved so invaluable to participants and the entertainment industry that RespectAbility decided to continue its successful virtual Lab program.
"As the entertainment industry returns much of its programming to in-person, it is important to remember how being virtual can be inclusive of so many more individuals," said Lab Founder and Director Lauren Appelbaum, Senior Vice President of Communications and Entertainment & News Media at RespectAbility. "That is why it is so important that so many of our studio sponsors are excited to support the disabled creatives taking part in both our in-person and virtual cohorts, ensuring equal access for folks who cannot return to an in-person environment but are able to fully participate in a virtual way."
Participants in the virtual cohort include two producers, three directors, six film writers, and nine television writers. They were chosen after a highly competitive selection process that included two rounds of internal reviews, two rounds of review with external advisors, and a round of virtual interviews. Participants include people with physical, cognitive, sensory, mental health, and other disabilities ranging in age from their 20s through their 50s.
The 2022 Lab Fellows of the Virtual Cohort include:
Virtual cohort members will learn from and network with executives from Film Independent, Final Draft, NBCUniversal, Sony Pictures Entertainment, The Walt Disney Company, Warner Bros. Discovery, the Writers Guild of America West, and more, as well as participate in conversations with disabled episodic and features writers.
One of the most important aspects of the Lab is the continued involvement of alumni in the training of additional cohorts. As such, Lab alumni including Kiah Amara (Apple TV+'s "Best Foot Forward," Production Accessibility Coordinator), Ashley Eakin (Apple TV+'s "Best Foot Forward," Director and Disney+'s "Growing Up," Director), Elisabeth Good (Talent Manager, GAMUT Management), Cashmere Jasmine (current Disney Launchpad Director), Peter Lee (2020 CAPE New Writers Fellow, 2021 AFF Winner), and Shea Mirzai (Nat Geo's "ORIGINS: THE JOURNEY OF HUMANKIND," Executive Producer), will speak with the cohort and provide advice.
"One of the goals of the Lab is to ensure that no one can ever say they could not find a disabled writer, director, producer, or creative professional. With robust alumni involvement, we can ensure that there is an endless supply of skilled and talented disabled professionals entering the talent pipeline in Hollywood who will then turn around to work with us to help others achieve the same success," said Delbert Whetter, who co-founded the Lab with Appelbaum.
Currently there are 102 alumni of the Entertainment Lab. Lab alumni work for a variety of studio partners including DreamWorks Animation, Netflix, Nickelodeon, Paramount Pictures, Sony Pictures Entertainment, and The Walt Disney Company, as well as in a variety of writers' rooms. Others have had films featured at festivals such as Cannes Short Film Festival, SXSW, Slamdance, and Tribeca, and participated in additional career track programs including with Film Independent and Sundance Institute.
"RespectAbility has been life-changing for me," said writer Peter Lee, a 2022 graduate of the Los Angeles cohort. "I came into the Lab hoping to get a better understanding of my identity as a disabled person and how that relates to my creative pursuits. The Lab was stacked with talented and accomplished writers and directors. RespectAbility connected us with studios and executives who understand that our perspectives matter. Now, I have a new community of peers and a network of industry professionals who want to support new stories and storytellers."
"I think the most amazing thing about the Lab has been finally having the network to recommend disabled writers when I get the chance," said Roma Murphy, a 2022 graduate of the Los Angeles cohort who is currently working as Script Coordinator at DreamWorks Animation. "If I'm in a meeting and a producer says, 'we really want to work with more disabled people,' I have a group of 20 talented people I can throw at them. I truly believe that none of us succeed until all of us succeed, and now I can start making that happen!"
"I have RespectAbility to thank for giving me a seat at the table and making me feel seen, heard, and understood in ways that I have never experienced before," added Jacqueline Gerdne, a 2022 graduate of the Los Angeles cohort who also just earned her earned her B.A. in Film and TV Production from UCLA.
The Lab is a 2020 Roddenberry Foundation Impact Award winner and was the Fan Favorite chosen by the Arc Tank audience for the Northeast Arc's "The Arc Tank 3.0," which was created to positively disrupt conventional methods of providing services to people with disabilities.
A team of external Faculty Advisors, who also helped develop the curriculum, reviewed each 2022 applicant:Cheryl Bedford (Founder, Women of Color Unite), April Caputi (Casting Coordinator, Lucasfilm Animation, and 2019 Lab Alumna), Nicole Go (DEI Production Program Manager, Amazon Studios), Kathy Le Backes(Director, Content Advisement – Representation, Inclusion, Strategies & Engagement, The Walt Disney Studios), Noriko Louison (Sr. Research and Curriculum Manager, 9Story Media Group), Marc Muszynski(TV writer and 2019 Lab Alumnus), Andrew Reid (Director and 2020 Lab Alumnus), Diana Theobald(Director, Equity & Inclusion, Content, Warner Bros. Discovery), Nathan Varni (Executive Director of Current Programming, ABC), Brian Walker (CEO, Picture Motion Campaigns), and Delbert Whetter (Chief Operating Officer & Head of Business Affairs, Exodus Film Group and RespectAbility Board Vice Chair).
In addition to Appelbaum, the programmatic team includes RespectAbility Entertainment Media Team staff members Vanni Le, Lesley Hennen, and Jacquill Moss, as well as Leah Romond, an alumna from the 2019 Lab who will once again be serving as a Senior Production Advisor.
The Virtual Cohort of the 2022 Entertainment Lab is made possible with support by:
Platinum Sponsors: Murray/Reese Foundation and Netflix
Gold Sponsors: The Harnisch Foundation, Sony Pictures Entertainment, and The Walt Disney Company
Silver Sponsors: Hollywood Foreign Press Association Charitable Trust, the National Endowment for the Arts, and NBC Universal
In addition, screenwriting software Final Draft, which forged a multiyear partnership in 2020 with RespectAbility, will provide free licenses of Final Draft 12 for Lab participants, as well as other educational resources.
RespectAbility is a diverse and disability-led nonprofit that works to create systemic change in how society views and values people with disabilities. Comprised of diverse people with disabilities, RespectAbility's Entertainment and News Media Team partners with studios, production companies, writers' rooms, and news organizations to create equitable and accessible opportunities to increase the number of people with lived disability experience throughout the overall story-telling process. These initiatives, including the award-winning RespectAbility Lab for Entertainment Professionals with Disabilities, increase diverse and authentic representation of disabled people on screen, leading to systemic change in how society views and values people with disabilities. To learn more about everything RespectAbility is doing, check out their website at www.respectability.org.