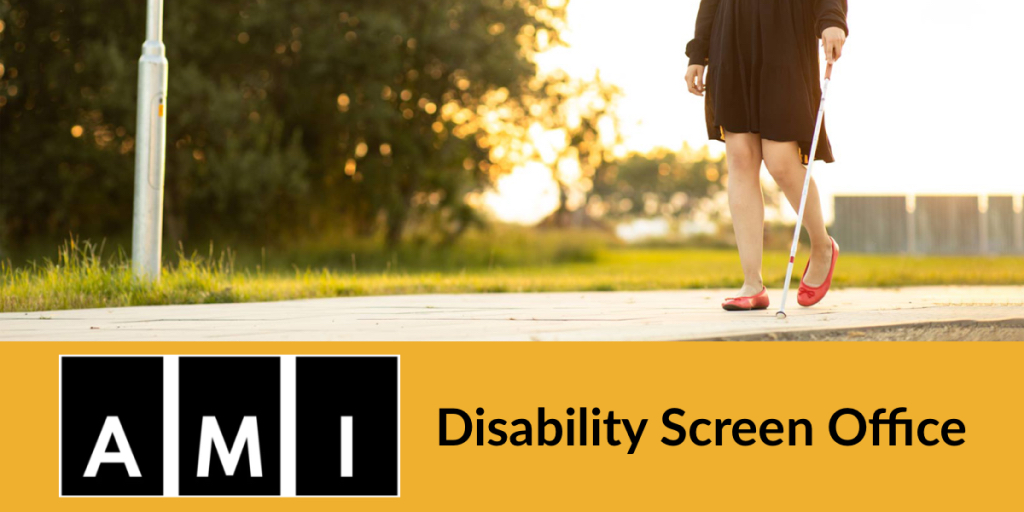 Toronto, May 6 – Accessible Media Inc. (AMI), in partnership with the Canadian Media Fund (CMF) and Telefilm Canada, is launching a Disability Screen Office (DSO) in Canada to eliminate accessibility barriers and support and amplify disabled creatives.
"It became apparent that there is currently no single program, incentive, or regulation that can cause the screen industry to be fully inclusive for people with disabilities," said Andrew Morris, Manager, Independent Production, AMI-tv. "The only way to create meaningful real opportunities for people with disabilities in the media industry is to address the systemic barriers relating to education, industry regulations, insufficient and/or inaccurate representation, public beliefs and attitudes, and full accessibility throughout the media industry."
The DSO will provide services that:
increase accurate and meaningful disability representation on and off screen throughout the Canadian media landscape.
expose and eliminate accessibility barriers to create a more inclusive and accessible industry for all.
support and amplify the creative voices of Canadians with disabilities nationally and internationally.
RespectAbility Entertainment Lab alumna Julia Skikavich was involved in some of the early conversations and roundtable consultations in the lead up to the establishment of the DSO.
"I'm proud to have played a very small part, alongside the leadership of AMI, in the huge effort of many that's led to the establishment of the DSO," said Skikavich. "This is an important first step in supporting the voices of Canadians with disabilities in the TV/film industry and increasing representation and inclusivity on- and off-screen. The hope is to create a more accessible industry for all, and I'm really looking forward to helping build and participate in the programming and the work that's going to come out of our homegrown DSO, which I know is going to amplify the voices of Canadians with disabilities nationally and internationally."
More announcements in relation to the DSO will be coming out soon, with pending programming including an innovative workshop targeted at showrunners that aims to make writers' room more accessible to disabled writers and the creation of a bilingual Best Practices Guide for Disability Engagement in the Canadian Film and Television Industry.