Written by Dennis Tran and Vanni Le
Los Angeles, April 14 – Everything Everywhere All At Once is an emotional, chaotic, and heartwarming film that takes the audience on a wild journey into an ever-changing multiverse. The film follows the overwhelmed Evelyn Wang, played by Michelle Yeoh, as she (unsuccessfully) tries to juggle everyday tasks, including running a laundromat with her passive yet upbeat husband Waymond (played by Ke Huy Quan in his dynamic return to acting since his child actor days), preparing for the arrival of her disapproving father, and struggling to connect with her "rebellious" queer and tattooed college dropout daughter. This anxiety-inducing opening act is topped off with Evelyn also trying to compile the right documentation for a trip to the IRS office.
It's clear that Evelyn is dissatisfied with her mediocre life and the choices that led to it. Evelyn's mind wanders off to escape from her reality, and her scatter-brained tendencies cause frustration from her family, yet create unintentionally comical scenes for the audience. She constantly insists that she is "paying attention" yet she completely zones out and starts daydreaming in the middle of a conversation with an IRS officer (played by Jamie Lee Curtis) about her questionable tax practices.
If we take Evelyn at face value, apparently a karaoke machine is an acceptable expense for a laundromat, to which her husband apologizes on her behalf, saying that "my wife often confuses her hobbies for business." A neurodivergent audience member watching Evelyn may pick up on the fact that she has undiagnosed ADHD. Daniel Kwan, one-half of the writer/director team "Daniels", confirms this in various interviews. Kwan set out to write a lead character with undiagnosed ADHD, which he felt would add to the external and internal chaos. Through his research of ADHD traits, Kwan felt a sense of familiarity and ended up getting diagnosed with ADHD himself. Turns out, Kwan was subconsciously pulling from his own lived disability experience.
In true sci-fi adventure fashion, a sudden turn of events flips Evelyn's universe on its head. She learns about the existence of other universes that comprise the story's multiverse. Having different timelines and branches, these other universes allow Evelyn to actually experience what her life could have been like if she made alternate decisions. This revelation is presented by Alpha Waymond, a doppelganger of her husband from the Alphaverse. Alpha Waymond is everything that she perceives her real-life husband Waymond to not be. A dynamic leader himself, Alpha Waymond has traversed thousands of multiverses looking for this Evelyn, the worst of all the Evelyns, as she is the only one who can save the multiverse from total mass destruction by Jobu Tupaki, the Alphaverse doppelganger of her daughter Joy. The epic and fantastical battle between Evelyn and Jobu Tupaki parallels her strained relationship with Joy, as both Joy and Jobu Tupaki feel that no one understands them. It's the classic narrative of intergenerational trauma, as the audience learns through flashbacks that Evelyn and her father have a similar dynamic.
In an adventure through the multiverse, a metaphor for her neurodivergent mind, Evelyn (spoiler alert) saves the multiverse from mass destruction while another parallel storyline shows Evelyn saving herself by accepting her shortcomings, mending her relationships, and unlearning her survivalist mentality in the face of uncertainty and chaos. She even displays the ultimate act of acceptance when she introduces Joy's girlfriend to her father in Cantonese.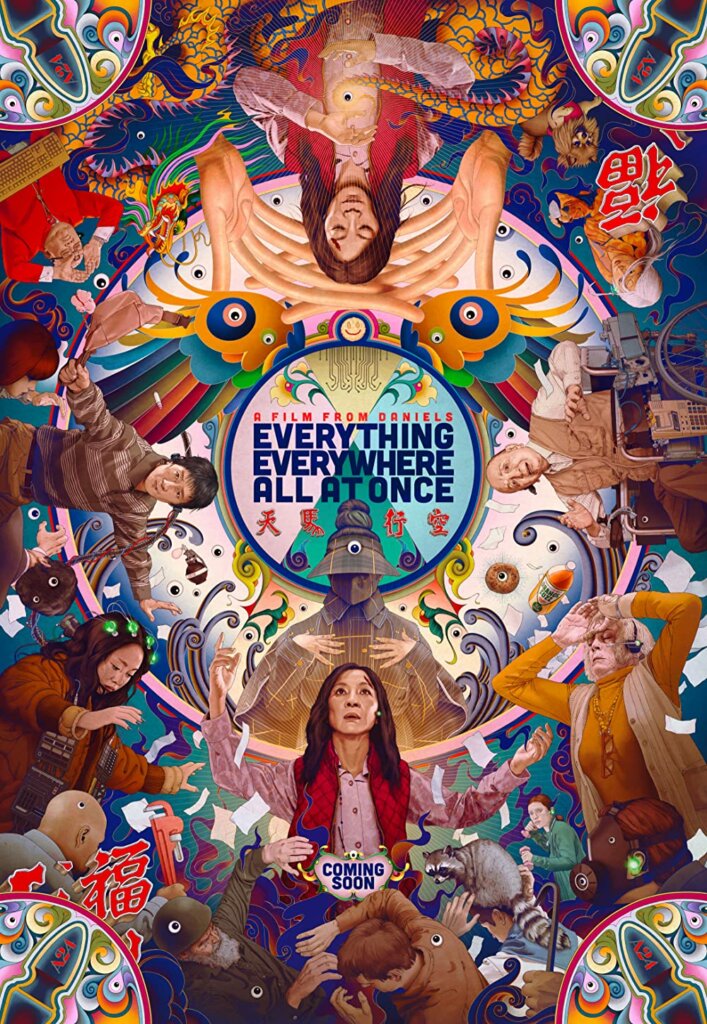 What is perhaps the most beautiful part of the film is the climactic scene in which Evelyn mends her marriage with Waymond. At the beginning of the film, Evelyn looks down on Waymond, perceiving him to be meek and (pun intended) beta. Despite experiencing multiverses with other variations of Waymond and initially being enticed with the idea of a life without him, she comes to see Waymond in a different light and as a fighter like her, except his weapon of choice is kindness. It's literally depicted through a fever dream-like sequence where Waymond glows with a multi-color fluorescent backlight while the voiceover of another multiverse Waymond tells her "In another life, I would've been happy just doing laundry and taxes with you." In a world that is made to make you feel small and remind you that your existence in the multiverse is inconsequential, Waymond still chooses to be kind and appreciate the little things.
This film is truly unlike any other cinematic experience. It's a creative take on the struggles of immigrant families pursuing their American Dream that subtly and authentically represents neurodivergence, while layered with multiverse settings akin to what one could only experience in a Marvel Cinematic Universe film. This storytelling ultimately emphasizes that despite our differences and struggles, we all share in our human desires for belonging, kindness, acceptance, and love.
---
The authors of this review were able to watch this film thanks to Gold House, the premier nonprofit collective of Asian & Pacific Islander founders, creative voices, and leaders. Through their initiative #GoldOpen, Gold House is dedicated to ensuring the opening weekend success of new majority creative projects, with their latest project being Everything Everywhere All at Once. For more information on the amazing work that Gold House does, visit their website.