Trigger Warning: This article and the film discussed within contains mentions of suicidality. If you need help, call the National Suicide Prevention Lifeline at 1-800-273-8255.
New York City, March 8 – Just Like You Films released a new documentary today that tackles one of the most pervasive nonvisible illnesses in today's youth. Just Like You: Anxiety and Depression conveys the reality of living with anxiety and major depression by exploring the lives of several people of different ages and backgrounds who struggle every day with these mental health disabilities. Just like anyone else, those with anxiety and depression can live fulfilling and meaningful lives. The film provides a blueprint for how to learn more about this serious, but often overlooked, medical condition; how to seek the necessary tools and care; and how to have open conversations with your loved ones.
The film is a necessary step toward breaking the stigma of mental illness, a stigma that can stop people from saving future lives from anxiety, depression, and suicide. Director Jen Greenstreet shared, "The World Health Organization stated that over 500 million people live with these conditions, and the CDC reports that these conditions are one of the leading causes of death by suicide. So, we decided to make this movie because we believe that watching this film will help end the stigma around these conditions, empower people, and help them live happier and healthier lives."
In Just Like You: Anxiety and Depression, we see that anxiety can touch the lives of everyone from the average teenager to a successful sports journalist and public figure. Anxiety also can manifest differently in each person, looking like nervousness in social spaces or episodes of irrational anger when frustrated. However, the film is wonderful at emphasizing that it is important to remember that these emotional and bodily reactions are normal for people who live with anxiety.
Greenstreet explains how one of the main goals in the film is to shed light on the fact that anxiety and depression are as legitimate and as serious as other disabilities:
"The film shifted my perspective on these conditions…I didn't think of anxiety or depression as serious as other conditions such as diabetes or asthma. But, yes, this is a real medical condition. Asking someone to just get over an anxiety attack is like asking someone to just get over a severe asthma attack…It was necessary to make a film like this to get over the stigma."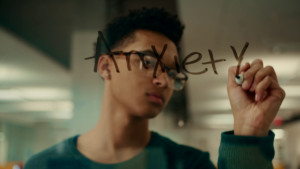 There are plenty of misconceptions surrounding anxiety and depression, because our very own culture stigmatizes it; calling it weak, abnormal, rude, and so forth. However, anxiety and sadness are necessary biological functions that help us all fulfill emotional needs. Professionals in the film explain that a normal dose of anxiety can help warn us of a potentially dangerous situation. Anxiety can also help people in leadership positions because it allows someone to take careful consideration of multiple outcomes. Meanwhile, sadness reminds us of our emotional needs and to reach out to people we love and keep us safe.
Therefore, sadness and anxiety don't equate to weakness. On the contrary, taking the first steps towards looking for support due to sadness and anxiety, can be a huge sign of strength.
Like other disabilities, however, too much anxiety and sadness can lead to medical needs that have to be addressed. This is where Just Like You boldly takes on the topic of suicidality, especially amongst today's youth. The film insightfully captures how anxiety and depression can lead to a medical emergency that should be taken seriously. For this reason, it is important to have conversations surrounding medical attention and any mentions of self-harm. It can be a scary conversation for everyone involved.
It is important for everyone to know, as the film quotes, that: "It is okay to need help if you or your friend need help." The film explores different techniques from Cognitive Behavioral Therapy to medications that can benefit people who are struggling with their mental health.
When it comes to keeping up with mental health, especially when ill, one subject in the film declares, "Just like if you want to run fast, you have to take care of your legs. If you want to be mentally well, you have to take care of your brain."
The film demonstrates the vast majority of ways anyone can help a loved one with anxiety and depression, all while accentuating that it's okay to seek help and it's okay to talk openly about the fact that some people need this kind of help.
As the film declares, "The prejudice around mental illness is as disabling as the illness itself." One parent even mentions she realized she became a better parent for getting emergency help when her son needed it. By fighting the stigma surrounding mental health, we can all help save lives and learn to better support those we love.
Anyone can live with anxiety or depression, and someone you know might be dealing with their mental health right now. Anyone with these conditions also has the strength to lead an enriching life and capacity to hold meaningful relationships. Scenes of profound friendships and touching family moments are additional proof to today's youth that it is easy to be friends with someone who lives with anxiety or depression. You just have to treat them like any other kid. Just like other teenagers, anxious and depressed teenagers want to feel included, appreciated, and taken seriously for the struggles they navigate every day.
Just Like You Films boasts several Emmy-award winning projects focused on educating people on unique conditions while also empowering young people to demonstrate compassion and kindness. You can watch Just Like You: Anxiety and Depression on iTunes.