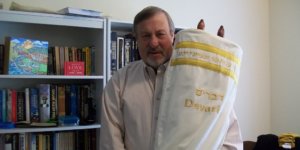 Six years ago, I became visually impaired. My eyes began to bleed, and I was told the damage was permanent and there was a chance that I could go completely blind. As a Rabbi, reading is crucial to my job. There was a solution in English braille, which I started to learn. As those studies continued, I found that Hebrew braille also existed and that became my new topic of study.
Rabbis tend to ask questions. I wondered if a Hebrew braille Torah scroll existed. Although there were braille Torah books, I could not find a Sefer Torah – the scroll used for congregational readings. There were none in the United States; there were none in Europe; there were none in Israel.
There are over 400,000 Jews who are blind or have low vision in the United States alone. Although it is difficult to know how many would want to read Torah in a congregational service, even a small percentage is a significant number. Jewish people who are blind or low vision have not been given the opportunity to participate as a reader in a Sefer Torah congregational service.
I set a goal for Jews who are blind or have low vision to be able to have Alliyot and be fully included in the synagogue. I have seen congregations find great joy and enthusiasm in watching a person who is blind or low vision participate in traditional services. It becomes a great boon to the synagogue as a whole. I pursued this goal by exploring if such a scroll could be created and how to best create an avenue for the greatest number of Jews who are blind or have low vision to participate in their community Torah reading. Ultimately, the answer was yes.
The approach to making a Hebrew braille scroll uses much of the same methodology as creation of a written scroll. I use the same parchment, the same sewing material, and the same Torah rollers. Many people thought that the dots would be destroyed because of the rolling. It turns out that parchment is both tough and durable. The dots hold up quite well and the braille scroll is the same size as a text scroll.
There are some differences between a text scroll and a braille scroll. Hebrew text is read right to left; Hebrew braille left to right. The written Torah is justified on both the right and left columns; the braille scroll only on the left. Yet, the braille scroll can maintain the unique characteristics of the written scroll in spacing and other features.
Perhaps the biggest issue was that the letters of the scroll had to be hand made without error.  Manual creation of braille is done with a slate and stylus. Yet, it was very difficult to make that number of braille numbers and letters without error. It took a few years, but, I solved this by creating a unique slate for each column, predrilled for each letter on that column.
Congregants who are blind or have low vision or their congregations can request a scroll for a specific Shabbat. The scroll is mailed to them the previous week and sent back the following week. To advance the process, when the initial reservation is accepted, a package is sent to that congregation and/or reader with a set of braille verses on braille paper, of that biblical portion, so that the reader can practice what they will be doing on the designated Shabbat. This minimizes costs and makes the process more cost effective.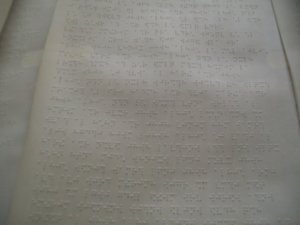 Many Jews who are blind or have low vision do not know how to read Hebrew braille. I created a remote learning course to allow a person to learn to read from the Torah. A number of workbooks are sent, with a set-in text form, so a helper can assist in the learning. The helper does not need to know Hebrew or braille. In this way, the individual can go at whatever pace they wish to learn to read Hebrew braille.
For those with sight, you are welcome to go to our website to view pictures of the scrolls, www.devarim.org. If anyone would like to talk about this project or wishes to learn more, please do not hesitate to contact me. The contact information can also be found at the website.