Table of Contents
View each section of the report by following the links below, or download the text only Word document.

Dear Colleagues and Supporters,
We are extraordinarily pleased and proud to share this Annual Report with you! 2022 was an exciting year for us – a time of transition, transformation, and growth. Early in the year, we moved into the next phase of organizational development by bringing aboard Dr. Deborah Fisher as Interim President and CEO and then appointing Ariel Simms, Esq. as the organization's next President and CEO in May.
We expanded our full-time staff from 18 employees at the end of 2021 to 24 employees as of December 2022. This growth occurred across departments including Entertainment and News Media, Policy and Workforce Development, Faith Inclusion and Belonging, Marketing and Communications, Inclusive Philanthropy and Development, and Operations. It also represented a whopping 33% staffing increase!
Our impact has only increased as our team's capacity has strengthened. Each core ingredient to our "secret sauce" is integrally connected with all others, accelerating our momentum from the resulting synergy. This has included:
Bolstering high-level subject matter expertise by bringing aboard three new department leaders, including Graciano Petersen, Wally Tablit, and Shelly Christensen.
Advancing authentic narratives about disability that inherently embrace high expectations and a belief in the limitless potential of the disability community.
Partnering with the disability community to advance public policy within the arenas of education, employment, transportation, and civic engagement.
Expanding our leadership programs to nurture the growth of emerging leaders who come from every part of the disability community.
Collaborating closely with communities of faith by building on our historic Jewish inclusion work.
Further strengthening our impact in 2022, we renewed and deepened our commitment to diversity, equity, inclusion, and accessibility (DEIA). Elevating DEIA principles within every aspect of internal and external operations and at an intersectional level is a core tenet of our organizational identity and our advocacy. Internally, we have made important changes to our policies, practices, and procedures to center equity. In partnership with our staff and Board, we are actively building an organizational culture of inclusion and belonging and reintroducing RespectAbility as a convener and collaborator in all areas of our work.
Throughout this report, you'll find highlights of our 2022 accomplishments across the three core components of our theory of change: Advancing Opportunities, Changing Attitudes, and Developing Leaders.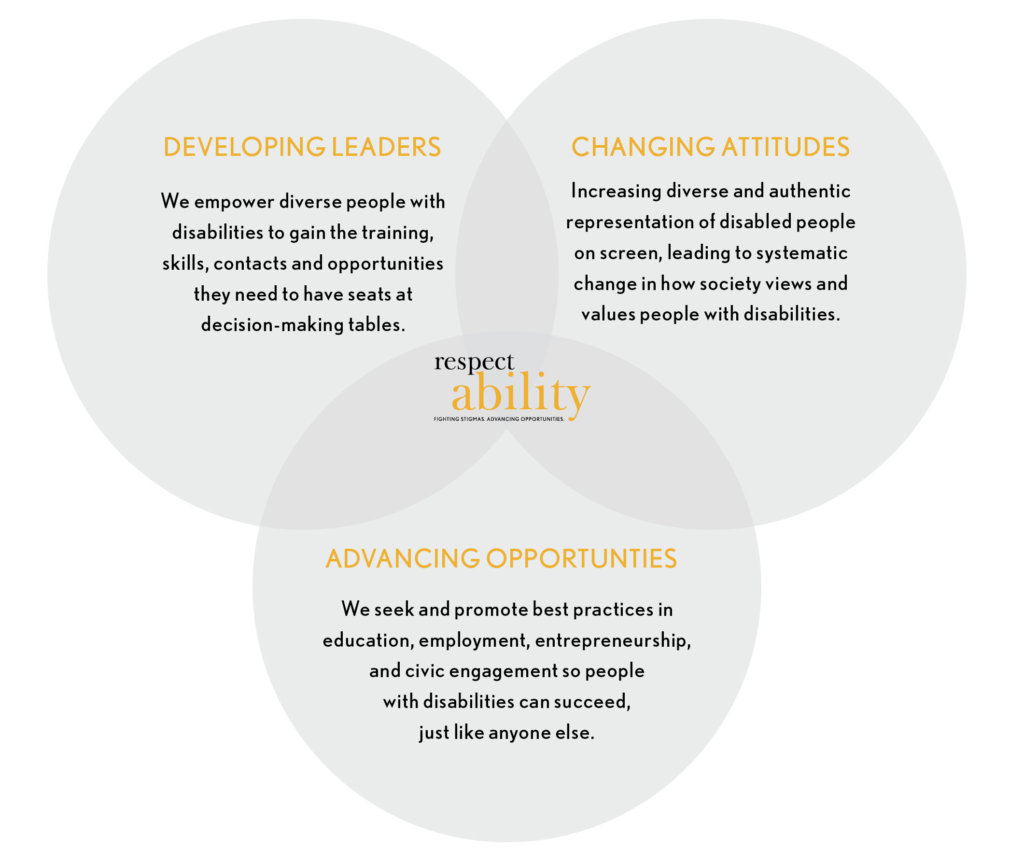 Our incredible team – integrally combining the steadfast work of our Board members, Advisors, staff, apprentices, and partners – makes strides every day in pursuit of our mission: To fight stigmas and advance opportunities so people with disabilities can fully participate in all aspects of community.
NONE of our milestones – each of which is the result of proactively working across the full diversity of the disability community and all political perspectives – could have been possible without supporters and partners like you. That is why, as we celebrate all that we have done, we set our sights on the incredible future that we have ahead and the boundless possibilities that come with it.
Together, with all that is before us, the only limits are that of the imagination!
Sincerely and In Solidarity,

Olegario "Ollie" D. Cantos VII, Esq.
Chairman, Board of Directors