Subject of Film Jordyn Zimmerman, Also Serves on RespectAbility's National Disability Speakers and Training Bureau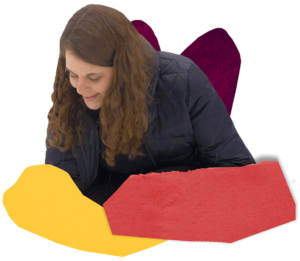 New York City, Oct. 26 – Communication is an essential part of daily life. It's how we express our needs, wants, feelings, and so much more. Unfortunately, many school systems currently lack the resources, knowledge, and awareness of how to fully support disabled students in their education journey when the students' methods of communication do not align with society's traditional views of how to communicate. A new documentary film titled This is Not About Me hopes to change this by sharing the story of Jordyn Zimmerman, a nonverbal autistic woman whose own education journey is filled with years of misunderstanding and a lack of support from her teachers. However, once Zimmerman finally received communication tools from her educators, she excelled at education and has since gone on to receive her bachelor's degree in education Policy, and hopes to continue being a catalyst for change in today's education system.
This Is Not About Me starts off by following Zimmerman as she wanders around her campus at Ohio University. Throughout the documentary, we gain insight into the obstacles that she faced in order to get there. Those who don't know her story might assume her journey was easy. But that's far from the truth.
When we meet Zimmerman's mom, they're looking at baby photographs of Jordyn. Her mom goes on to point out that 'most times you take pictures when kids are smiling,' but Zimmerman doesn't appear cheerful in many of her images. However, that doesn't cease the smiling from present-day Zimmerman when a baby photo of her in a laundry basket makes her snicker. She goes on to express that despite loving school, school didn't love her.
And that is when the narrative emerges.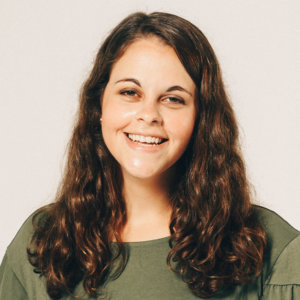 While playing with her dog, Einstein, we learn that Zimmerman communicates through an Augmentative and Alternative Communication (AAC) device by typing her thoughts into an iPad, which then reads her words out loud via an electronic voice. As Zimmerman narrates the film, she tells the audience that she knows how to talk, but she gets nervous about applying a term that she does not recognize the significance of. Since she also requires time to process what it is that she chooses to say, interacting with people via her iPad is often smoother for her, and it serves wonderfully for those around her.
A breakdown of Zimmerman's life through her school years indicates that many of her teachers did not have the expertise or the resources needed to help her complete her education. However, as we see in the film, once she was finally connected with a group of educators who had the resources, patience, and skillset to introduce her to ways of communication outside of society's "norm," her life changed dramatically for the better. These new instructors paid attention and helped Zimmerman get to exactly where she is now. They did not give up on her, but most importantly, Zimmerman did not give up on herself. She ultimately completed her high school education and went on to attend Ohio University and then Boston College for graduate school.
Zimmerman worked hard to achieve her B.A. in education policy and proceeds to influence not only educators, therapists, and parents, but other individuals who have nonverbal autism themselves. She is a successful and admired young woman who continues to smile, laugh and be a marvelous woman to be around, all while working to improve the education system for other nonverbal students. In her current work as a education policy advocate, Zimmerman urges educators to be more aware of how they talk around their students, because children can figure out exactly what is being suggested about them, regardless of their presumed communication levels.
Zimmerman also serves as a public speaker, including as a member of RespectAbility's National Disability Speakers and Training Bureau. In 2014, she began advocating for students through a series of national and global speaking engagements. She has keynoted conferences such as Alan November's Building Learning Communities (BLC) and National Council of Teachers of English  — sharing an engaging and powerful message that reminds audiences to believe in the dignity of all people. Zimmerman has written blogs for companies in Amsterdam and has been featured by educators in Singapore.
One of the primary factors that stands out throughout the documentary is the need for diversity and inclusion amongst humanity. People need to understand that just because someone has a disability, it does not stop them from being able to achieve their dreams and initiate innovation in society.
While on her college campus after a FaceTime call with her mom, Zimmerman is asked if she likes school. She shrugs her shoulders, holds for a beat and then types on her iPad 'I like school, but sometimes not the people.' Many people can resonate with those who have been portrayed to be cast as outsiders in society. This theme in the documentary will resonate with many viewers.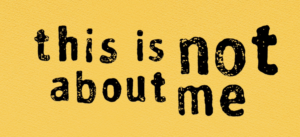 This Is Not About Me does an incredible task of explaining what individuals with disabilities can accomplish and shows that no one should have to be rejected a position or put down for being who they are. Zimmerman can clearly communicate with people around her via her iPad and have an extensive conversation with them. As showcased throughout the film, she also knows how to make others laugh around her, notably with the story she excitedly tells about starting a fire in her college dorm room after incorrectly microwaving some chicken nuggets – an experience a lot of college students can likely relate to.
This documentary is a must-watch film for many reasons, including that we can all learn how to be kinder, more open-minded and empathetic to communities that are not our own. This Is Not About Me also does an amazing job of accurately portraying the experience of living with a developmental disability like autism, and that is because the story centers Zimmerman and her lived experience.
To learn more about Zimmerman's story and watch This is Not About Me, visit the film's official site: https://thisisnotaboutme.film.
To learn more about Zimmerman, follow her on Twitter @Jordynbzim or visit www.JordynZimmerman.com.
If you are interested in having Zimmerman present at your organization, please contact Jake Stimell at [email protected].