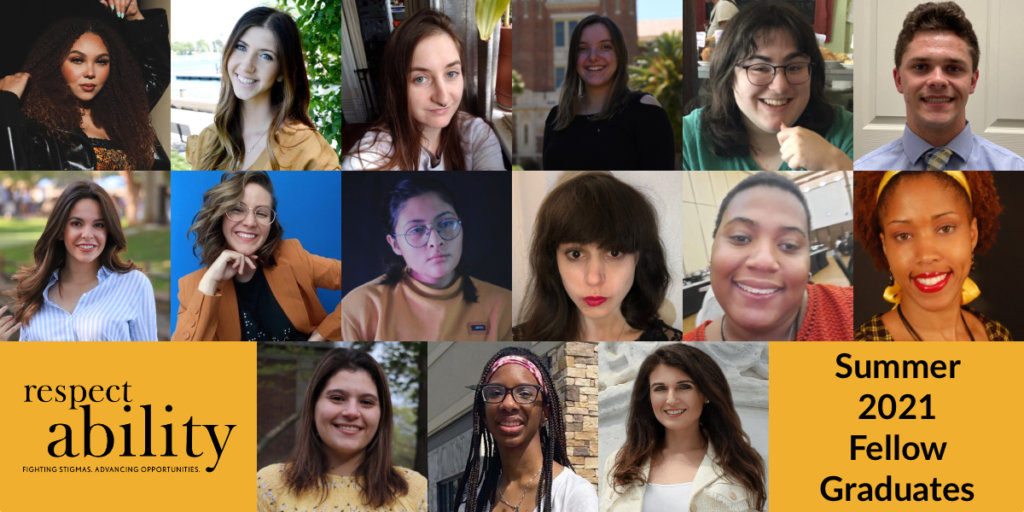 Rockville, MD, October 6 – Fifteen talented young adults, the majority of whom have disabilities and all of whom are passionate about ensuring equal opportunities for people with disabilities, have completed RespectAbility's National Leadership Program.
The National Leadership Program trains leaders who are committed to disability issues and plan to go into careers in public policy, advocacy, public relations, journalism, the entertainment industry, diversity, equity and inclusion, fundraising, nonprofit management or faith-based inclusion. The program enables participants to gain skills and contacts while making a positive difference for people with disabilities.
Fellows gained the real-world skills required to become highly employable and impactful once they enter the workforce. Each Fellow specialized within areas of the organization that aligned with their career goals, including public policy, nonprofit management, entertainment and news media, Jewish inclusion and community outreach. Throughout their Fellowship, they gained hands-on career experience, such as attending policy briefings, writing grants, reviewing scripts and editing videos. They also improved their soft skills, such as networking, public speaking and issue advocacy.
"As someone who had never had a paid job, I was really anxious about entering the workforce," said Morgan A. Davis, one of the 15 Fellows who completed the program. "RespectAbility absolutely erased that fear." Davis was a Policy Fellow who attended Congressional hearings and updated contact databases. She also drafted press releases on key issues for The RespectAbility Report, RespectAbility's nonpartisan blog.
"Working with RespectAbility this summer not only taught me how to advocate for myself, but also speak up for those who have disabilities different than my own," said Krista Ramirez-Villatoro, an Entertainment and News Media Fellow. Ramirez-Villatoro assisted with RespectAbility's Entertainment Lab by taking notes, editing transcripts and writing 15 blog posts about guest speakers. She also consulted on scripts, animatics and character designs.
Said Nicole Olarsch, "Working as a member of the Faith Inclusion department has been such a great opportunity and the people I've met are truly the best!" Olarsch has been a prolific writer, with 15 pieces for RespectAbility's Jewish Disability Perspectives newsletter under her byline. She also interviewed speakers and interfaced with other organizations.
According to the Centers for Disease Control and Prevention, one-in-four adults in America have a physical, sensory, cognitive, mental health or other disability. But even prior to COVID-19 only a third of them who are of working age had jobs, according to the U.S. Department of Labor. The COVID-19 pandemic has led to even more people with disabilities being out of work. Lack of employment not only puts people at risk of financial insecurity, but it also is the leading social determinant of poor health.
"At RespectAbility, we fight the stigmas that keep people with disabilities from finding meaningful work and build the next generation of leaders in the disability community," said Ben Spangenberg, the director of RespectAbility's National Leadership program. "This program is win-win for both its participants and the people who hire them later. This group of people offer great skills, passion, contacts and success to any team who brings them on board. If you are looking to hire great talent – look at these talented young leaders!"
This class is part of more than 220 graduates of RespectAbility's National Leadership Program. Congratulations to the Summer 2021 class:
Entertainment Media and Communications Fellows
Alexandra Seddon
Finn Bradley
Kelley Cape
Kiah Amara
Krista Ramirez-Villatoro
Policy Fellows
Claudia Runk
Gabriella Marquez
Morgan A. Davis
Nakia Hillary Sims
Nonprofit Management Fellows
Jill Feder
John McSween
Mary Elizabeth Mellon
Jewish Inclusion Fellow
Nicole Olarsch
Civic Engagement Fellow
Taylor Easley
Community Outreach & Impact Fellow
Taylor Ragano
Three Summer 2021 Fellows will be staying with RespectAbility through the fall: Finn Bradley, Krista Ramirez-Villatoro and Nicole Olarsch. Additionally, Kiah Amara will be working with RespectAbility on special projects throughout the fall.
The Fellowship is for seniors in college and graduate students, as well as graduates and those in the early stages of their careers. It also is for people with disabilities who have lost their jobs during the COVID-19 pandemic and currently are seeking new opportunities.
The National Leadership Program includes three cohorts of Fellows – fall, spring and summer. The Fall 2021 Fellowship runs from September 13 through December 17, 2021. The program is entirely virtual and can be done from anywhere in the United States. Learn more about the program and how you can apply for a future cohort at RespectAbility's website.