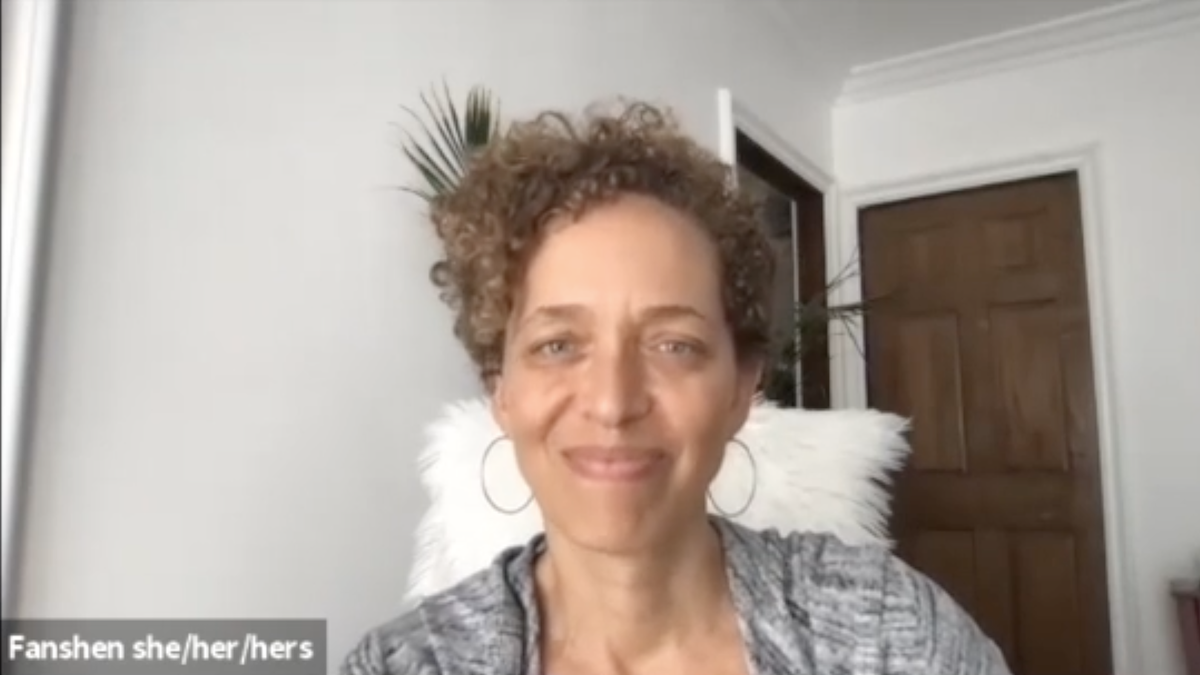 Los Angeles, August 10 – RespectAbility's Summer 2021 Lab cohort was recently joined by Fanshen Cox, award-winning producer, actor, and head of strategic outreach at Pearl Street Films. Cox, who also served as a Faculty Advisor for the 2020 and 2021 Labs, shared numerous tips and extensive insight with the Lab Fellows, all about the ins and outs of pitching their projects, garnered from her years of experience working as an executive. She stressed the importance of having a fine-tuned elevator pitch of your project(s) ready to go at a moment's notice, as well as mastering the art of following up.
A recurring theme of Cox's presentation was the importance of knowing how to craft one's own personal experiences and point of view into a compelling story. "No matter what you want to do in this industry, you are a storyteller always, first and foremost," Cox emphasized to the 30 participants.
Cox is also a co-author of Hollywood's inclusion rider, a provision added to the contract of an actor to ensure that casting and production staff meet certain levels of diversity; for example, regarding the inclusion of women, people of color, LGBTQ+ people or people with disabilities. When it comes to the content that Cox personally seeks out and champions in her work as an executive, she stressed the importance of highlighting intersectional and untold stories from voices that historically have been left out of the conversation or misrepresented on-screen. "We are looking for you," Cox told the Summer Lab cohort. "We're always looking for the next thing that really tugs at our heartstrings."
After sharing this insight with the cohort, participants then had the chance to practice their pitches to Cox by sharing their loglines (which for those not familiar with the term, means a one-sentence description of a film, TV or other media project that states the central conflict and essence of the project) and Cox offered one-on-one feedback for each participant who wanted to pitch.
Lastly, Cox stressed the importance of following-up with industry contacts, because you never know when an opportunity might come up or lead to another. "Once you make a connection with someone…Find all the ways to keep that connection going."
RespectAbility's third annual Lab for Entertainment Professionals with Disabilities brings authentic and diverse portrayals of people with disabilities to the screen by creating a pipeline of diverse professionals with disabilities behind the camera. Participants include people with physical, cognitive, sensory, mental health, and other disabilities ranging in age from people in their 20's through their 50's. Lab alumni from 2019 and 2020 currently work for a variety of studio partners including Nickelodeon, Paramount Pictures, and The Walt Disney Company, as well as in writers' rooms for Netflix's Mech Cadet, CW's 4400, and Showtime's Dexter, among others. Others have had films featured at festivals such as SXSW and participated in additional career track programs including with Film Independent and Sundance Institute.