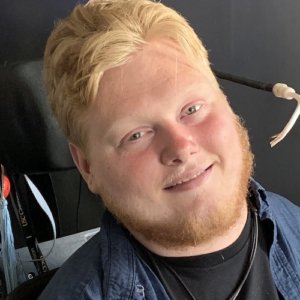 Los Angeles, California, June 3 – Tyler Hoog is a 26-year-old screenwriter based in Los Angeles, California. Originally from Longmont, Colorado, Hoog became a C4-C3 quadriplegic when he was 17-years-old after a car accident caused a spinal cord injury. Hoog talks about his early adjustments to life in a wheelchair and praises his supportive family: "Honestly it was never a focus on if I would ever walk again. My mom did a very good job of really shifting the perspective where beforehand we were going to baseball practice, now we're going to physical therapy."
"My mom made it so there wasn't a moment where we sat and felt devastated," he continues. It was just 'this is the situation, so we're going to make some lemonade.'"
Although he misses playing baseball, Hoog says that when something is lost, something is gained. When he lost his passion for baseball, he gained a passion for the film and television industry. "I lived in a hospital for three months, and I spent that time watching every movie and television show I could get my hands on," he said. "I had written stories as a kid, and I had always been the kid who could quote every stand-up comedian, and quote all the movies and television shows, but I never looked at it as something that I would do [as a career]. It was just like, I like to talk and tell stories. Then I found a new home in screenwriting."
Hoog explains why he wants to be a comedy writer, "[A writer's room] is the same thing as a locker room. It's a bunch of people just sitting around bull#*@^ing, talking about what brings them joy, and then all of a sudden you have a TV show at the end of it. Before the accident, I wanted to be a baseball coach and a history teacher. Now, I want to write poop jokes!"
Hoog graduated from the University of Southern California in 2019 with an MFA in Screenwriting. He found RespectAbility through a disability entertainment group at USC and participated in the first Summer Lab Program for Entertainment Professionals with Disabilities in 2019 through RespectAbility. He did a few consulting projects with RespectAbility after the Lab, and served as an Entertainment News and Media Fellow December 2020 – May 2021.
"I think quarantine was big for my disability development, because it was the first time that I really sat back and thought about my situation, or really reflected because I [unintentionally] distracted myself," he said.
Since his injury, Hoog has been busy finishing high school, earning a Bachelor's and Master's degree, and trying to make it in the entertainment industry. "I wasn't always a disability advocate," he said. "I did everything I could to separate myself from the disability community, because I didn't want to think of myself in that way. Then with the Black Lives Matter movement, I started seeing the demand for change and I started thinking more about activism in general. Then I talked to this guy, and he helped me on the phone for two hours teaching me how to use my accessible equipment. And afterwards he wouldn't let me pay him for his time, because he didn't want to mess up his benefits. And I was just so mad because I couldn't pay him because of how broken our system is. As a result, I got into disability advocacy, and really made myself confront my disability as a whole, and how I view myself, how I interact with my disability, and allow others to interact with it." Hoog also worked as a Fellow in RespectAbility's policy division on the side to push for change on multiple fronts through civic engagement.
When it comes to Hoog's dreams and aspirations in the entertainment industry, he says, "I primarily want to work in television in a writer's room. Long term, I would love to be a showrunner, and would love to work in animation—either television or film."
"I've always been a big comic book fan and Spider-Man has always been my favorite," he continued. "If I got my dream, I would get to write the next big Avengers movie where Spider-Man is the leader.  At the end of the day, I just want to tell stories that people connect with."
In addition to being a screenwriter, Hoog is also a very passionate gamer. He recently purchased an accessible video game controller that allows him to enjoy a wide variety of games on any platform. "I would love to get into the video game world somehow. I think video games are a great unifier. The fact that I can play Super Smash Bros with my younger brother like I did when we were 11 years old because of a piece of technology, there's just something super special about that to me."
There are more than 358,000 people living with spinal cord injuries in the United States, and according to the National Spinal Cord Injury Statistical Center, there are 17,810 new cases each year. And even before the COVID-19 pandemic, only 27 percent of people with spinal cord injuries were employed 10 years after injury. Ensuring authentic media portrayals of individuals with a spinal cord injury – including in typical roles like the doctor, judge and teacher – can help change these statistics.