Los Angeles, CA, June 1 – Sophie Jaewon Kim is a 14-year-old actress who can be seen on Netflix's The Healing Powers of Dude. Kim represents a new generation of disabled actors who are indelibly transforming the entertainment industry. Kim is doing more than just wowing audiences with her acting breakthrough—she is leading the way for both Asian American and disabled performers everywhere.
Recently, Kim participated in a RespectAbility virtual event celebrating the representation and inclusion of disabled AANHPI (Asian Americans, Native Hawaiians, and Pacific Islanders) in media. In this panel, Kim answered questions regarding the state and future of diversity in the entertainment industry. Kim discussed the messages of support she's received from fans, both disabled and nondisabled.
"Some are from just fans of the show who are saying, 'Oh I love seeing you! You're a great actress.' And those are really sweet, but my favorites are from other disabled kids or adults. The kids will usually say, 'Wow, it's really cool to see someone else disabled in this show and your character was really funny.'"
Kim went on to say that disabled adults react with surprise, never thinking that they would see representation on-screen by an actress who is actually disabled. She echoed this sentiment, noting that while growing up and watching TV, the lack of disabled representation was glaring.
Speaking to her identity as a Korean American, Kim applauded the authentic portrayals of Asian American youth in the film, To All The Boys I've Loved Before. Citing the Korean authorship of the book series the film is based on, as well as the authentic casting of the lead role, Kim stated:
"I just love Lara Jean's character. Her full name is Lara Jean Song-Covey, she is half Korean. One thing that was great about it, actually, is that even though she is half white, [the casting department] didn't go out of their way to choose an actor who looks really white passing, which I think is important."
Kim also described some of the give and take involved with disabled representation in film. Specifically, she discussed the positive and negative aspects of the 2016 picture, The Fundamentals of Caring. While she appreciated the plot elements involving a disabled protagonist and disabled romance, she pointed out some issues with the casting practices.
"One drawback was that the actor who played Trevor was not actually disabled, so I wish that that was true."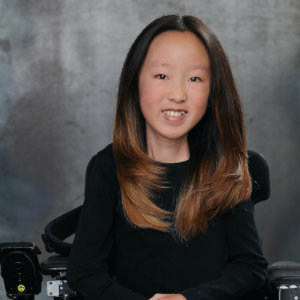 In closing, Kim described what she would like to see as far as representation in the future of the film industry. Aside from films featuring disabled roles, she specifically looks forward to plots where disabled characters, played by disabled actors, take the center stage.
"There is a pattern of disabled representation taking the form of a buddy comedy where there's the disabled character and their caretaker, or their best friend, or even a romantic interest, and they both share the spotlight… to be more specific, [I'm looking for] somebody physically disabled who's a wheelchair user who's the only main character."
Be sure to watch Kim's career blossom as she paves the way forward for authentic portrayals of Asian Americans and people with disabilities.