Los Angeles, CA, June 14 – When YouTuber and disability advocate Cole Sydnor decided to ask out the cute girl who worked at his physical therapy gym, he had no way of knowing that he was about to ask out his future wife. Nor did he know that in doing so, he and his future wife, Charisma, would go on to build a following of over 2 million people across various social media platforms.
After dating for a few months, Cole and Charisma decided to start a YouTube channel called Roll With Cole & Charisma. The YouTube channel originally started as a way to give their friends and family insight into what an inter-abled relationship looks like. What Cole and Charisma didn't realize was just how much their story resonated with other people. After three years, they have amassed a subscriber base of over 600,000 fans on YouTube alone.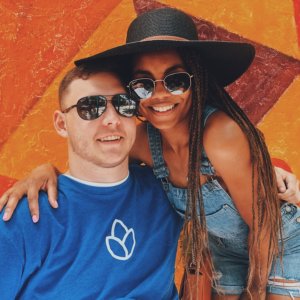 Cole and Charisma did what to many might seem like the unthinkable and made their entire relationship public. To be completely transparent and show what inter-abled relationships look like, they did what many of us would never dare to do. What originally started as a way to share their life with friends and family, quickly turned into a way to educate other people on the lives of individuals with spinal cord injury and what their relationships look like.
They had never planned on being an educational bridge between people with disabilities and people without, but when the opportunity presented itself, they didn't hesitate to seize the moment. "I feel like we are privileged in a weird way, because of how traumatic the story is and how sad people perceive spinal cord injury to be. That makes people interested, and they pay attention. And whenever you have people's interests, you have an opportunity. And I took that opportunity to share what life could be like." says Cole.
Cole recognizes the way people saw him and his injury and uses their interest in his story to flip the narrative. By showing audiences what life with spinal cord injury could look like, he redefines that tragedy and that trauma. By choosing to be an open book, he has been able to connect with people and reshape their views on spinal cord injury.
While ultimately it's up to Cole how much of his life as a person with a spinal cord injury he shares, he would be nowhere close to where he is today if it weren't for Charisma. Since they started dating, Charisma has always been there to push him to do the things he wants to do but is maybe afraid of. It's her love and support that makes Cole feel safe enough to share some of his most private moments.
It's the same support that Charisma has for Cole that has encouraged his newfound passion for acting. Cole is currently represented by C-Talent, an agency that represents talent with disabilities. While Cole has always had an interest in acting, he sees acting as a way to help further his ability to educate people about disabilities. "By becoming an actor, I think there's another even greater opportunity at reaching an audience. The more we can have eyes on people with disabilities, the more normalized people with disabilities become."
There are more than 358,000 people living with spinal cord injuries in the United States, and according to the National Spinal Cord Injury Statistical Center, there are 17,810 new cases each year. And even before the COVID-19 pandemic, only 27 percent of people with spinal cord injuries were employed 10 years after injury. It's exciting knowing people like Cole and Charisma are using their platforms to try to bring about more representation of spinal cord injuries and the disability community as a whole.