Breakthrough Fox Family Foundation Grant Enables People to Go from Pity to Power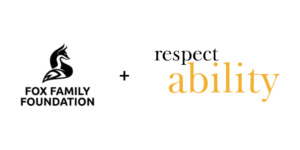 Los Angeles, CA, June 4 – Throughout history, people who are blind or have low vision have been regarded with pity. Yet, from entertainers Stevie Wonder and Ray Charles to Jacob Bolotin, MD and elected leaders State Sen. Torrey Westrom and former Gov. David Paterson, it is clear that people with visual disabilities have the skill and fortitude necessary to rise to the highest levels of influence, impact, and success.
A new Fox Family Foundation grant will enable fifteen young leaders with low or no vision to join RespectAbility's virtual National Leadership Program. The program offers intensive training to foster and advance opportunities in public policy, civic engagement, and nonprofit management. Fellows who participate in the program through the Fox grant are eligible to receive $15 per hour for up to 360 hours of learning and work.  Thanks to this new partnership talented young leaders from the blind and low vision communities will truly be able to be the rising tide who lifts all ships as program participants will gain access to careers in public policy and nonprofit leadership while helping others in the disability community achieve success.
RespectAbility, a national nonpartisan nonprofit that fights stigmas and advances opportunities so people with disabilities can fully participate in all aspects of community, will administer this initiative as a part of its proven National Leadership Program. Five National Leadership Fellows each year will refine skills necessary for careers advancing access and inclusion initiatives. They also will be involved in several projects in public policy, advocacy, or the entertainment industry to tackle negative attitudes and reduce long-standing barriers that prevent people with low vision or blindness from obtaining employment.
Ollie Cantos, Vice Chair of RespectAbility who is blind himself and the father of triplets who are also blind, said, "When it comes to the success that is truly possible not even the sky itself need be the limit.  Support from the Fox Family Foundation paves the way for expanded opportunities that will make real the many dreams and aspirations that have been previously out of reach until now. We each indeed have the power fundamentally to have an indelible impact on those around us. With the added support we have received, select members of our community may step into their own power more than ever before." Cantos is a civil rights attorney, and his sons were the first blind triplets to become Eagle Scouts. Cantos was chosen as ABC News Person of the Week and is a role model for people with all kinds of disabilities.
Cantos continued, "Those involved with RespectAbility have the unique opportunity, not only to call for change, but to be a part of the very solutions that make a real difference in people's lives. Self-determination is the key, because problems are best solved by people who experience them firsthand and know both the stakes and the solutions."
Case in point, at the onset of the pandemic, RespectAbility completed virtual town halls with individuals who are blind or have low vision. Cantos elaborated, "We learned that many were struggling with food insecurity – only 6 out of 50 states allowed SNAP benefits to be used to shop online for groceries. Today, thanks to collaboration between RespectAbility and other groups of advocates, 46 out of 50 states — including California and its CalFresh program — now allow SNAP benefits to be used online. More than 9 million people with disabilities no longer have to choose between catching a deadly virus or going hungry. We need a lot more people who are blind or have low vision to be at decision making tables so that the future can be better for all people – regardless of if they have a disability or not."
Hon. Steve Bartlett, chair of RespectAbility and lead co-author of the Americans with Disabilities Act said, "We are thrilled that the Fox Family Foundation has provided funding for this "earn while you learn" program. This is a great opportunity for the next generation of leaders to get the skills and contacts they need to achieve the career impacts of their dreams."
Said Lee Fox, President of the Fox Family Foundation, "Our mission is to break the link between poverty and vision loss. Fox Family Foundation supports programs, policies, and investments that protect vision and eye health, provide care and services to those in need, and develop workforce readiness programs that enable diversity and inclusion. We are delighted that this new initiative can enable people with lived disability experience to lead."
Ben Spangenberg, RespectAbility's National Leadership Program Director said, "I am thrilled to offer more Fellowship experiences to blind and low-vision members of the disability community. This will allow true talent to achieve a pathway to a successful career in policy or nonprofit management."
Even before the pandemic, only 46 percent of people with blindness or low vision were employed. With more than 1.7 million people living with low vision in the United States, RespectAbility works to create opportunities so people with disabilities can succeed in their chosen career.
To apply to the "earn while you learn" apprenticeship program, email your resume and cover letter to BenS@RespectAbility.org and fill out our online application. Priority placement is for California residents who have completed their four-year college education or have completed graduate study. However, applicants who are considering moving to California where they can make a positive impact on public policy and/or nonprofit leadership will also be considered.
For more information on the Fox Family Foundation or for press inquiries, please visit www.foxgiving.org or email info@foxgiving.org.