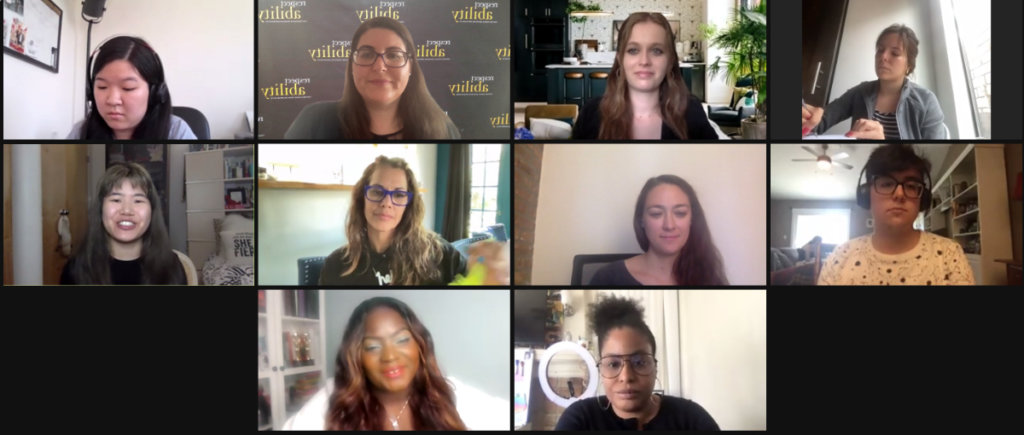 Los Angeles, June 24 – The first day of this year's Entertainment Lab for Professionals with Disabilities introduced the Summer 2021 cohort to a group of successful Lab alumni who have used the program to springboard into their entertainment careers prioritizing disability inclusion. Two of these individuals include Ava Rigelhaupt, a 2020 Lab alumna who also served as a RespectAbility Entertainment Media and Communications Fellow in Spring 2021, and April Caputi, a 2019 Lab alumna. Caputi now is working as a Casting Associate through The Walt Disney Company's Executive Incubator Program while Rigelhaupt just started as a Casting Intern with Nickelodeon.
Together, they spoke about the process of development and casting with 2021 Lab participants. A core lesson from the discussion was the importance of authenticity. Rigelhaupt has been able to use her lived experience with autism to consult on creative projects with major studios and share her truth. Regarding the communicative accessibility of the industry with autism, Rigelhaupt explains, "It is as if everyone received a social rules book, except for me, and I am still expected to take the test." She is still consulting with RespectAbility as she continues to grow in her career, because she understands the power and importance of prioritizing intersectional dialogue during every step of a production.
Caputi has also seen disability be secondary in the production process and strongly encourages the cohort to think of accessibility from start to finish of any project. She has learned how to advocate for herself as a competitive advantage in every sphere of influence. Disability can be a natural point of all creative conversations in Hollywood, and both Rigelhaupt and Caputi are in a momentous part of their emerging careers as they continue to diversify the language of entertainment toward intersectional inclusivity.
We look forward to seeing how Rigelhaupt and Caputi, as well as this new cohort of incoming Summer Lab professionals will continue to change the landscape of disability representation in the entertainment industry through inclusive casting and development, as well as accessibility throughout all parts of the creative process.
RespectAbility's third annual Lab for Entertainment Professionals with Disabilities brings authentic and diverse portrayals of people with disabilities to the screen by creating a pipeline of diverse professionals with disabilities behind the camera. Participants include people with physical, cognitive, sensory, mental health and other disabilities ranging in age from people in their 20's through their 50's. Lab alumni from 2019 and 2020 currently work for a variety of studio partners including Nickelodeon, Paramount Pictures and The Walt Disney Company, as well as in writers' rooms for Netflix's Mech Cadet, CW's 4400 and Showtime's Dexter, among others. Others have had films featured at festivals such as SXSW and participated in additional career track programs including with Film Independent and Sundance Institute.