Read transcript
Download PowerPoint
As an end to the COVID-19 pandemic appears on the horizon, many organizations are considering a return to in-person events. As this occurs, it is important to ensure that events are fully accessible to the 1-in-4 adults who have a disability. While we return to in-person events, however, we should not stop hosting virtual events, which allow more people to participate. Seventy-two percent of nonprofit organizations say they have a policy of nondiscrimination against people with disabilities. But, few know how to take the simple steps to make their programming truly accessible. In this practical session, learn how to ensure events – both in-person and virtual – are accessible to all. For example, a recent national inclusion study conducted by RespectAbility, in partnership with The Chronicle of Philanthropy and The Nonprofit Times, found that even before the pandemic, only 14% of people say their organizations use video captions to ensure people who are deaf or hard of hearing can use the content. Captioning services are easy to use; yet 86% were not even attempting to take advantage of such tools. This session, led by RespectAbility's VP of Communications Lauren Appelbaum and Senior Entertainment Media Associate Tatiana Lee, was designed to train organizations to ensure that their practices match their principles of inclusion.
Speaker Bios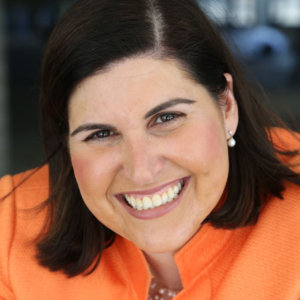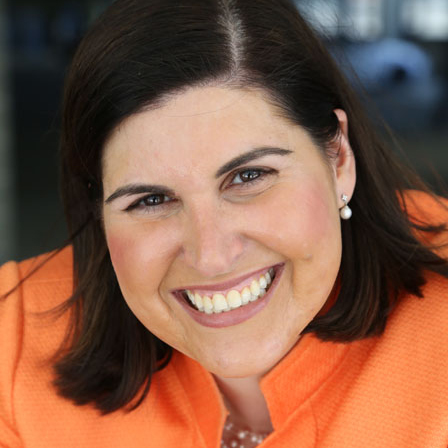 Lauren Appelbaum (she/her) is the Vice President, Communications, at RespectAbility, a nonprofit organization fighting stigmas and advancing opportunities so people with disabilities can fully participate in all aspects of community. She brings more than 15 years of experience in strategic and crisis communications, writing, video and web production, news gathering and social media to the disability agenda. Previously she served as a digital researcher with the NBC News political unit for the 2006 midterm and 2008 presidential elections with Chuck Todd and Andrea Mitchell.
As an individual with an acquired nonvisible disability – Reflex Sympathetic Dystrophy – she writes about the intersection of disability, employment, Hollywood and politics. From entertainment professionals to presidential campaigns, journalists to philanthropists, she conducts trainings on the why and how to be more inclusive and accessible.
Appelbaum provides tools, trainings and contacts to support creative and business executives at major production companies and studios to improve the number and quality of authentic, diverse and inclusive representation of people with disabilities on screen so audiences can see people with disabilities as vital contributors in America and around the world. She and her team have consulted on projects with A&E, Amazon Studios, Bunim-Murray Productions, NBCUniversal, Netflix, and many divisions within The Walt Disney Company, among others.
Appelbaum also increases hiring initiatives of people with disabilities behind the camera and enriches the pool of disabled talent in Hollywood by connecting them to those who can assist with their careers, both on the creative and business sides of the industry. She is the author of The Hollywood Disability Inclusion Toolkit, which was created to help entertainment professionals to be as inclusive of people with disabilities as possible, and the creator of an innovative Lab Program for entertainment professionals with disabilities working in development, production and post-production. She is a recipient of the 2020 Roddenberry Foundation Impact Award for this Lab.
Appelbaum also oversees RespectAbility's nonpartisan political outreach. She works with political candidates to ensure their campaigns are accessible (both for events and online presence) and are educated in policy issues important to the disability community. She is the Managing Editor of The RespectAbility Report (www.TheRespectAbilityReport.org), a publication at the intersection of disability and politics. During the 2016 election season, Appelbaum led a team of Communications Fellows in interviewing all of the presidential candidates about the importance of disability employment, reporting all interviews via accessible video and articles in The RespectAbility Report.
Focusing on employment best practices, she is the talent behind #RespectTheAbility campaign, which highlights model employers that demonstrate how hiring workers with disabilities benefits the employer, the employee and society. The campaign's goal is to erase negative and untrue stigmas associated with hiring people with disabilities.
She also supervises several Fellows through RespectAbility's Fellowship Program. Her Fellows ultimately want to go into careers in journalism, public relations, political communications or the entertainment industry.
Outside of work, Appelbaum is active in community theater. She has served in a variety of behind-the-scenes roles for more than a dozen musicals and plays. Having organized volunteer ASL interpreters and coordinated ADA seating at performances, as well as directing a nonverbal actor with cerebral palsy who uses a wheelchair, she understands first-hand the importance of inclusion of both performers and others with disabilities.
Appelbaum has been quoted in many articles by national publications including Associated Press, Deadline, The Hollywood Reporter, IndieWire, The Los Angeles Jewish Journal, RealScreen, Tablet, USA Today, Variety and The Washington Post. She has spoken on panels at the RealScreen Summit, New England Newspaper and Press Association Conference, Association of Health Care Journalists Conference, and ComNet, among others.
Born and raised in the Philadelphia area, Appelbaum has a master's degree in Broadcast Journalism from Syracuse University; she also has undergraduate degrees from Columbia University and the Jewish Theological Seminary. She serves on several national and local nonprofit boards. Appelbaum currently lives in Maryland with her husband, daughter and dog.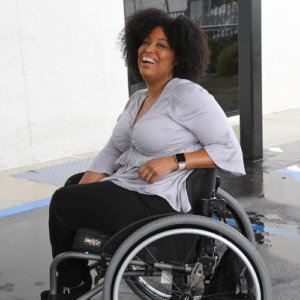 Tatiana Lee is an actress, international model, and activist. Growing up in Coatesville, Pennsylvania, Lee felt unseen in popular media. In 2010 Lee moved to Los Angeles to pursue her acting career. She learned to harness social media's power to speak boldly about accessibility and inclusion in mass media due to the lack of access and opportunities for herself and others with disabilities.
She is the voice behind the AccessibleHollywood brand, highlighting her journey as an actress, model, and lifestyle influencer born with Spina Bifida. She quickly has become a sought-after speaker in the entertainment and media space and volunteers her time as a Disability Advocate for Women of Color Unite. Some of Lee's award-winning film credits include Footloose, Jade, Together & Better. She has appeared in modeling campaigns for Target, Zappos, Apple, and more. Lee is the 2018 recipient of the Christopher Reeve Acting Scholarship for her contribution to further disability inclusion in media.
Currently working at RespectAbility, Lee is the lead consultant on various TV and film projects and conducts training for studios and production companies including NBCUniversal, Netflix, and The Walt Disney Company, and assists with RespectAbility's Lab for Entertainment Professionals with Disabilities all while training and growing momentum in her acting and modeling career.