NOTE: Minor Spoilers for both A Quiet Place films ahead
Los Angeles, June 3 – The horror genre is rarely a prime example of proper disability representation in Hollywood. However, Memorial Day weekend 2021 provided us with the release of the much-anticipated film, A Quiet Place Part II. After being delayed for more than a year because of the COVID-19 pandemic, the sequel to the critically-acclaimed and financially successful 2018 horror-flick, A Quiet Place, was finally released. The horror series is about a world in which aliens with uncanny hearing attack Earth. The survivors must learn to live silently to survive. The stars of both films include real-life couple John Krasinski and Emily Blunt as well as Millicent Simmonds and Noah Jupe. Millicent Simmonds plays Regan, oldest daughter of the family who is also Deaf. At the end of the first film, Regan discovers that the amplifying feedback from her hearing aid tortures the aliens and makes them more vulnerable.
Simmonds is Deaf herself and takes on a much bigger role in A Quiet Place Part II, as her character Regan steps up to utilize the signal from her hearing aid effectively in the fight against the aliens. Her character grows up significantly as she is forced to be braver and stronger after tragedy befell the family at the end of the first film. She also teaches a bit of sign language and another character how to enunciate so she is able to read their lips. The film triumphs not only in its accurate and authentic representation but in its portrayal as well. The audience cheers her and her hearing aid weapon on as she trudges through the dangers of the alien infested Earth.
In an interview with Variety, Simmonds discusses inauthentic portrayals of disability in Hollywood: "I think it's not realistic, and it's not fair to the talent out there who aren't chosen because of their disability. That doesn't make sense to me." In the article, Simmonds also discusses how playing Regan in A Quiet Place has helped her become more confident and how some of her co-stars, like Jupe, is now fluent in sign language because of the films.
They also had an ASL coach on the set of the films. This ASL coach helped Simmonds ensure that her signs were clear, and her articulation was clean. To Simmonds, this was very vital. According to an article in Syfy, Simmonds said having an ASL coach "gave her a 'sense of pressure' from a representation standpoint. Keeping her communication clean kept her honest: It was part of 'making sure that everyone could relate to [her] as a character.'"
Having proper representation in anything is great, but it's even better when a film that does it right is successful. Like its predecessor, A Quiet Place Part II was critically hailed and set a new pandemic-era record at the box office, grossing about $57 million over the four-day weekend domestically and more than $75 million worldwide. This is the biggest opening for any movie in more than a year, which was bigger than the monster $48 million opening of Godzilla vs. Kong in April. To put it in perspective, Paramount's A Quiet Place Part II earned more in one weekend than Christopher Nolan's highly anticipated film Tenet did in its entire theatrical run domestically. The fact that a franchise that is setting such a good example with disability representation is also setting box office records is huge for the disability community. Hopefully by seeing the success of A Quiet Place Part II and its predecessor, more films will begin telling stories from a disability perspective and cast more authentically.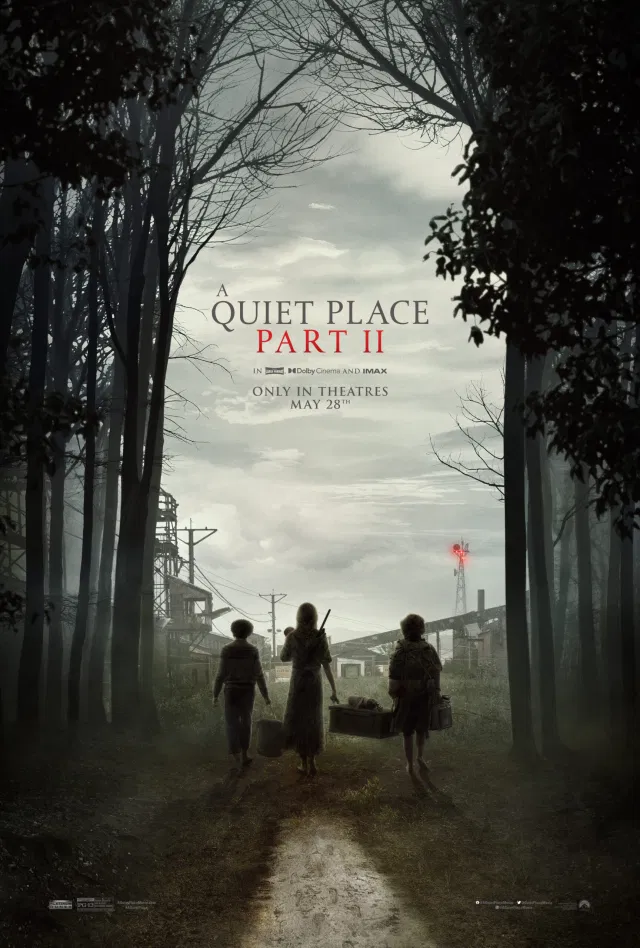 The John Krasinski-directed film is also a prime example for accessibility of films in its audio description (AD) track. Since a lot of the film is either silent or in subtitled sign-language, audio description is a necessity for blind and low vision audiences. I saw it in IMAX front and center with my AD headphones and had my hand over my mouth for a good portion of the film because it was so intense. The AD track lets the tension and silence breathe while also filling in low-vision viewers, like myself, as to what is going on.
While no third film has been officially announced, rumor has it that Krasinski has ideas. However, a spin-off has been announced for a tentative release in 2022. You can see A Quiet Place Part II in theaters now.