Largest cross-sector effort to shift from mental health awareness to mental health action organized in the wake of COVID-19 pandemic, ongoing trauma of systemic racism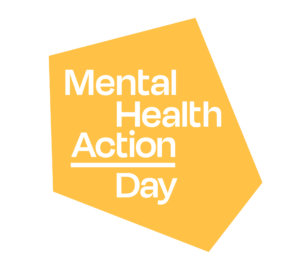 Los Angeles, May 20 – Today the disability advancement nonprofit RespectAbility and more than 1,300 organizations, brands, government agencies and cultural leaders will participate in the inaugural Mental Health Action Day to drive the conversation from mental health awareness to mental health action. Convened by MTV Entertainment Group, Mental Health Action Day is an open-source movement, aimed at motivating people to take action to get mental health support — whether for themselves, their loved ones or for everyone by advocating for systemic changes for mental health access and equity.
"RespectAbility has been proud to partner with the MTV Entertainment Group on a variety of projects and Mental Health Action Day is one such initiative – one which should spur action 365 days a year," said Lauren Appelbaum, VP of Communications at RespectAbility. "By bringing together a diverse group of corporations and nonprofits, MTV's Mental Health Action Day can help both decrease the stigma that prevents people from living their authentic lives while also ensuring that people know where to find mental health and well-being resources. One way to do this is to ensure more authentic storytelling of mental health on screen. RespectAbility is honored to be joining in this effort to raise awareness, the first step in leading to concrete action."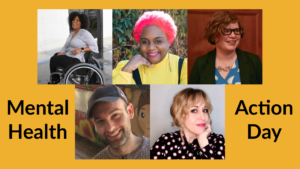 As such, RespectAbility is hosting a virtual event at 4:30 p.m. ET / 1:30 p.m. PT: Raising Awareness and Promoting Change Through Authentic Mental Health Representation in Media. Join RespectAbility for an engaging conversation about the importance of portraying mental health accurately and authentically in TV, film and other forms of media, especially as a means to create awareness and serve as a first step to systemic change. Panelists include Nikki Bailey (comedian, actress, author, and producer), Amanda Burdine (screenwriter), Diego Kusnir (blind psychologist) and Ali MacLean (playwright and TV writer). This conversation will be moderated by RespectAbility's Tatiana Lee. Learn More and Register
Mental Health Action Day comes at a critical time. The COVID-19 pandemic has taken a disproportionate toll on the mental health and well-being of people of color, young people and LGBTQ+ communities. Studies have found:
Four in 10 adults have reported symptoms of anxiety or depressive disorder, compared to 1 in 10 before the pandemic.
56% of young adults ages 18-24 reported symptoms of anxiety and/or depression during the pandemic.
48% of Black people reported symptoms of anxiety or depressive disorder during the pandemic versus 42% of all adults and 40.9% of white people.
Communities of Color, who have experienced disparate impacts of COVID-19 and the ongoing trauma of systemic racism from police brutality to anti-Asian violence, are also facing greater mental health challenges than ever before but continue to face challenges accessing mental health care.
The cross-sector collaboration calling attention to the great need for support and action to address mental health in the same way in which we treat physical health needs is groundbreaking. From media and tech companies to nonprofits, consumer brands, government agencies and cultural leaders, the actions today are only the beginning.
Coalition partners will host a series of activations ranging from public events featuring experts and activists to employee engagement activities, all with the goal of encouraging and empowering people to take an initial action, whether for themselves or others, to support their mental health needs.
"A year into the pandemic, as mental health struggles have skyrocketed, we brought together more than 1,300 partners to not only meet the moment but also drive a movement of action on a public health crisis that affects every one of us," said Erika Soto-Lamb, Vice President of Social Impact Strategy at MTV Entertainment Group. "From storytelling to creating content, together we can shatter stigma and normalize the act of getting help for those who need it."
A full list of partners as of May 20, 2021 is available here.
About Mental Health Action Day
Mental Health Action Day is an open-source movement of brands, organizations, government agencies, and cultural leaders to drive culture from mental health awareness to mental health action. The first Mental Health Action Day will take place on May 20, 2021 with a mission to encourage and empower people to take their first actions on mental health — whether for themselves, for their loved ones or for their communities, because mental health is health. Learn more at MentalHealthIsHealth.us