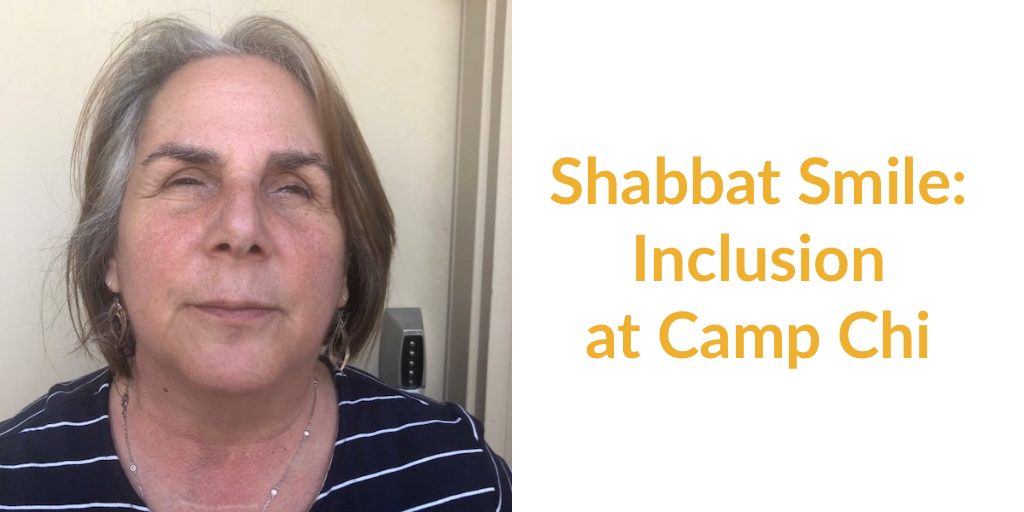 It was June of 1969. I was an 11 ½ year old visually impaired girl leaving home for the first time to attend Jewish overnight camp. I boarded the train to Wisconsin consumed with mixed emotions: already a little homesick and anxious, but also excited. I was excited about the friends coming from my Jewish Day school, and the new friends I hope to meet. At that moment, I was just like them—leaving home to spend three fun-filled weeks at summer camp.
It was a disaster.
This was two decades before ADA, and the camp had never had a disabled camper before. To be fair, I don't know if they even knew I had problems with my vision, as I didn't yet identify as a person with a disability. My parents did not recall the camp asking any question that would have elicited a response that I was legally blind and might need support. There were definitely challenges for me that the camp was unprepared to support.
But I didn't know how or even if I could or should ask for help. I wanted to be just like everyone else, able to do what the other campers did joyfully, which could have been the case had I had support. But there I was—missing out on the fun– lonely, and homesick.
That was my last camp experience. Thus, I could never understand why my siblings– and later my own children– couldn't wait for summer each year to return to camp. For me camp brought memories of being and 11 ½-year-old girl who had no voice, in a place where an untrained and uninformed staff had no experience or protocols in place to help a child with disabilities.
Fifty years later (that's a little hard to say), I have found my voice and I have embraced my identity as a blind woman. I am a leader in my community, which includes taking a leadership role on the board of Keshet. Keshet's goal is to insure the inclusion of individuals with disabilities in all aspects of community; education, recreation; employment and residential. Keshet has been providing inclusive camping for almost 30 years. Through Keshet, I have been introduced to the organization's partnership with JCC Camp Chi.
Keshet first began supporting Day Camps, and then when the campers they supported came of age to attend overnight camp, they knew they had to provide an overnight camp experience. They found a natural partner in JCC Camp Chi, who already worked with Keshet in their Day Camps. Keshet knew that camp is a place that all children can feel part of a larger and inclusive community.
Keshet knew that they had the expertise to make Camp Chi an inclusive Community. Camp Chi knows camping and Keshet knows inclusion… As part of their partnership a Keshet staff member became Camp Chi's first Inclusion Coordinator. This allowed for campers with Keshet support and any campers needing support to be successful at camp.
This was achieved by putting a staffing structure in place, training all staff and creating a culture of belonging for all. Keshet believes that all children should be able to go to camp alongside their peers. That camp is a place to learn life skills, independence and social skills for all campers. Keshet staff have the attitude that a camper will be successful, and will always find a way to make it work."
If you had told me 50 years ago that there would be a camp where campers with disabilities were embraced, where belonging and not just being included was the goal, where staff was trained, where support was available and disabled campers could participate in all aspects of camp life including becoming counselors, I would have told you that was an unrealistic utopia.
But Inclusion at Camp Chi is more than just attendance, it's more than having accessible grounds. It is about full participation, embracing the ideal that an inclusive camp reflects Jewish values while benefitting all campers– disabled and able bodied alike. It is about offering support to ensure the camp experience feels like home for all campers. This ideal more than inclusion, it's about belonging. Through the partnership of Keshet and Camp Chi campers with all abilities find a summer home where they are not just welcome, they are embraced and truly belong!
---
Michelle Friedman currently serves as the vice chair of the board of Keshet and on Keshet's board of governance and development committees; and is the development chair of the Institute for Therapy Through the Arts. Friedman is a member of ADA 25 Advancing Leadership.