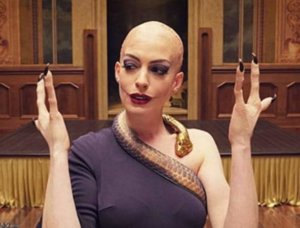 A new Warner Bros. film "The Witches" is coming under fire for its depiction of a villain who has "split hands," perpetuating harmful stereotypes against people with limb differences. Unfortunately, this is a stereotype that has existed in films for decades and leads to people being afraid of those who look different from them.
"The decision to make this witch look scarier by having a limb difference – which was not an original part of the plot – has real life consequences," said RespectAbility's Vice President, Communications, Lauren Appelbaum, who regularly advocates for more authentic portrayals of disability on screen as well as hiring of people with disabilities behind the camera to ensure mistakes like these do not occur. "Unfortunately, this representation in 'The Witches' teaches kids that limb differences are hideous or something to be afraid of. What type of message does this send to children with limb differences?"
"This proves our voices are needed now more than ever," added writer/director Ashley Eakin, who has limb differences and recently graduated from RespectAbility's Lab for Entertainment Professionals with Disabilities. "In Hollywood, there has been a long unfortunate legacy of disfigurement/disabilities being a characteristic of a villain or something scary. But to see it in 2020 – and tacked on (something inconsistent with the source material) is so disheartening. How many crew members/executives/etc. did this film filter through without anyone voicing their concerns? 'Cancel culture' is a slippery slope, but we have to speak up about these issues, because apparently a large group of people aren't hearing us."
Due to harmful stigmas, Eakin herself hid her hands for almost thirty years because she was afraid she would scare people. "I didn't even want to use the term disability because of the stigma created by our culture," she said. "This type of representation is extremely damaging to all the work people have been doing to try and change the narrative. We must stop portraying disabilities in a negative light and something we should be afraid of – especially in kids' movies! All we're asking for is creatives and executives to challenge the stereotypes we have seen for decades, with the hope of building a better culture than the one I grew up in."
It is important to note that Warner Media recently hired new people to ensure that things like this do not happen in the future. Therefore, RespectAbility looks forward to working with them to achieve this goal. For the past few years, RespectAbility has helped ensure several other studios do not fall into these pitfalls by providing consultations on scripts; conducting trainings for writers, producers, marketing & PR teams, and others; and providing connections to experienced individuals with disabilities ready to work on a film.
"The disability market is valued at $1 trillion, creating opportunity and incentive for the entertainment industry to stop treating disability as a negative but to showcase people with disabilities for what they are fully capable of," Appelbaum added.