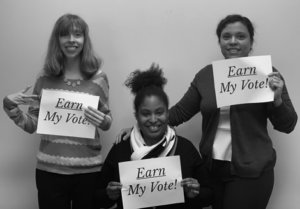 The focus is now on Georgia where the competition in two Senate races is fierce. The outcome of these two races will determine which party controls the U.S. Senate. It is vital that the lives, livelihoods and learning opportunities for the 1.2 million Georgians with disabilities get the attention they deserve!
RespectAbility is working with local Georgia disability groups and activists in a crucial civic engagement role. But we need your donation now so we can:
Host nonpartisan Senate candidate forums online where campaigns offer their vision of how to serve people with disabilities.
Show candidates how to make their campaigns accessible to voters with disabilities. This includes accessible websites so those who are blind or have low vision can use screen readers to view content. It also means ensuring there are captions on videos and virtual events so people who are deaf or hard of hearing can make informed decisions.
Organize and host online focus groups and town halls where Georgia voters with disabilities can express their views on key issues that impact their lives, livelihoods and living.
Conduct a Georgia poll to see where voters with disabilities prioritize key issues.
Do key outreach to the press so disability issues get the attention they deserve.
Please, donate today. Your contribution will help foster a political climate that values the needs and priorities of people with disabilities in Georgia and throughout the country.