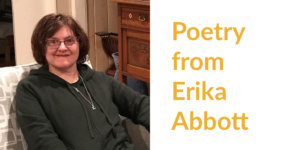 As you know, a major focus of our Jewish program is providing varied venues for Jews with disabilities to enrich the Jewish community with their talent. A critical facet of the Jewish experience is artistic expression through:  music, visual arts, dance, photography, creative writing and poetry.
As a people, we have celebrated many great poets:  Emma Lazarus ("Give me your tired, your poor . . . "); Israeli Yehuda Amichai ("A child is . . ."); Hannah Senesh ("Blessed is the flame . . ."); and Allen Ginsberg ("I saw the best minds . . .") are but four examples. With one in five Jews experiencing disability, it is entirely possible that one or more of these luminaries had a disability of some kind, but whether or not that is the case, Jews with disabilities should have an important role in our artistic voice.
Today we are particularly pleased to showcase the talent of Jewish advisory committee member, and self-advocate, Erika Abbott. Abbott is a contemporary gifted Jewish poet and writer, living in Los Angeles. As a child with a disability, Abbott recognized the struggles of children with disabilities in her school. Through her lived experience she became an advocate and the ringleader of the "Disabled Posse".
Abbott is more than a winder of words. She is a storyteller, biting back at "The Ugly Laws" that persecuted the diseased, maimed, or mutilated. As Abbott's publisher, Archway Publishing, asserts on the back of her award-winning book, Porgy's Revenge, her "imagery haunts, as does her message:  one that readers will not soon forget, even when the collection is closed."
Her poetry collection is available at this link on Amazon, and RespectAbility is honored to share a sampling of Abbott's poetry with you in this week's Shabbat Smile. Her poetry speaks volumes, challenging us and pushing us, just as great art should.
Shabbat shalom to you and yours!
Matan Koch
Director of RespectAbility California and Jewish Leadership
---
A Famous Poet Once Wrote
by Erika Abbott
Nothing gold can stay
I watch a crowd of six-year olds
The progeny of East LA
One by one they ask me
Why my hand was curled
I said that's the way
I was born into this world
They looked at me and smiled
And went off their merry way
Except for one his face deadpanned
He blinked at me to see the shape
Of
The piece of paper that from my holding fell
He studied its unfolding
And said that's a trip
Were you born with that
In your grip as well?
© 2015 Erika Abbott
---
Shaman
by Erika Abbott
A
Lone
Hiker
In
A
Foggy
Forest
Cloudy
A
Shaman
Without
A
Net
© 2018 Erika Abbott
---
Crippled Poet
by Erika Abbott
I Am Your
I Am Your Crippled Poet
But
I Am Not Browning
I Am Your Sooth Sayer
And Painter Full Of Extravagant Passages,
Perceptions While Depicting The Panorama Of My Soul
And The Spirit Of Humanity
I Am Developing A Patchwork
Chanting Of The Downtrodden Proletariat
I Am A Fool
Telling The Monarch What He Doesn't Require To Probe
I Dine Excellently,
Fantasize Creatively
I Once Knew Superstition
I Experience The Universe,
Employ It As Grist For My Mill
Humanity Is A Mirage And I'm Dreaming It All
The Benevolence
The Barbarity
I Weave A Beauteous Painful Illustration Of The Coarse Populace
If I Remove My Façade
Before Long I'll See The Real World That Has Permeated My Reverence
© 2015 Erika Abbott